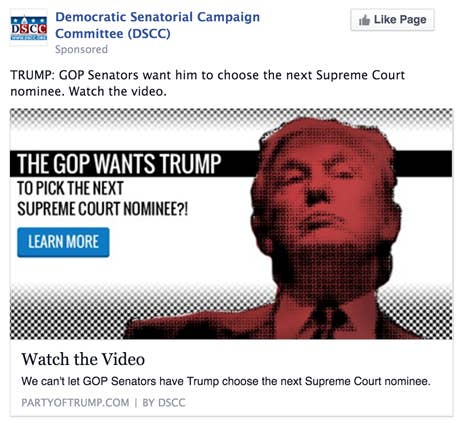 WASHINGTON — Democrats launched new web ads Friday accusing vulnerable Senate Republicans of blocking President Obama's Supreme Court nominee in order to allow Donald Trump to nominate a new justice if he wins in November.
The ads are part of a broader Democratic strategy aimed at hitting Republicans in swing states who fear a Trump nomination could doom their reelection prospects.
The Democratic Senatorial Campaign Committee is paying for ads — which were first shared with BuzzFeed News — on Twitter and Facebook that say "The GOP wants Trump to pick the next Supreme Court nominee?!"
The ads are part of the group's broader "Party of Trump" campaign and link to a website and a video with clippings of Republican Senate incumbents and candidates, which the group refers to as "ReTrumplicans," saying they will support the GOP nominee.
Senate Republicans in tough 2016 contests have been trying to distance themselves from Trump by denouncing some of his comments, endorsing other presidential candidates and running their own campaigns focused on state issues.
But Democrats are planning on spending big this year using digital and TV ads to make it harder for Republicans to run away from Trump.
"Republicans Senators and candidates have already let Trump take over their party, and now they're ready to let him take over the Supreme Court, too," said Lauren Passalacqua, spokeswoman for the DSCC, in a statement.
"Republicans are refusing to carry out their basic constitutional responsibilities and voters back home are putting them on the spot, calling them out for their unprecedented shutdown and demanding that they do their jobs. As they continue to double down on their obstruction, the DSCC will continue highlighting their efforts to let Donald Trump pick the next Supreme Court justice."