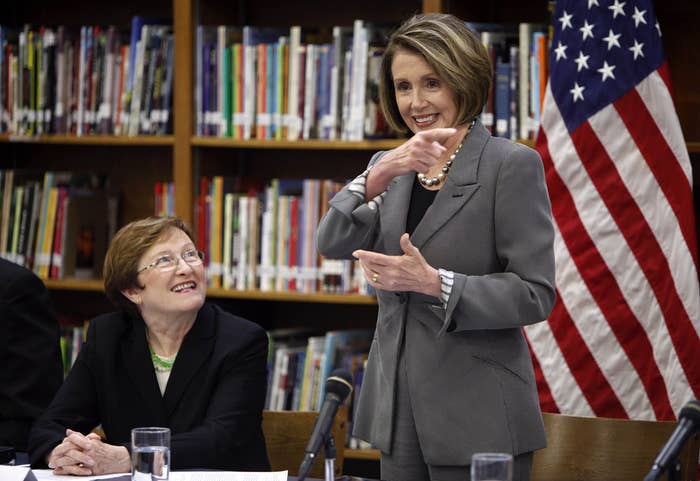 WASHINGTON — Senate Democrats hoping to make the Supreme Court vacancy a central election issue had a new message Tuesday afternoon: "There's one judge Sen. Chuck Grassley can't avoid."

That judge is Iowa Democrat Patty Judge, a former lieutenant governor and secretary of agriculture who recently announced she would run against Grassley, the staunchly conservative chairman of the Senate Judiciary Committee. Democrats in recent days have tried to portray Grassley — who typically cruises to re-election — as the face of GOP obstructionism, following Republicans' position that they will neither hold hearings nor meet with whomever the president nominates to fill Justice Antonin Scalia's seat on the Supreme Court.

Now with Judge in the race, Democrats will have a long-shot chance at picking up a seat in the Senate, but more importantly, have a strong challenger back home constantly attacking the Iowa Republican for not taking steps to fill the Supreme Court vacancy.

Democrats have tried to recruit Judge to run for years, but she turned them down. Seeing the Supreme Court issue as a potential weakness for Grassley, Judge decided to challenge him last week.
And on Tuesday afternoon, she huddled with Senate Democrats during their weekly lunch to talk about the race. Coming out of the meeting, Democrats spoke highly of their latest recruit.
"She seemed down-home, home-spun, real Iowa," said Sen. Chuck Schumer, the third-ranking Democrat in the Senate. "I think she's going to be a very formidable candidate. She would have been a formidable candidate before the issue of hearings for the Supreme Court, but now even more so."
"Patty Judge is a candidate who shows that the people of Iowa are not happy with their senator's stand, as these clips show," Schumer added. Earlier, in a press conference, Schumer read headlines from the editorial pages of different newspapers across the country criticizing Republicans for not considering the president's nominee for the Supreme Court.
"I appreciate the fact she's doing this," said Sen. Jon Tester, chairman of the Senate Democrats' campaign arm. "Iowa is definitely in play, and I think she's a great candidate."

Democrats believe that having Judge in the race will help keep the Supreme Court vacancy at the forefront for voters beyond Iowa as well, giving Democratic challengers in battleground states a boost.

"The combination of her running, plus the president sending over a highly-qualified nominee — I don't have any idea who or when that might be — will make this a very plain issue and allow us to continue to talk about how important it is for the Senate to do it's job," said Sen. Tim Kaine of Virginia.

But in terms of actually defeating Grassley, Judge faces a tough road ahead. She has to get through a four-way Democratic primary first before taking on Grassley, who reported having $4.4 million in the bank at the end of the year. The incumbent has also served in the Senate since 1981 and is known for going back home often and traveling all over his state to meet with voters.
"I think no senator pays closer attention to the citizens of his state than does Chuck Grassley," said Sen. Roger Wicker, chairman of the campaign arm for Senate Republicans.

"He's going to work hard and he's going to be just fine. He feels very comfortable running in his state on the issue of the Supreme Court vacancy."

More broadly, Wicker pointed to past comments Democrats have made on filling Supreme Court vacancies in a presidential election years and denied that GOP incumbents facing tough re-elections would be punished by voters in November for not moving forward with the process to fill the vacancy.

"There is nothing revolutionary about our approach," Wicker maintained.