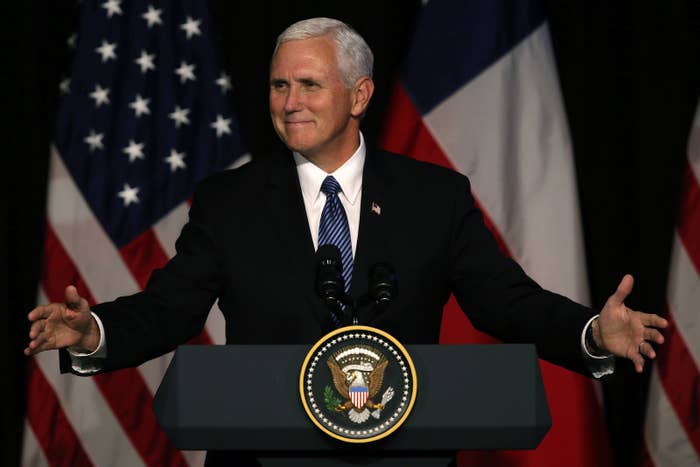 Democrats are already preparing for a possible 2020 presidential bid by Vice President Mike Pence, with a major group dedicating staff — including on the ground in Indiana — to dig up dirt on him, amid rumblings that Pence is positioning himself for a run.
American Bridge 21st Century — a Democratic opposition super PAC and nonprofit funded by liberal mega-donors — is leading the effort, which started earlier this summer and kicked into high gear following a New York Times story reporting on Pence's "shadow campaign."
The vice president has denied having intentions to run, but he has been meeting with top donors and has set up a leadership PAC that has already raised $540,000, as President Trump continues to make comments on race and other issues that are making Republicans increasingly uncomfortable.
The group, which will simultaneously continue its focus on targeting Trump, has three staffers dedicated to Pence more than three years before the 2020 election. Bridge shared its initial round of research with BuzzFeed News, giving a glimpse into Democrats' early strategy against Pence — which is focused on denying the vice president an opportunity to distance himself from the administration.
"If he's running for president, we are going to be prepared," said Shripal Shah, vice president of the group, which spent nearly $20 million in the 2016 election cycle through its super PAC.
The White House did not respond to multiple requests for comment for this story. In a statement in response to the New York Times story, Pence called the article "disgraceful and offensive." "Whatever fake news may come our way, my entire team will continue to focus all our efforts to advance the president's agenda and see him re-elected in 2020. Any suggestion otherwise is both laughable and absurd."
Through a Freedom of Information Act request, American Bridge has a document signed by Pence that holds him responsible for "Transition Procedures, Identification of Transition Contacts, and Access to Non-public Government and Transition Information." Because former national security adviser Michael Flynn's contacts with Russian officials during this period are under investigation, the group is seeking to connect Pence, who was in charge of the transition, to the Russia probe.
"Pence wants the public to think he's removed from Trump's scandals, but that's a lie, he's not," Shah added. "He's complicit in all of it, dating back to the transition, Michael Flynn and Russia. His signature on the public documents we've uncovered discredit his attempts to plead ignorance."
In the aftermath of the violence in Charlottesville, Virginia, the group has also dug into Pence's record — as governor of Indiana — on hate groups, including white supremacist organizations, and hate crime laws.
Pence told reporters this week that he stands with the president on Charlottesville. He did not, however, comment on whether he agreed with Trump on the specifics, such as the president's comments that there were "some fine people" among the white nationalist and neo-Nazi groups. He has also since canceled previously scheduled events for this weekend in Virginia.
Democrats are now making the case that Pence has a history of not supporting hate crime bills, even though there were white supremacist attacks reported in Indiana during his tenure as governor. Indiana is one of five states without such legislation, which failed under Pence.
Indiana currently serves as the headquarters for several hate groups, according to the Southern Poverty Law Center. The American Bridge 21st Century research also notes that, according to an Associated Press investigation in 2016, more than half of Indiana law enforcement agencies did not report hate crime data to the FBI.
"There's no daylight between Trump and Pence and we're going to make sure people know that," Shah said.
"We're only getting started."