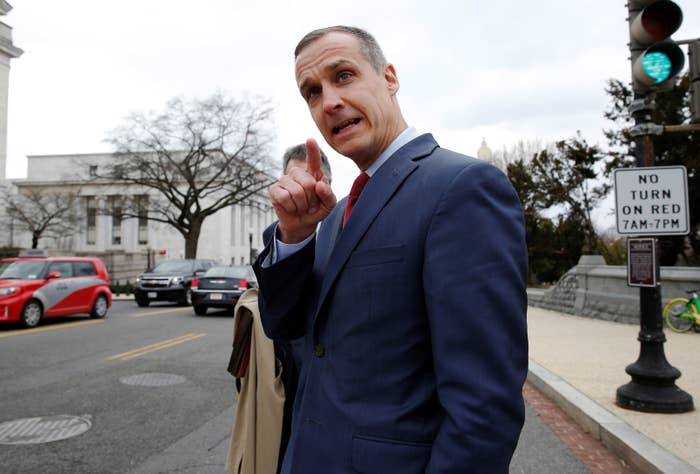 About an hour into his recent remarks at a Michigan rally, President Donald Trump casually segued from foreign policy to reintroducing his formerly fired 2016 campaign manager, Corey Lewandowski, as a hardworking political mastermind who helped him win the White House.
"We're not the patsies anymore. We're not the pushovers anymore," Trump told the crowd. "By the way, speaking of not being a patsy or a pushover, you ever watch Corey Lewandowski on the shows? Where's Corey? Corey!"
The Corey Lewandowski comeback is afoot. The hard-nosed, conflict-prone political operative, who was unceremoniously fired by Trump's adult children months before the 2016 election and then isolated from the president — at least through official channels — is trying to show he can be a useful, well-behaved team player.
Lewandowski in recent months has been encouraged to repair relationships with officials at the Republican National Committee, whose work he had previously trashed, in order to become more involved in the party's 2018 strategy, a source told BuzzFeed News. The two sides have tried to mend fences after a blowup at a widely reported meeting last December when he criticized the RNC and its chair, Ronna McDaniel, while venting his frustrations to the president and top White House officials. It isn't clear, however, if the conversations have fully cleared the tensions between Lewandowski and the national party.
But as Trump has grown frustrated over time with chief of staff John Kelly's more rigid operation inside the White House, he has, according to half a dozen sources, been looking to Lewandowski, who followed the "Let Trump Be Trump" policy when he was campaign manager.
Lewandowski also met Wednesday night with another Trump confidante: Rudy Giuliani, after he went on Sean Hannity's show and revealed that Trump repaid his personal attorney for the $130,000 in hush money given to an adult film actress.
In an interview with BuzzFeed News, Giuliani said he and Lewandowski discussed political strategy for a few minutes. "We talked about the reelection and 2018, New Hampshire," he said, adding that "four or five" other people were also part of the conversation.
White House staffers have tried to limit Lewandowski's interactions with the president for months, knowing he has a propensity for slagging them in private conversations with Trump. Lewandowski, however, is increasingly out front in Trump's political operation: On Saturday, he flew to Michigan on Air Force One with the president, as many top administration officials were stuck in Washington for the White House Correspondents Dinner. He was once again onstage, inches away from the president, addressing a large, riled-up crowd of Trump supporters.
"This is Trump country," he shouted excitedly. "We love you, Michigan."
Lewandowski added, "Thank you for supporting Donald J. Trump as your next president of the United States."
Lewandowski's cameo at the Michigan rally was not a one-off, spontaneous event, according to a source close to the president who is involved in 2018 strategy. The plan is to have the former campaign manager travel more with the president for rallies ahead of November's elections. He's already made some appearances at events with Vice President Mike Pence, as he travels the country selling the tax code overhaul to voters.
"The boss loves Corey," a former Trump campaign official said.
"He is a part of the team, and the team doesn't just include people in the White House," the source said. "He's somebody who has been with the president since the beginning, and the president values him and what he brings to the table, and from a political perspective, he thinks he is someone who has been very helpful."
The official said the president's advisers inside and outside the White House are coordinating efforts as much as possible and are not threatened by Lewandowski, though the decentralized operation has raised concerns of jockeying for power.
The president openly encourages conflict and competition among his top aides, and when it comes to election advice, he has a lot of them: his 2020 campaign manager, Brad Parscale; big-money outside groups and the donors backing them; the Republican National Committee officials; Trump's White House aides; and outside advisers like Lewandowski and another former campaign official, David Bossie, have all offered advice on the upcoming midterm elections to Trump.
Days before the Michigan rally, Trump also name-checked Lewandowski among a handful of Republicans who are "absolute warriors" in a wide-ranging interview with Fox & Friends. A Politico reporter tweeted "Want to know who has power?" with Trump's quote, listing Lewandowski. Lewandowski then retweeted that tweet.
Lewandowski did not respond to a request for comment for this story.
Following the weekend rally, rumors about Lewandowski's role began floating in some Trump circles. When NBC reported that Kelly had called Trump an "idiot," some far-right publications were already pronouncing Lewandowski as Kelly's replacement, citing "sources close to the former campaign manager and the administration," and noting his appearance at the event. In a recent TV interview on Meet the Press, however, Lewandowski argued that Trump might not have a chief of staff in the future if he and Kelly part ways. "I don't think there's one person who is the chosen one to step in and fill that role, so I could see a scenario where the president is giving instructions to a small core group of individuals who are then implementing on his behalf."
A former Trump campaign official said Lewandowski's increased access to Trump shows nothing more than the president's affection for his former campaign manager. "The boss loves Corey," the official said, adding that although Lewandowski has offered differing opinions than others advising Trump, they all have "common goals."
Lewandowski, who aggressively defends the president on Fox News programs that he knows the president watches, is also taking his show on the road ahead of the midterm elections.
He has joined Pence in Wisconsin, North Carolina, and Kentucky as he travels the country for events focused on touting the overhaul of the tax code. Pence has referred to Lewandowski as his "great friend" at the events, which are hosted by the pro-Trump group America First Action. Lewandowski serves as senior adviser and spokesperson for the group.
He also spoke earlier this month to the sold-out Hamilton County Lincoln Day Dinner in Tennessee, with reportedly 500 attendees, about Trump's "historic" presidency. According to local reports, the fundraiser was the largest to date, and Lewandowski warned the attendees of the consequences for Trump supporters if Republicans lost the House. "What does that mean? It means the impeachment proceedings of the president of the United States. That's what's at stake."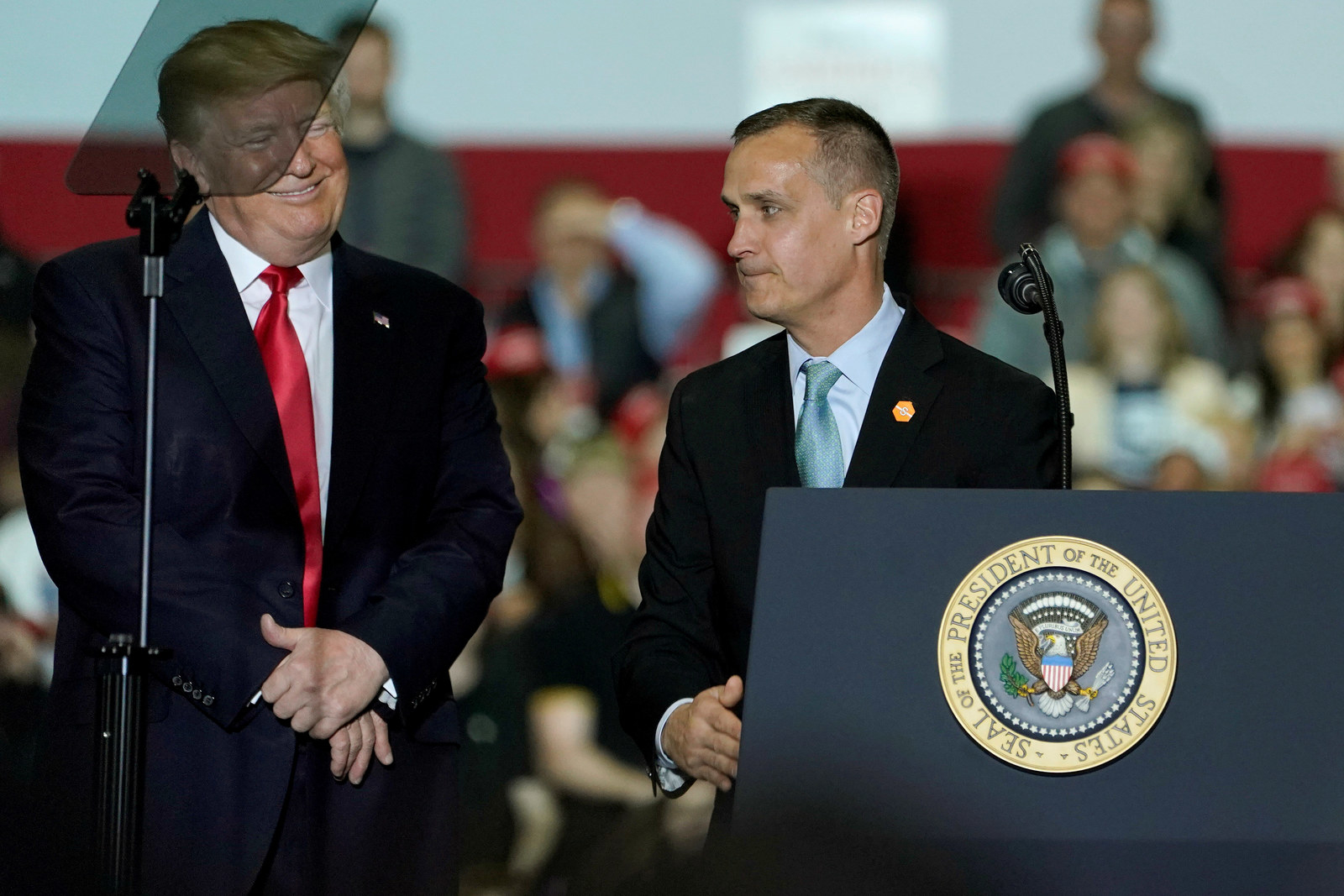 Lewandowski's appearances on TV and campaign-style events contrast with the more behind-the-scenes approach taken by others involved in Trump's political operation. Parscale, for example, has become more active on Twitter, but largely stays away from TV and public appearances with the president.
Sources close to the administration said they didn't think Lewandowski, who has been interested in White House jobs in the past, is angling for an official role at the moment. But he wants to remain close to the president and be influential from outside the administration.
What's less clear is how influential Lewandowski actually is in high-level White House political business. Several Republicans working on midterm campaigns have told BuzzFeed News that while they occasionally are in contact with Lewandowski, who can be helpful headlining fundraisers and offering private advice, he's not acting as an agent of the Trump administration or political operation. Those roles belong to senior White House staffers, such as political director Bill Stepien, and to RNC officials.
"I have no idea what he does," one well-wired RNC member said of Lewandowski. "I'm not sure he does much of anything."
Any official position would also lead to further scrutiny of Lewandowski's controversial business clients and practices. He hasn't registered as a lobbyist but has a consulting firm called Lewandowski Strategic Advisors, according to the New York Times, which detailed Lewandowski mixing "business and access." Other publications have also raised questions about Lewandowski's work for foreign clients. He has repeatedly denied being a lobbyist or doing anything unethical.
A separate firm affiliated with Lewandowski, Green Monster Consulting, has been paid $75,000 since last September by a pro-Trump super PAC. Lewandowski could not legally continue to get paid by the group if he accepted a job in the administration.
But the president made clear to the crowd in Michigan he values Lewandowski's work.
After Lewandowski's quick comments at the rally, the president took the stage again and said of him and Bossie: "They work hard, and these are great people and we appreciate it. We really appreciate it."
The crowd cheered, and someone shouted, "Great job, Corey!" as he walked away, beaming.
From start to finish, the scene lasted less than a minute.
But almost immediately, Lewandowski pinned a tweet with a clip from the rally to his profile, where you can also find photos from Michigan — cropped perfectly to make sure both his avatar and cover photo show Trump right next to him.
Tarini Parti and Chris Geidner in Washington, DC, and Henry J. Gomez in Miami, contributed additional reporting to this story.