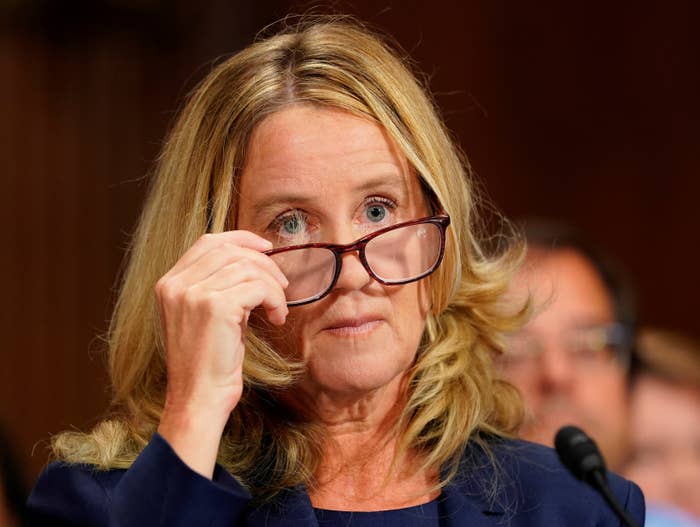 Republicans close to the White House remain concerned about Brett Kavanaugh's Supreme Court confirmation after an emotional, all-day-long Senate hearing, where Christine Blasey Ford publicly detailed her allegations about how the judge sexually assaulted her 36 years ago.
Kavanaugh, though, mounted a combative defense during his testimony, and the president is standing by him.
Those close to the White House, who have been supportive of Kavanaugh's nomination and have been in contact with others in Trump world, questioned earlier Thursday Senate Republicans' decision to hire an outside, woman prosecutor to do the questioning on their behalf. Rachel Mitchell, a veteran prosecutor, had only five minutes to speak at a time, based on the negotiated rules for the hearing, as she questioned Ford on very specific details of her allegations.

Asked how Mitchell's questioning was going during Ford's testimony, a former White House official responded: "Horrible. It looks like a persecution. I was uncomfortable watching it, so I can't imagine how horrible it was for women to watch."
The source said after the first half of the hearing that Blasey Ford's testimoney put Kavanaugh under more pressure to withdraw, even as he seems determined to fight the allegations. "He's the Sixth Sense nominee: He's dead but he's the only one who doesn't know it."
Kavanaugh's testimony later in the day, however, appeared to relieve some of that pressure — at least from the White House. But it's still unclear if his responses, and aggressive tone, was enough for potential swing GOP senators, including Jeff Flake of Arizona, Susan Collins of Maine, and Lisa Murkowski of Alaska. Flake is the only one of those senators on the Judiciary Committee, which is expected to vote on Kavanaugh's confirmation Friday. He is not up for re-election and has a contentious relationship with the president.
"He gave GOP senators a reason to vote for him, but they'll have to shove him through quick," said the former White House official after the hearing, adding that the clips from the hearing that will play repeatedly on cable news might not serve him well. "I have a feeling the good vibes will dissipate quickly."
A visibly angry Kavanaugh gave a long opening statement after Ford's testimony concluded, raising his voice as he presented the Senate Judiciary Committee with a fiery defense, holding back tears at certain points. He also made clear that he had no plans to withdraw.
In tweets, both White House counselor Kellyanne Conway and press secretary Sarah Huckabee Sanders praised South Carolina Sen. Lindsay Graham — the first Republican senator to ask questions at Thursday's hearing himself instead of yielding to Mitchell — for his impassioned defense of Kavanaugh.
A Republican close to the process said he thought Kavanaugh "defended himself well" and that "Democrats overplayed their hands on this."
"But is it enough to get Flake? I don't know," the source added. "She was a powerful witness. She was well-spoken and had some compelling moments. But I thought Kavanaugh had some of those similar moments as well. It all comes down to what does Jeff Flake find credible."
Before Kavanaugh's testimony, Trump allies were not optimistic about his confirmation. Another source close to the White House said the fact that Republicans had been yielding all their time to Mitchell made it "clear that Senate Republicans want nothing to do with this."

"It's terrible optically, and unfortunately I don't think this ends well for Kavanaugh." At the time, the source didn't go as far as to explicitly say that Kavanaugh would be forced to withdraw by the end of the hearing, but said: "Let's just say the big guy is watching, and this Fox coverage isn't favorable."
However, the media coverage on Fox News turned as Kavanaugh's testimony began, and after the hearing, the source said he thought Kavanaugh had done enough "to appease his target audience," "passionately defended himself and gave Collins, Flake, etc. cover to vote in his favor."
President Donald Trump was on his way back to Washington, DC, from the United Nations General Assembly in New York City during the hearing. He typically watches Fox News when he's on Air Force One, and the press pool reported that the plane's televisions were tuned to the network.
During the first break in Ford's testimony, the anchors on Fox News — the president's favorite cable news network — criticized Republicans' handling of the hearing and reflected on how compelling her testimony had been.
Trump can typically rely on the support of many of the network's opinion personalities, but its major news-side voices came down hard, with the president likely watching. Trump said on Wednesday at a press conference that he would be watching closely and could be persuaded of the allegations, despite his previous attacks on Ford. "I can always be convinced," he said. "I have to hear it."
Anchor Bret Baier remarked that hearing from Ford was a "totally different thing" than reading her allegations. Chris Wallace called the testimony "extremely emotional, extremely raw, and extremely credible." He added that the hearing "is a disaster for the Republicans."
Fox News' judicial analyst Andrew Napolitano, whom Trump occasionally cites in tweets, also said that the setup of the hearing, with Mitchell doing the questioning, was not working with time constraints of the Senate procedures. The five-minute time limit on questioning was "alien to the prosecutorial mind," he said.
Some of the analysis on Fox did shift in a break during Kavanaugh's questioning. "I think we're back to where we were before the hearing," Brit Hume said. "I think the scales have been rebalanced."
While the president stayed quiet throughout the hearing, his eldest son tweeted and retweeted from the early hours. Donald Trump Jr. questioned Ford's fear of flying on Twitter — one of the points Kavanaugh allies have been using to cast doubt on Ford's credibility. Mitchell questioned Ford about flights she had taken for vacations, as the professor had previously said she might not be able to fly to DC to testify.

Republicans also tried to seize on Ford initially not being able to respond to a question about who paid for the polygraph test she took this summer related to her allegations. Her lawyers later said they paid for the test, but some Republican senators continued to raise the issue as they talked with reporters after Ford's testimony.
After Kavanaugh's opening statement and first round of questioning, Trump Jr. praised the judge's "tone."
The Republican National Committee, meanwhile, was tweeting videos of women supporting Kavanaugh with the #IStandWithBrett hashtag throughout the day.

Immediately following the hearing, Trump left the White House for his hotel in Washington, D.C. for a closed-door fundraiser — not before tweeting his support for Kavanaugh and attacking Democrats.
Additional reporting contributed by Steven Perlberg.