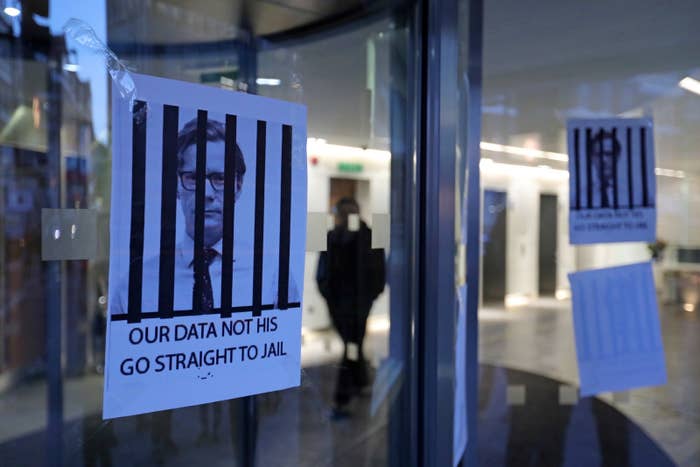 Republicans who have worked with the political data firm Cambridge Analytica say they are now being unfairly dragged into the unfolding scandal over how the company used private information from millions of Facebook users. And, they say, the company's work wasn't that useful anyway.
"We're the victims here," said a top former staffer from a US campaign that used the firm, who said there were never any legal or ethical concerns at the time about how Cambridge was acquiring data. They were in the dark, the staffer said, like the Facebook users whose data was stolen.
Cambridge broke onto the political scene in a big way in 2016, working on the presidential campaigns of Texas Sen. Ted Cruz and Ben Carson, and eventually, for Donald Trump and the outside groups backing his candidacy. But the firm, which has deep ties to the GOP mega-donor Mercer family and to former Trump adviser Steve Bannon, did work on behalf of at least five US House and Senate campaigns, a state party committee, and two outside groups under the radar during 2014's elections.
Now, the firm's former clients are finding themselves entangled in a web of complicated allegations that have opened them up to attacks. Most also say that the work the firm did for them — which, for some, was four years ago — wasn't good enough to worth dealing with the blowback and insinuations they are now facing.
"A campaign would have to be a special kind of stupid to knowingly and willingly engage a vendor that had a hint of impropriety. And that's clearly not the case with these campaigns," said the former top staffer, who spoke on the condition of not being named to avoid further pulling his former campaign into the current Cambridge news.
Cambridge billed itself to US clients as an unconventional political data firm that had "psychographic" analyses of voters that campaigns could then use for messaging to a targeted group. The firm is now under investigation in both the US and the UK for its data-mining practices.
The staffer said Cambridge was hired because it was fairly cheap at the time and a largely unknown quantity with a different pitch. But the firm didn't ultimately help the campaign much. "My recollection is that for our campaign, services that they provided to us were fine but nothing spectacular."
Dallas Woodhouse, executive director for the North Carolina Republican Party, which paid Cambridge $150,000 in 2014, said he's not sure how the firm began working for the party, but the party used the firm's data — along with that of other vendors — to help with its direct mail program. "We don't use any single source of data ever ... They were just one piece of the puzzle," he said.
The Democratic Party in the state is now raising questions about Republicans' ties to Cambridge and Russian meddling in the 2016 election, saying the state "was the guinea pig for what we saw in 2016."
"It's the bizzarest thing I've ever seen in politics," Woodhouse said of the allegations. "At its core, this dispute is between two companies and has nothing to do with us. We have no control over what Facebook's internal rules are and how they manage rules with the many, many people that buy data from them."
"We have nothing to be ashamed of. We did nothing wrong."
A former Barack Obama campaign staffer's admission that Democrats used similar data-mining efforts as those employed by Cambridge have added to these Republicans' complaints that they are being unfairly scrutinized.
North Carolina Sen. Thom Tillis, who narrowly defeated his Democratic opponent Kay Hagan in 2014 and paid Cambridge $30,000 that year, said in a statement this week that if his campaign had been misled by the firm, that would be "deeply disturbing." "My expectation is that all services provided to my campaign are lawful — regardless of who provides them, including third parties," he said.

Many Republicans privy to Cambridge's work for GOP campaigns shared similar observations about the quality of the firm's work: The company's personality profiling capabilities seemed cool and somewhat helpful — but that they were not always precise. In some cases, in-house campaign staff would use Cambridge's work as a jumping-off point, but would then have to collect additional data before developing content around it.
Cambridge's work for Cruz's 2016 presidential campaign, which was well documented at the time, was seen as a way to illustrate the Texas senator's data-driven strategies in a crowded GOP field. Cruz advisers detailed the project on record to the Washington Post in December 2015, noting the benefit inherent in Cambridge's use of Facebook.
But the recent revelations about Cambridge have prompted the Cruz team to downplay a once-heralded partnership. "The campaign hired Cambridge Analytica as a vendor to assist with data analysis and online advertising," spokesperson Catherine Frazier said in a statement this week. "The campaign's data analysis program followed and built upon the successful data-modeling and micro-targeting approach pioneered by the Obama campaigns in 2008 and 2012."
Frazier added that Cambridge had assured the campaign that all data used was obtained legally and that the firm promised in a contract to perform its work in accordance with the law.
Any existing data Cambridge brought to the Cruz campaign wasn't incredibly useful or accurate, a source familiar with Cruz's data operation told BuzzFeed News. "Opinions change, likes change, Facebook pages get old," said the source, who requested anonymity to speak candidly.
The Cruz campaign worked up its own data models, with help from Cambridge staff, the source added. But the campaign ultimately paid other vendors for additional voter data, while Cambridge's role was largely to supply data scientists to the campaign staff and to handle digital media buying.
The Denver Post revealed Tuesday that the campaign arm for the Colorado Senate's Republicans also used Cambridge Analytica, but a consultant told the paper he didn't think the firm added much to their efforts. "Their pitch was better than their performance," said Andy George, the consultant involved with the group.
Similarly, Brad Parscale, who served as Trump's digital director in 2016 and recently was announced as campaign manager for the president's 2020 reelection bid, asserted Tuesday that Cambridge's work for Trump has been overhyped, including by Cambridge executives. "Another day of people taking credit for @realDonaldTrump's victory," Parscale wrote on Twitter.
"So incredibly false and ridiculous. Let them say that under oath. Just an overblown sales pitch."