Ben Carson Calls Press Conference Presumably To Attack Ted Cruz, Then Doesn't Really
"I know you guys like to create a mud fight because that's fun. This is the problem with America today. We've become like ancient Rome."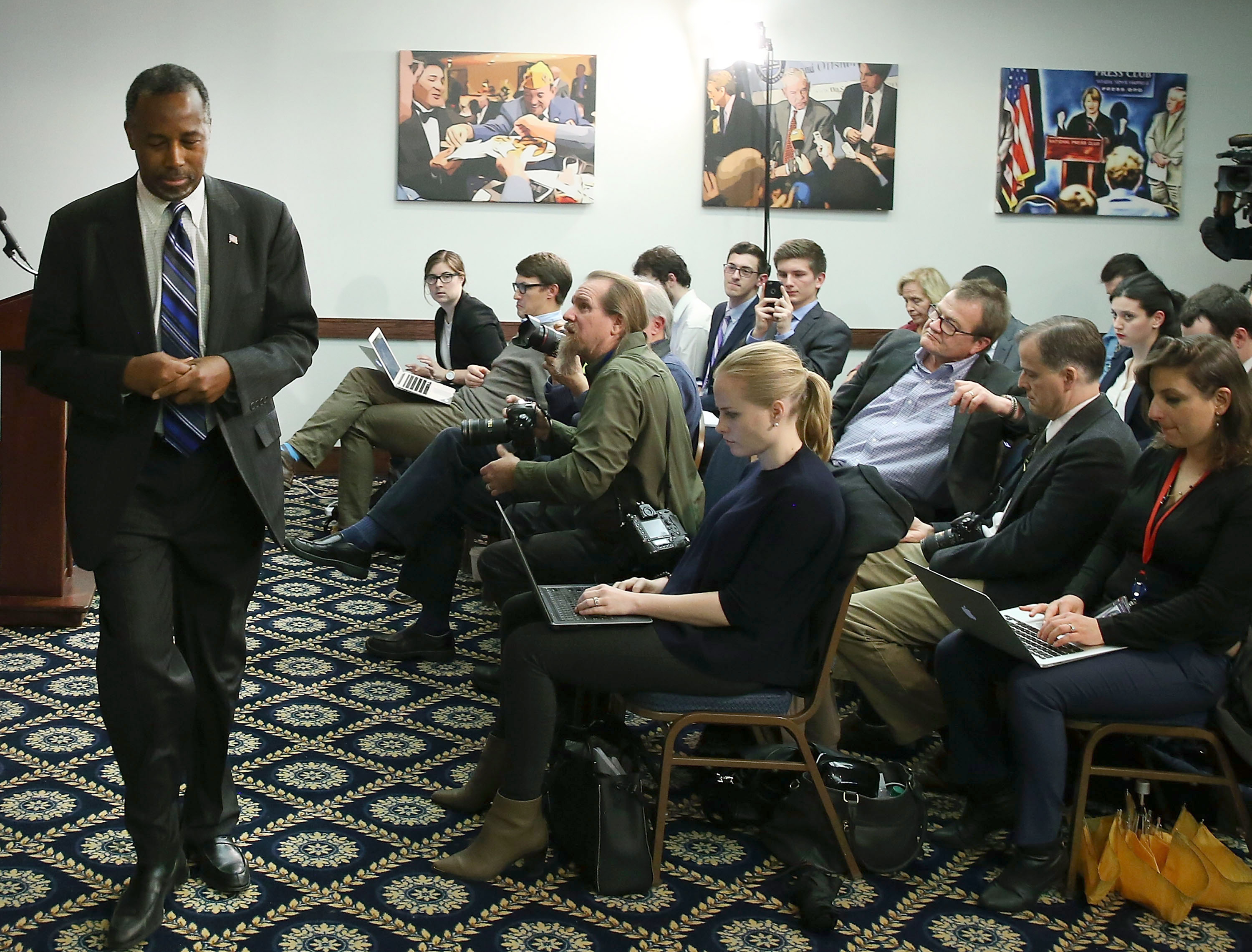 WASHINGTON — Ben Carson called a press conference Wednesday afternoon to respond to "deceptive Iowa tactics" — but then largely refused to directly respond to questions about those tactics.
On Monday night, it was reported that Carson wouldn't go to New Hampshire or South Carolina but to Florida for some rest — fueling rumors that he would suspend his campaign. Sen. Ted Cruz's campaign subsequently sent out an initial CNN report about the rumors, but not a follow-up story clarifying that Carson was not suspending his campaign. Cruz has apologized to Carson.
The neurosurgeon-turned-politician said Wednesday that the rumor hurt his campaign, but refused to directly go after Cruz. He didn't mention the senator at all during his opening remarks.
Instead, he used a bible verse – "Jesus Himself says that a tree and people of faith are known by their fruit, not just the words they say" — to indirectly attack Cruz.
"I don't think we can say what the outcome would have been. We can say whether or not we take something like this and just sweep it under the rug or are there consequences?" Carson said during the press conference at the National Press Club that lasted less than 15 minutes.
Explaining the objective of his press conference, Carson said: "What I'm saying is that you, the press, and me, the American people, have a perfectly good way of evaluating people. Will we use it or will we ignore it?"
"Evangelical voters just like everybody else should listen to what I just said — evaluate people by how they treat others," he said. "I want people to evaluate me on that basis also."
He called on the Texas senator to fire those responsible for spreading the rumor, using changes in his own campaign as an example. "That's what a good leader does. If there are things going on that you don't agree with, you make changes."
But Carson later accused the press for encouraging candidates to attack each other when he was pressed on specifics. "I know you guys like to create a mud fight because that's fun. This is the problem with America today. We've become like ancient Rome. Everyone wants to go to the coliseum and see the blood and the gore. 'Ahh this is exciting,' while the society is crumbling around them."
Carson also defended his decision to go home after Iowa — something that spurred the rumor in the first place. "I didn't make that announcement. I didn't say it. Don't blame me."
But shouldn't he take responsibility for his campaign as he is asking Cruz to do, a reporter asked.
"Is it OK, after being on the road for almost three weeks, to go home and get a fresh change of clothes?" he responded.
Despite his fourth place finish in Iowa and slide in polls, Carson maintained that he has no intention of dropping out of the race, saying people have been pleading with him not drop out. "In a baseball game there are nine innings and you don't call the game after the first inning. There's a reason for that."