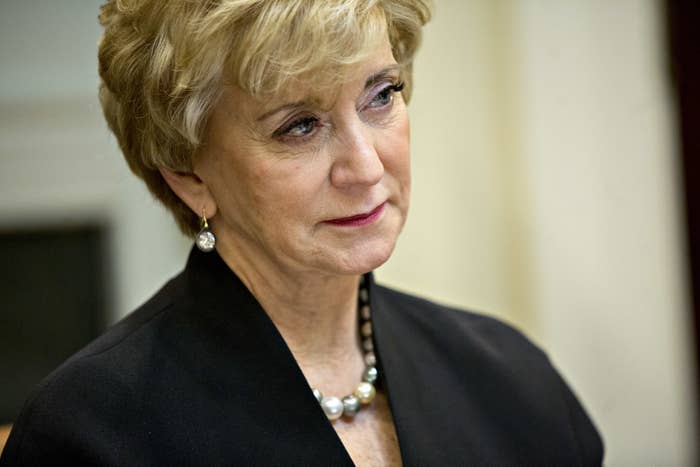 Three of President Trump's agency heads have been using private jets for government travel, BuzzFeed News has confirmed, following days of news reports and ethical questions about the administration's private jet use.
A spokesperson for Linda McMahon, the head of the Small Business Administration, told BuzzFeed News Thursday that the former wrestling CEO has used private jets since she's been in her post.
In a third statement to BuzzFeed News Friday evening, Carol Wilkerson, spokesperson for McMahon, said: "On the rare occasion when Administrator McMahon utilized private air services for official government business, she has paid for that expense herself in full, with no government reimbursement."
The latest statement is different from what the SBA said on Thursday.
"What I can pass along is that Administrator McMahon utilizes both commercial and private air services in accordance with all federal regulations and guidelines relating to travel for government officials," Wilkerson first told BuzzFeed News.
Wilkerson said she could not offer any more details about McMahon's travel at this time, including how it is paid for, and told BuzzFeed News to file a Freedom of Information Act request for more information. A different spokesperson for SBA told the Associated Press Thursday: "On the rare occasion that the administrator has utilized private air services, she had covered the difference in cost between private and commercial air services out of her own pocket." Asked about the discrepancy in statements, Wilkerson at the time had said the second statement was also accurate, but on Friday, she walked it back.
The AP also reported Thursday that Education Secretary Betsy DeVos has been using her personal plane for government work, but she has not been using taxpayer dollars for the travel.
Liz Hill, spokesperson for the department, told AP that DeVos pays for "all her travel expenses including flights, hotels, etc., out of pocket and at no expense to taxpayers." The single travel expense she incurred since taking office, Hill said, was a $184 round-trip train ticket from Washington to Philadelphia.
The DeVos family co-owns marketing giant Amway Corp. Hill did not respond to questions from BuzzFeed News about ownership of the private plane.
Robert Weissman, president of government watchdog group Public Citizen, said that although DeVos is not using taxpayer money or violating any laws, using a private plane continues to create image problems for her. "Flying around the country on family-owned private jets is just one more indication of how completely out of touch Betsy DeVos is with the concerns of everyday Americans," Weissman said.
A Politico story this week detailing Health and Human Services Secretary Tom Price's use of expensive private jets raised travel-related questions for Trump's cabinet more broadly. Price, the report detailed, took five separate private flights last week, including short trips like one from DC to Philadelphia. The bill for the flights, which Politico reports to be in the tens of thousands of dollars, went to the government. The practice is legal, but breaks with past precedent for cabinet secretaries. In a follow up story posted Thursday, Politico additionally reported that Price took took private jets at least 24 times.
Treasury Secretary Steve Mnuchin recently came under fire for similar reason — requesting the government pay the travel cost for his honeymoon in Europe. Mnuchin, a wealthy former Goldman Sachs executive and movie producer, said he made the request so that he would have access to a secure line during his trip, but he did not ultimately use a government plane.
"We've never had so many billionaires and super rich in the cabinet before," Weissman said. "Regular ole millionaires generally don't have private jets, so, I think we can confidently say this is not a common practice."
Paul Seamus Ryan of Common Cause said the travel arrangement — especially in Price's case — is a "waste of taxpayer dollars and runs against long-standing government policy," which is to fly on private planes "only when commercial travel isn't an option."
"Those are pretty rare circumstances," Ryan said. "This extensive use of charter flights by cabinet and other administration officials is definitely unusual ... . It's also worth mentioning the hypocrisy here that this is a president who ran on a platform of draining the swamp."
While DeVos, McMahon, and Mnuchin are three of the wealthiest reported people in the president's cabinet, there are several other department secretaries with reported net worths in the millions of dollars. BuzzFeed News has reached out to some of those cabinet members to ask about their travel practices.
A spokesperson for Commerce Secretary Wilbur Ross, whose net worth Forbes estimates to be $2.5 billion, did not immediately respond to an inquiry about his travel. But the department told AP that Ross had not used private planes.
Housing and Urban Development Secretary Ben Carson, who Forbes estimates has a net worth of $22 million, has not used private planes, department spokesperson Raffi Williams told BuzzFeed News. "He flies commercial everywhere," Williams said. Asked if Carson has flown private at all since taking office, Williams clarified: "Not for government business."
Chris Lu, who served as a White House cabinet secretary under President Obama, said in an interview on MSNBC Wednesday that using private jets was "not a standard thing" during the Obama administration. "We did not take private jets," Lu said.
"The rare exception is when you're going to a very remote place, like you're seeing tornado damage or you have to make multiple stops in the same day. You can make the request but you have to go through a detailed cost justification, and this is not something we did regularly in the Obama administration."
Molly Hensley-Clancy contributed reporting.
This story was updated with a new statement on behalf of Linda McMahon.