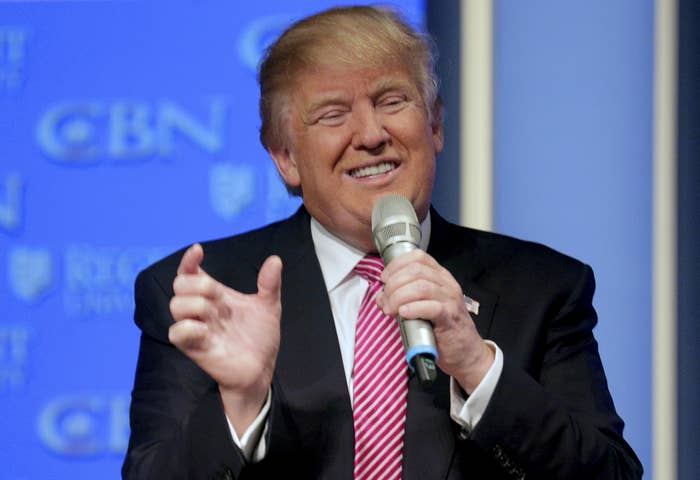 WASHINGTON — Anti-Trump groups are scrambling to convince donors to write the last-minute checks they need to fund ads ahead of the March primaries — a major challenge amid what they say are donor concerns of being targeted by Donald Trump.

Most of these groups are organized as super PACs, meaning names of donors would be reported to the Federal Election Commission and revealed to the public monthly, potentially opening up donors to attacks from Trump. Even though using a politically-active nonprofit, or 501c(4), would have allowed for donors to hide their identities, operatives working for some groups say it still wouldn't have helped with the financing they need to get their ads up in time to influence the March 1 primaries.
According to the groups donors afraid of being identified and attacked by Trump have become more common after Trump recently attacked Marlene Ricketts, co-owner of the Chicago Cubs and GOP megadonor, on Twitter when it was revealed that she gave $3 million to an anti-Trump super PAC called Our Principles PAC.
"I hear the Rickets [sic] family, who own the Chicago Cubs, are secretly spending $'s against me. They better be careful, they have a lot to hide!," Trump tweeted. He has also gone after Club for Growth, another group spending money on ads against him.
Rick Wilson, a Rubio supporter behind another super PAC called "Make America Awesome," said donors are so concerned about their families and businesses being attacked by Trump that they're being excessively cautious and are convinced that even with a nonprofit "they would somehow be outed."
"The fear of Trump is so widespread that standing up against him seems like a revolutionary act now," Wilson said.
One of those donors concerned about anonymity told Wilson: "I want to do it but my legal people worry about brand damage if he tweets about us."
Since it was created in December, Make America Awesome has been able to bring in only $10,000, as of the latest FEC reports that go through the end of January.
Liz Mair, another operative who co-founded the super PAC with Wilson, said using a nonprofit wasn't really considered when they were organizing because of the "bureaucratic hassle" and because anonymity wasn't necessarily a concern they were hearing from donors in the beginning.
Also, under rules governing such groups, they would have had to spend the majority of the money on education rather than political activity.
"The stuff that actually resonates with voters could not be done as issues advocacy," she said. "We would have had to spend a lot of money on pointless crap."
Although the rules for political active nonprofits aren't being consistently enforced, Mair said it would have been too risky with Trump, who is also much more difficult to attack through issue advocacy because he's not an elected official.
"(Trump) does have a very aggressive legal team," she said. "That's how he runs his business."
Make America Awesome has until about 5 p.m. Friday to get the money it needs to get its ads up, Mair said.

Other than the $3 million Ricketts contribution, Our Principles PAC — run by former top Mitt Romney adviser Katie Packer — had received only two other donations totaling less than $8,000 at the end of last month (one of the contributions was from GOP mega donor Richard Uihlein).

Packer released a memo this week calling on donors and party leaders to get involved before it's too late. "If all of us join forces in a concerted effort to expose his record and his rhetoric, it is possible tostop him. If not, we will have the nominee we deserve," she said in the memo.
Packer told BuzzFeed News that she has seen an increase in interest and donations since the memo. She hasn't encountered fearful donors, but said there are "other efforts that take (501c4) money that may emerge. "
She decided against a nonprofit because she "did not want to distract from our message by appearing to have anything to hide."

Jake Schaible, who founded Americans for the Real Deal — a nonprofit focused on educating voters on free trade that hopes to spend on digital ads against Trump — said he's also heard donor concerns about being targeted to super PACs.
Schaible said he didn't want to reveal his group's fundraising and said he's still talking to several major donors. Money has been slow to come in even though donors are guaranteed anonymity through his group.

"This tweet on the Ricketts family is as much of a warning to them as it is for other donors," he said.
Schaible also has message-tested digital ads against Trump waiting on money from donors. He set up a crowd-funding campaign this week to at least get some small-dollar donations through anonymous pledges.
It's troubling that the threat of Trump targeting donors is keeping them on the sidelines, said Frayda Levin, a Republican donor who gives to various groups including Club for Growth.
"It's a scary thing that people are afraid to give to a candidate that they think will hurt the country because that same candidate could embarrass them in public," she said.