After The Big Republican Super PAC Flame Outs, Campaign Fundraisers Are Striking Back
With the mega donors still weighing their options, and the wisdom of relying on super PACs being questioned, candidates and their allies are aggressively pushing to raise campaign money from mid-level donors at a faster pace, fundraisers say.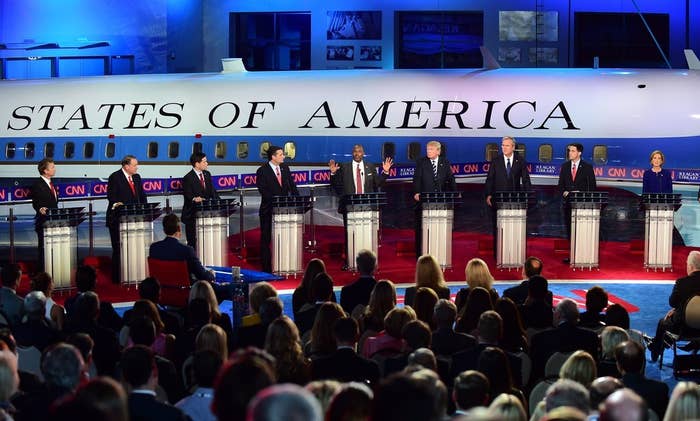 WASHINGTON — Earlier this year, Republican presidential candidates seemed laser-focused on courting the uber rich in hopes that they would write hefty checks to the super PACs supporting them — and in doing so, significantly bolster their chances of winning the GOP nomination.
But many of those donors are still uncommitted, campaigns are struggling to raise cash, and the power of super PACs is being questioned in the aftermath of Govs. Scott Walker and Rick Perry's early exits. Instead of big super PAC donors, candidates and their allies have started to turn back toward well-connected, mid-level donors who might not be able to write large checks to outside groups themselves but can raise hundreds of thousands of dollars for the campaigns.
The cause is a combination of timing — the fall is a crucial period for campaigns to lay groundwork in the first primary states — and the recent jolt of recognition that super PACs can't always save the day with the surprisingly early departure of Walker, whose affiliated outside groups had together raised more than $26 million at the end of July.
Cash raised from those donors known as "bundlers" can be used by the campaign to build out their infrastructure and buy TV airtime at a discounted rate, while the six or seven-figure checks cut by by wealthy donors can only go to super PACs, which aren't allowed to coordinate with campaigns. Outside groups also have to pay more money than campaigns to purchase ad time.
The push to target these mid-level donors, who weren't getting as much attention from many campaigns earlier this year as they have in past presidential elections, has been aggressive since Labor Day. Campaigns were trying to post impressive figures for the third-quarter — typically a slow time for fundraising — and prepare for an expensive few months ahead. Fundraising reports for cash raised between July and Sept. 30 are due to the Federal Election Commission Thursday.
"It all comes full circle," said Bobbie Kilberg, a Virginia-based bundler who is supporting New Jersey Gov. Chris Christie. "(Bundlers) are coming back to the fold."
"I've always felt that the most important contributions were the $2,700 ones," she said of the maximum amount individuals are allowed to give to a campaign committee for a primary. "It gets the ground game ready. And at the end of the day, if a person contributes $2,700, they are also more likely to volunteer."
In March, Kilberg had told the Washington Post that bundlers had been feeling "a little disenfranchised" with the emphasis on super PAC money. Others had said bundlers were "kind of rolling their eyes and saying, 'You know, we just don't count anymore.'"
Based on interviews with several donors, that has changed, especially in recent weeks.
Of course, having a billionaire in the corner can still significantly boost a candidates' chances of winning the GOP nomination. Many are continuing to court mega donors like casino mogul Sheldon Adelson, who is believed to be close to endorsing Sen. Marco Rubio; hedge fund manager Paul Singer, who has hosted meet and greets with donors for several candidates; and commercial real estate broker Doug Deason, a former Walker backer who has reportedly met with several candidates in recent weeks including Rubio, former Gov. Jeb Bush and neurosurgeon-turned-politician Ben Carson.
But at this stage in the race, with a crowded GOP field competing for dollars, presidential contenders are burning through their campaign cash rapidly, as they pour money into traveling to the early states and on setting up their operations just months before the Iowa caucuses. Based on the fundraising numbers released by campaigns so far, candidates need to fundraise aggressively to keep up with their campaign expenses. In the third quarter, Sen. Rand Paul's campaign cash burn rate was a staggering 186%, Rubio's was 81% and Carson's was 64%.
Although super PACs supporting candidates have been experimenting this election cycle with how much they can help campaigns while maintaining the required firewall between the two entities, at the end of the day, candidates still need hard campaign dollars to stay in the game.
And bundlers provide a quicker, less expensive infusion of cash into campaign committees than small-dollar donors. Previous campaign finance reports show that GOP contenders had struggled to raise cash from donors who gave less than $200, with the majority of them raising less than one-third of their hauls from small donors.
Matt Keelen, a Washington lobbyist who co-hosted a May fundraiser for Rubio, said the shift from super PAC money to campaign cash has become apparent in the "intensity of calls, direct mail and emails" he has received in recent weeks, adding he gets three or four of those a day.
"I do think the focus has shifted from super pacs to giving directly to the campaigns," he said. "Since the candidates can control what their own campaigns are spending the money on, they need significant resources to build the infrastructure needed for a probable prolonged primary race."
The shift has probably been most evident for Team Jeb! because he fundraised so assiduously for his super PAC earlier this year before he was a declared candidate. Bush's team, which raised more than $100 million for his super PAC in the first half of the year, has been pushing Bush alumni network — those who worked for his father and brother's campaigns and administrations — who bundled for his super PAC, Right to Rise, to switch to bundling $100,000 for his campaign.
Unlike most other candidates, the Bush campaign is expected to release the names of its bundlers, which is not legally required, on Thursday.
Bush allies, donors say, are communicating with those donors just as much as they were in January, but the emphasis has now been on campaign cash.
David Beightol, a top Romney bundler in 2012 who is supporting Bush, said the team has maintained "a steady diet of fundraising" and knows the importance of bundlers this cycle. With the GOP field still too crowded, "the traditional bundler is even more important now because you have to spread out your outreach to more people," he said.
Beightol has helped organize a fundraiser next month for Bush in Wisconsin — a state they didn't venture into much previously to raise cash because most donors had already committed to Walker, the home state candidate.
And bringing in $2,700-checks comes with its perks. Former Presidents George H.W. Bush and George W. Bush are headlining an event in Houston later this month for donors who have bundled $50,000 or more for Bush's campaign.
But the focus on campaign cash, some argue, isn't necessarily a shift in strategy for campaigns but bundlers now opting to get more involved.
"I think a lot of folks have been standing on the sidelines watching the race develop and are perhaps now just engaging as the field becomes clearer," said Mark Baker, a top bundler for Mitt Romney in 2012 who is serving as Rubio's Montana campaign chair.
And despite the assurances from campaigns, not all donors are convinced that raising six-figures for candidates still matters. Ken Kies, a tax lawyer who was a top bundler for George W. Bush, said: "Raising hard money isn't easy. It's a lot of work, and in this environment, the enthusiasm for people to do it has lessened. If you raise $100,000, that's like pocket change."