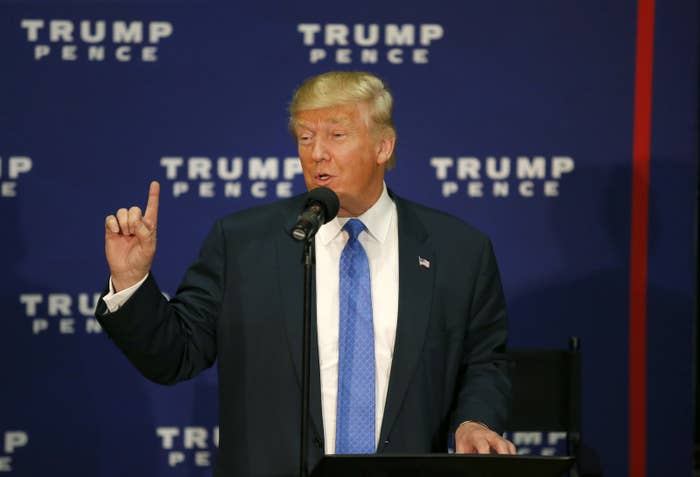 WASHINGTON — A super PAC supporting Donald Trump is making a small, five-figure radio and TV buy targeting Democratic-leaning minority voters by using President Obama's words against Hillary Clinton.
Great America PAC's ad campaign — first shared with BuzzFeed News — will air in certain media markets in Pennsylvania, Ohio, North Carolina, Florida, Michigan, Wisconsin, New Hampshire, Illinois and Minnesota for a week starting tomorrow. The group pointed to its inclusion of Minnesota, where the Real Clear Politics polling average shows Hillary Clinton up by 4, as evidence that they are expanding the battleground map for Trump. The involvement in a few other states such as Illinois is to boost Republicans down-ballot as well.
"George W. Bush successfully targeted messages to Hispanics and African Americans during his 2000 and 2004 election wins," said Aaron Manaigo, senior adviser to the super PAC. "However, this type of micro messaging is outside the norm for this election cycle."
Great America PAC officials described the buy as a test run. If they are able to move numbers and get more funding from donors, they will expand the buy.
"This targeted national and battleground media buy campaign is just the opening salvo to a massive GOTV ground game the PAC has scheduled beginning later this month," Manaigo said.
Trump's support from black and Latino voters this cycle has been dismal, and it's unclear if an ad buy of this size will do anything to sway minority coalitions.
The TV ad shows a clip of Obama from the 2008 Democratic primary, hitting Clinton on a range of issues. "What does President Obama really think of Hillary Clinton," a narrator says in the ad before footage of Obama begins.
"I just have to remind people of the track record. This is the same person who has taken more money from lobbyists than any other candidate — Democratic or Republican. Taken more money from drug company lobbyists; spent a decade with her husband campaigning for NAFTA and now goes around saying how she was opposed to NAFTA — that's some politics being played by Hillary Clinton."
The radio ad takes several lines out of context: it opens by saying it's a message from President Obama. It then plays the audio of Obama talking about "plantation politics" and describes voting a straight Democratic ticket to selling "our soul for a Christmas turkey." The passage is from Obama's audiobook Dreams From My Father, which he narrated. In the book, Obama is actually quoting Smitty, a barber, as saying those things.
The ad closes with a clip of Hillary Clinton of saying: "I believe in white supremacy."
The clip is from a speech she gave on her opposition to the school voucher program. She was describing a hypothetical scenario in which a parent wants to send their child to the "School of the Church of the White Supremacists."
The group has spent $9.2 million on behalf of Trump so far in 2016.
CORRECTION
The name of Obama's book is Dreams From My Father. An earlier version of this story misstated the title.