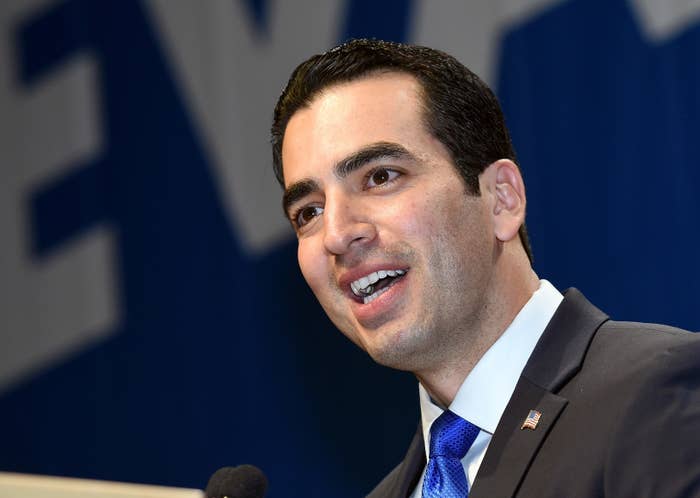 Rep. Ruben Kihuen has been accused of sexual harassment by a former staffer and a lobbyist, and more women have told BuzzFeed News about uncomfortable or troubling interactions with him. But Kihuen, two weeks after the first account was published, is still in Congress, denying all allegations against him and frustrating his party's leadership and the women who have come forward.
Kihuen, a first-term Nevada Democrat who has been accused of unwanted touching and sexual advances, is so far ignoring all calls to resign. With the stalemate ongoing, the House Ethics Committee on Friday announced an investigation into the allegations, and Kihuen has said he intends to "fully cooperate." Kihuen is the only Democrat with such public allegations against him to still be in office, and the longer he stays — investigations by the committee can be time consuming and often inconclusive — the more it underscores the lack of a coherent process for handling sexual harassment allegations in Washington.
House Minority Whip Steny Hoyer, who was seen chatting with Kihuen on the House floor earlier this week, just before the second woman came forward with allegations, is one of the Democrats calling for a new method to deal with such accusations. "...[I]t is clear that we need a new process that can swiftly and transparently resolve issues like this and encourage victims to come forward and protect them while allowing the accused to make their case," he said in a statement, calling the allegations against Kihuen "very serious and credible."
Some Democrats wanted to take a wait-and-see approach initially in response to the allegations, while House Minority Leader Nancy Pelosi and chairman of House Democrats' campaign arm, Rep. Ben Ray Luján, immediately asked for Kihuen to resign after the first woman came forward. House Democrats have now formed an informal task force to come up with recommendations on how to deal with such allegations.
There's little more that leadership can do to get Kihuen, one of the first DREAMers to be elected to Congress and once a rising Democratic star boosted by former Senate majority leader Harry Reid, to step down in the meantime. They've already cut off financial help: The DCCC removed him from the group of members with "Frontline" status — vulnerable incumbents the committee tends to spend generously on.
But even with the ethics committee now launching an investigation, there's one thing that no top Democrats on the committee or elsewhere has done, according to the former campaign staffer who first accused Kihuen of sexual harassment: spoken with her to hear her story. The woman, Samantha, is frustrated that senior Democrats have not gotten in touch with her to directly hear her allegations. That silence, she believes, shows divisions in how the Democratic Party is handling sexual harassment allegations. Some victims of harassment who have come forward wish to remain anonymous and may see further contact as a violation of that. But Samantha feels that since she attempted to report her harassment in the first place, she expected to hear from the DCCC.
"It took a few days before I started wondering why no one has contacted me. I knew they definitely had my contact information," Samantha told BuzzFeed News in an email about the Democratic Congressional Campaign Committee. "Even if they didn't have any questions about the incidences, I was surprised they didn't at least contact me to apologize to me, since I clearly tried to report this a year and a half ago and nothing happened."
Although BuzzFeed News withheld her full name at her request, based on her title during the campaign and past job applications she has sent to the House Democrats' campaign arm, the DCCC, Samantha said she believes the committee is aware of her identity and contact information.
"We respect and believe Samantha, and that's why we took swift and strong action in response to her coming forward," said Meredith Kelly, communications director for the DCCC.
Following Samantha's allegations, the DCCC implemented several key changes to how they train both staffers and candidates on issues like sexual harassment. Luján's immediate call for Kihuen's resignation was the fastest a member of leadership had made such a call following an allegation. The committee also now requires all staff and candidates they support to have a strong sexual harassment policy and additional training for candidates and campaign managers.
Samantha, who served as Kihuen's former finance director for four months during his 2016 congressional campaign during the Democratic primary for the competitive House seat, said Kihuen propositioned her for dates and sex despite her repeated rejections, as BuzzFeed News previously reported. On two occasions, she said he touched her thighs without consent.
She told a mid-level staffer at the DCCC about Kihuen's behavior shortly after she quit her job. While word eventually made it back to Kihuen's then-campaign manager after she had left, senior party leadership has denied knowing anything about them until the BuzzFeed News story was published. Kihuen has shifted blame for stories about his conduct on the DCCC and Pelosi, alleging that they knew of the harassment accusation last year and spent millions on his race anyway. Pelosi and the DCCC have denied Kihuen's claims, and the Nevada Democrat has provided no evidence to show they knew anything at the time, except citing the original BuzzFeed News story to CNN. That story does not say that Pelosi or the DCCC knew about the allegations.
"I'm inclined to believe, as the Dec. 1 article indicated, the person I talked to at the DCCC only told one other person who worked there, and neither of them told anyone else at the DCCC," Samantha said. "I still think this is problematic, because it suggests that the DCCC doesn't instruct their employees how to handle sexual harassment complaints or any other concerns from congressional campaigns."
It is not unprecedented for members to speak with people making allegations. Before calling on John Conyers to resign, Pelosi spoke with Melanie Sloan, one of the women who charged the congressman with inappropriate sexual behavior. In a statement after they spoke, Pelosi suggested the value in hearing directly from an accuser. "I believe what Ms. Sloan has told me," she said in the statement. "Ms. Sloan, as a respected ethics expert and attorney, also gave me valuable feedback into the substantive reforms many of us in Congress are advocating to foster a climate of respect and dignity, and to protect legislative branch employees."
Kihuen, the first-term congressman, is also refuting a second accusation of "persistent, unwanted sexual advances," after another woman came forward Wednesday evening. A lobbyist, whose name was withheld by the The Nevada Independent, told the publication that Kihuen touched her thighs and buttocks without her consent on three separate occasions and sent her hundreds of suggestive texts. In his response, Kihuen implied the lobbyist was one "several different women" he has dated. But according to the report, texts show that the lobbyist turned down any invitations from him to spend time together.
Nevada Democratic Rep. Dina Titus, who has called on Kihuen to resign, said in a statement to BuzzFeed News Thursday that Kihuen wouldn't even be qualified to work as a staffer in her office, based on all the allegations against him. "Ruben would not be able to work in my office where we have a zero-tolerance policy on sexual harassment," she said. "As country singer Lorrie Morgan said, 'What part of no don't you understand?'"
Dozens who have been around Kihuen over the years also described a pattern of behavior from Kihuen that was teetering on the brink of misconduct. In interviews with at least 30 men and women who have worked in Nevada politics in Carson City and in Las Vegas, Kihuen was repeatedly described as a "playboy" whose reputation for constantly pursuing and flirting with young women was an "open secret." His behavior was excused by top Democrats in the state because they saw him as an unmarried man who liked to party and who had cultivated an image of a lady's man without doing anything explicitly wrong.
A woman who worked at the front desk in Kihuen's condo building in Las Vegas told BuzzFeed News about repeated, inappropriate advances from the then-state senator which ultimately led to her blocking his phone number and hiding from him in the building. The woman said her interactions with Kihuen occurred in 2014 and 2015 when she was 19 and 20 years old.
It started out as friendly — and at times flirtatious — conversation, the woman, who asked not to be identified by name, told BuzzFeed News. But once they exchanged phone numbers because Kihuen suggested he might be able to help get her a better job, he began texting her at odd hours and making inappropriate comments.
"He would say, 'You deserve better than this. You shouldn't be working at the front desk,'" she said.
"It was very flirtatious things in super late night texts," she said.
The woman no longer has her texts with Kihuen, but BuzzFeed News reviewed texts between the woman and others who worked in the building about another resident in the building wrongly defending Kihuen's inappropriate behavior. Public records also show that Kihuen listed the address for the building where the woman worked as his residence at the time.
The woman said Kihuen — who was then gearing up for his congressional campaign — also often commented on her clothing and how her butt looked as he passed by the front desk, adding that it was unusual to get "creepy and nasty" comments like that from other residents in the building.
The woman said she told him "two or three times" to stop texting her, and when he continued to do so, she eventually blocked his number.
For two months, before she left her job at the building for unrelated reasons, she also tried to hide from Kihuen. "We have cameras in the building, and you can see someone coming down. I would leave the desk, go in the back room, or look like I'm really busy."
Kihuen's office declined to comment on specifics in response to the woman's allegations and other instances of inappropriate behavior. "In the course of reporting this story, BuzzFeed has not provided any corroborating evidence of specific, concrete instances of harassment or misconduct. Instead, this story is based on unattributed hearsay and innuendo, and the Congressman won't respond to it."
Kihuen's aides requested transcripts or screenshots of texts between Kihuen and the woman from three years ago, which the woman told BuzzFeed News she no longer has.
The informal culture in Carson City — where state legislators, operatives, and lobbyists are away from families, more than 430 miles from Las Vegas, and often drink together and do karaoke and other activities — also made it hard to judge if Kihuen's behavior was crossing any lines, said people who have worked in his orbit.
Leslie Mix, who worked with Kihuen in the state assembly, was one of two women BuzzFeed News spoke with who aggressively defended the congressman. Mix said "an awful lot of women wearing high heels, low cut blouses, and all giggles and a flutter" were "throwing themselves at him" and he tried his best to be "gracious rather than flirty."
"It would be so easy to say someone in a powerful position did that or another," Mix said. "But as a female, you learn to work with it because it's just a part of human nature. If you felt uncomfortable with something, you learn to shut it down. Now we're all screaming sexual harassment here every 10 minutes."
Since BuzzFeed News first reported on the allegations against Kihuen, many who know the legislator said they were disappointed, but those who had been around him enough added that after seeing his behavior and hearing whispers from women over the years, they weren't entirely shocked.
A Democratic operative, for example, recalled a work meeting she had a few years ago with Kihuen that she described as "uncomfortable" and "unprofessional." Kihuen, who was a state senator at the time, brought a young woman, who said she met Kihuen at the gym, along to the meeting. Kihuen proceeded to repeatedly touch the woman underneath the table, the operative said.
It was not made clear exactly what their relationship was, or why she was brought along to the political meeting.
Another former Nevada State Assembly intern said in settings with alcohol, she routinely saw Kihuen making inappropriate jokes and at times giving unwanted, long hugs and touches.
"Ruben tends to be very touchy-feely and flirtatious to begin with," the intern said. "The more you just let it go, the farther along he gets."
CORRECTION
Samantha worked for Kihuen for four months. A previous version of this post stated she worked for him for six months.