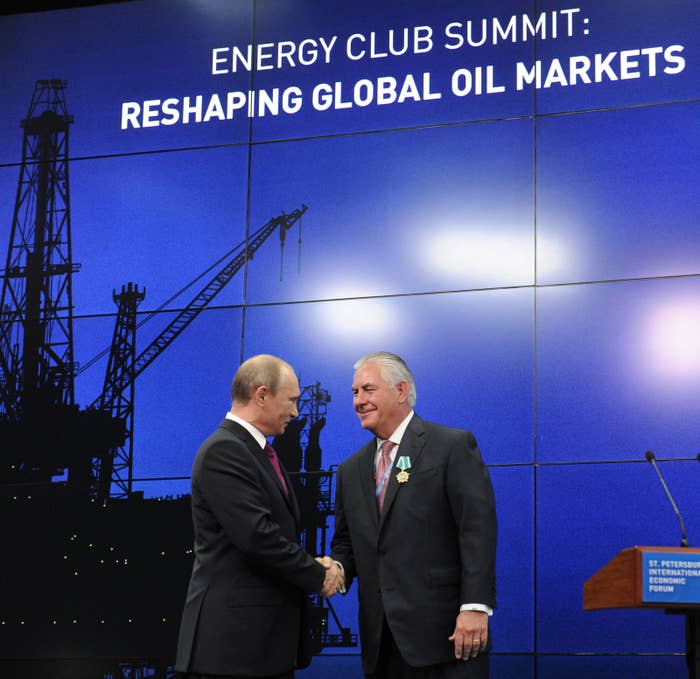 President-elect Donald Trump believes his secretary of state nominee Rex Tillerson to be the "embodiment of the American Dream" with a "deep understanding of geopolitics." But senators from both parties aren't entirely convinced he's up for the job.

In a confirmation hearing starting Wednesday and potentially extending through Thursday, the Senate Foreign Relations Committee is expected to challenge Tillerson, the former CEO of Exxon Mobil, on his close ties to Russia at a time when lawmakers are also investigating the country's involvement in hacking the Democratic National Committee's emails during the 2016 election. An unconventional pick for the role, the 64-year-old Texas oil executive — who has never been vetted for a government position — will face scrutiny on his business deals, his personal wealth, ties to foreign leaders, and how he will advise the new administration on issues, including NATO and Taiwan, on which Trump has taken an unorthodox view.
Here are five things to watch during the hearing:
1. Will Tillerson go tougher on Russia than Trump has?
Senators from both parties have expressed discomfort with Tillerson's close ties to Russian leaders and the country's economy. Within the Senate, there remains a lot of enthusiasm for increased economic sanction on Russia.
In private meetings, Tillerson has indicated he will back sanctions. Republican senators who met with him assured reporters this week that Tillerson's views on Russia were "mainstream." But the hearing will be the first time the nominee publicly tries to distance himself from Russian President Vladimir Putin, who previously bestowed Tillerson with the Russian Order of Friendship Award.
The hearing will also give an indication of where President-elect Donald Trump stands on Russia. Questioning will likely focus on how Tillerson will deal with the Russian hacking and whether Tillerson will advise Trump to soften sanctions that have hampered the company that employed the nominee for four decades. Short on the engineering skill needed to build offshore rigs in icy seas after years of communism, Russia turned to Exxon for an exploration partnership in 2011. But that massive $500 billion deal is on hold after the Obama administration sanctioned some Russian companies, including the state-owned fossil fuel driller Rosneft, following Russia's annexation of Crimea.
2. Will Tillerson win over Marco Rubio?
The Florida Republican has "serious concerns" about Tillerson's nomination — and on a committee where one vote could make a difference Sen. Marco Rubio will be closely watched. Rubio, who supports congressional action for more sanctions against Russia, is establishing himself as one of the strongest voices against Putin in Washington. He met with Tillerson ahead of the hearing, but hasn't indicated which way he is leaning.
With only a one-seat advantage for Republicans on the committee, Rubio's support is crucial. How will Tillerson get him on his side? And if his answers don't satisfy Rubio, will the former 2016 presidential candidate — who went after Trump at the end of the GOP primary — be willing to stand up to the incoming leader of the Republican party? Two other senators on the committee who have been open about criticizing Trump and his picks in the past — Rand Paul of Kentucky and Jeff Flake of Arizona — could also be interesting to keep an eye on.
3. Can Democrats actually make a stand against a Trump nominee successfully?
Tillerson is a top target for Democrats and their line of questioning will be revealing of their overall strategy — and strength — in taking on Trump. For weeks, Democratic groups and lawmakers have been going after Tillerson not just on Russia, but also on potential conflicts of interest related to his time as CEO of Exxon Mobil and the lack of paperwork filed by Tillerson and other nominees. Although Tillerson has taken steps to divest himself of financial interest in the company, Democrats will likely continue to push the ethical argument. Oregon Democratic Sen. Jeff Merkley, who is becoming a key ally of anti-Trump outside groups, sits on the Foreign Relations Committee and could take the lead on implementing the party's playbook.
4. Is the Paris Climate Accord going down?
The former chief executive of Exxon is one of the few cabinet nominees that has publicly agreed with the consensus of climate scientists that human activity is warming the planet.
In November, as Trump mulled tapping Tillerson, the oil and gas firm announced its support of the Obama administration's biggest effort to curb climate change, the Paris climate agreement, under which nations voluntarily reduce greenhouse gas emissions in order to hold the rise of global average temperatures below 2 degree Celsius above pre-industrial levels. Whether Tillerson will continue that support while working for Trump is likely to be one of the top questions from Sen. Cory Booker of New Jersey and other environmentally minded Democrats on the Senate Foreign Affairs Committee.
5. Will anyone even be watching this thing?
Wednesday is a busy day for the incoming administration. With Trump scheduled to give his first press conference in months and two other confirmation hearings scheduled to start on the same day, will Tillerson's answers get drowned out? His supporters and critics are hoping to use the hearing for messaging purposes, but the message might not get out the way they planned.
It will also be interesting to watch how senators split their time. The GOP majority claims it stacked confirmation hearings to speed up the process, but Democrats have indicated the move was politically motivated to keep their attacks on Trump's cabinet picks from being in the spotlight. A handful of senators on the Foreign Relations Committee also sit on at least one other committee also holding nomination hearings on the same day.