Eva Hicks of Centerton, Arkansas, was shopping at her local Walmart on Monday night when a woman went off on her, and other customers nearby, with a slew of racist remarks. Hicks said she'd politely asked the woman to move her cart so she could reach for her medicine.
video-cdn.buzzfeed.com
Hicks told BuzzFeed News she started recording the woman when the brief exchange in the pharmacy aisle of the Centerton Walmart suddenly turned aggressive and racially charged.
In the video that's since gone viral on Facebook, Hicks is heard telling the woman that she'd simply asked her to move, as she was standing in front of the medicine she needed to reach for.
"I waited behind her for a bit," Hicks said. "Then I went in front [of her] and said 'Excuse me' in a very nice way."
"She let me pass but she started looking at me and said, 'I hate it when people keep bothering me in every aisle,' and I said, 'I'm sorry but I need you to move.'"
Hicks claimed that it was that comment that set the woman off.
"She pushed her cart toward me and she made a hateful face," she said.
"Go back to Mexico," the woman is seen saying to Hicks when she started recording. "Go back wherever you're from."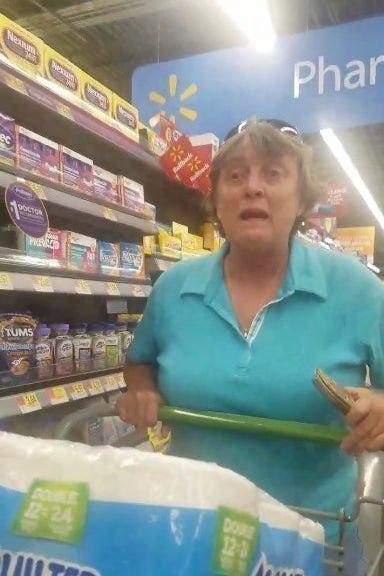 "I said, 'Excuse me, don't be rude,'" Hicks said.
"You're the one that's rude. You're in America," the woman retorted.
Hicks said because they were standing near the pharmacy window, the line of customers waiting to pick up prescriptions witnessed the altercation. About 10 people started crowding around them, and some decided to intervene and defend Hicks.
Hicks said a black woman stepped in to try to mediate the situation. After the woman heard the white woman tell Hicks, who's Mexican-American and has been a citizen of the US for 30 years, to "go back to Mexico," she told her, "Stop being ignorant."
"A nigger's calling me ignorant?" the white woman responded.
The store's assistant manager eventually intervened, and asked the woman to leave the store. Hicks said she never saw the woman leave the store, but she eventually left herself. "I left before she did. She was not escorted out," Hicks said.
The Centerton Walmart declined to comment on the incident, but a spokesperson for the corporate offices told BuzzFeed News they're trying to identify the offending customer, and ban her from shopping at Walmart stores.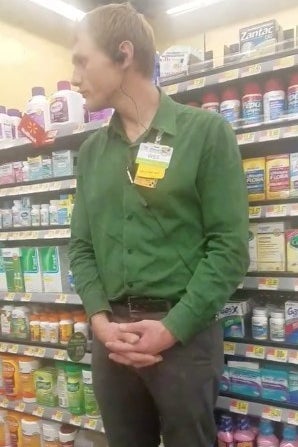 "Should she return, we intend to ask that she no longer shop at our stores," spokesperson Charles Crowson said.
Crowson added this statement on behalf of the company: "We value and respect everyone who visits our stores. We have no tolerance for the language or actions of this customer and are proud that our assistant manager responded appropriately by asking her to leave the store."
Hicks said she does not want anyone hurting or harassing the woman in the video. "I just want my family safe," she said. "People might tell her to leave [their stores], but I don't want anything worse to happen to her."