This is 21-year-old Tajea-Jasmine Walton of Stratford, Connecticut. She's a model who's grown a modest following on Instagram.
Last Wednesday, she received a "weird" DM from a user who she said she did not recognize at all.
Walton has around 1,800 followers so she receives messages from strangers from time to time but this "took the cake for me," she told BuzzFeed News.
"My first reaction was I was laughing but also creeped out at the same time," she noted, reading the user's message.
The stranger reached out to Walton to ask her to block her boyfriend on the app. He'd apparently been saving photos of Walton and setting them as his phone and computer backgrounds.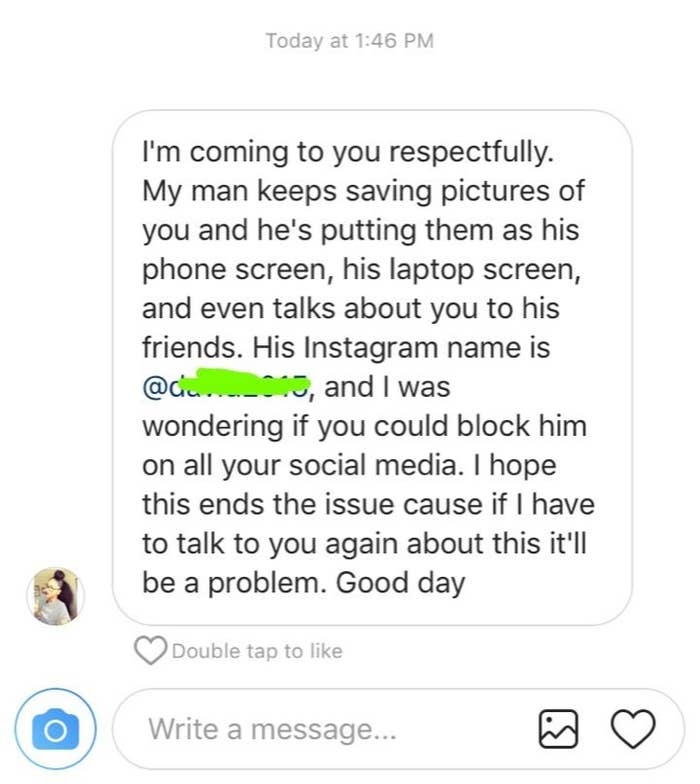 "I hope this ends the issue cause if I have to talk to you again about this it'll be a problem," the woman wrote.
Walton confirmed she'd never heard of the woman's boyfriend IRL or online prior to this message.
"Why is he saving pics of me?" she said.
"I didn't respond," she added. "I honestly just read it and blocked them both. There wasn't any reason to go back and forth. I have my own boyfriend, and at the end of the day, there's nothing I could do about him being oddly obsessed with me."
She said she screenshot the message and shared it on Twitter "because I was so shocked." Everyone else seemed to be as well.
They were also profoundly confused, especially by the woman's tone. "I don't know who's scarier the stalker or the girlfriend," one person responded.
And generally about, y'know, how repairing their relationship became Walton's burden and responsibility.
How dare Walton share photos of herself that may attract someone else's boyfriend to this degree?
Others had pettier advice in response.
Walton told BuzzFeed News the more she thought about the woman's message, the more she wanted to shift the blame off of her. "Women should build each other up," she said.
"What I want women to take from this is that...
1) You're worth more than this.
2) The second you feel like you must attack another woman over a man, let him go."