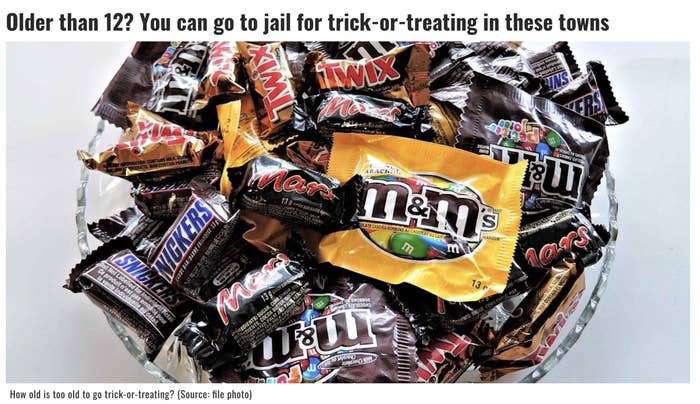 Despite reports and headlines cropping up this week suggesting local Virginia residents could face fines or jail time for trick-or-treating this year, local police from some towns told BuzzFeed News they will not be looking to arrest or penalize anyone for participating in the Halloween tradition.

On Monday, local website HR Scene published ordinances from cities throughout the Hampton Roads area in Virginia that all stated in various ways that anyone caught trick-or-treating over a certain age, and/or past a certain time, would face punishment in the form of a fine and/or actual jail time.

The post led to a bit of a media frenzy. Many major outlets recirculated the clauses found in several Virginia town codes, which caused people who actually live in those areas to panic.

Even though some of the ordinances do exist and can be found on official township websites, multiple local police departments said they are not something that will be enforced on Halloween — and local residents should not be worried about themselves or their children being thrown in jail for trick-or-treating.

BuzzFeed News has reached out to city officials in the roughly dozen towns listed in many of the articles and reports. In response, these are the Virginia towns that either do not have such laws or will not be enforcing them, according to police. (We'll update the list as we hear back.)

NORFOLK:
"Norfolk Police will not go around and arrest or fine children who are enjoying the trick-or-treating activities," Daniel Hudson, public information officer for the Norfolk, Virginia, police department, said in a statement.

Hudson confirmed that no citizen has been or will be arrested or fined for simply trick-or-treating.

SUFFOLK:
"I have no idea how this ridiculous and baseless rumor was started," said Diana L. Klink of the Suffolk Police Department, confirming officers will not be arresting or fining anyone.

"The City of Suffolk wants everyone to have an enjoyable and safe time out and about on October 31."
However, she wants to remind people "that trick-or-treating is for those ages 12 and under and that trick-or-treating in Suffolk ends at 8 p.m. by City Code."


NEWPORT:
"I don't think anyone's planning on arresting a 13-year-old for trick-or-treating," said Shelly Ward of the Newport Police Department.

"Those are local ordinances — not something we're mandating."


JAMES CITY COUNTY:
The local police of James City County said they were not even aware such an ordinance for their town existed.

Stephanie Williams, the department's public information officer, said over the phone that she could not locate any such laws when she searched for them. "I'm not familiar with any of that," she said.

"We have no intention of [arresting or fining] anyone," she added. "We encourage trick-or-treating between certain hours, but we're not going to jail or fine anyone for being above 12."