This is 20-year-old University of Michigan student Alisha Jennings-Oluwosuko. She's originally from DC, and has been home spending time with a family member, who's being treated at the Johns Hopkins Hospital in Maryland.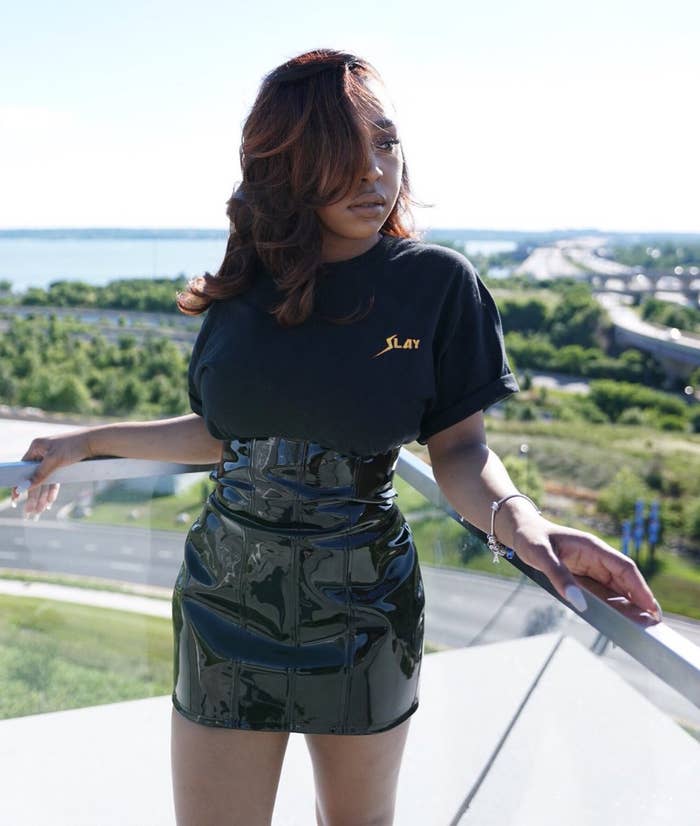 Jennings-Oluwosuko said she'd hastily ordered some food to the hospital from a local burger joint, but she'd forgotten about the order entirely by the time a delivery person arrived. "I forgot about the food; I had been doing so much at the hospital," she explained.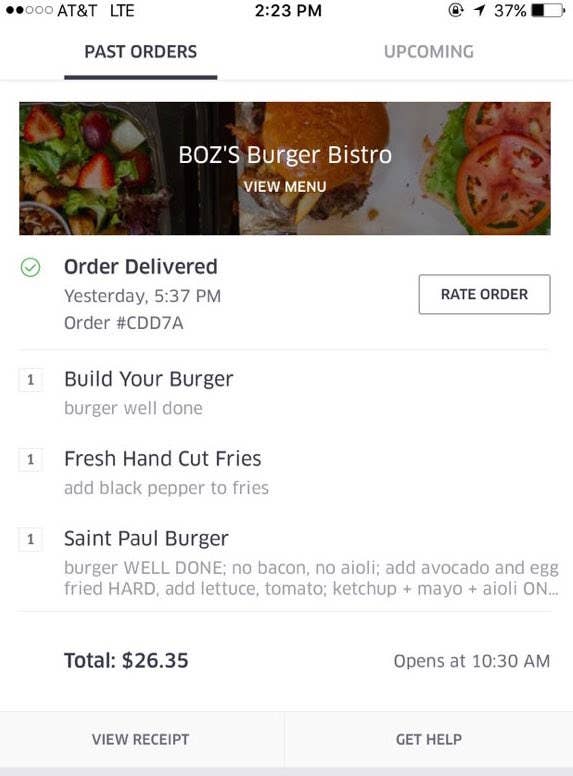 She eventually texted the number, asking, "Who is this?" "Hello, your Uber Eats order is here," the person texted back. Jennings-Oluwosuko then asked if he was at the main entrance of the hospital.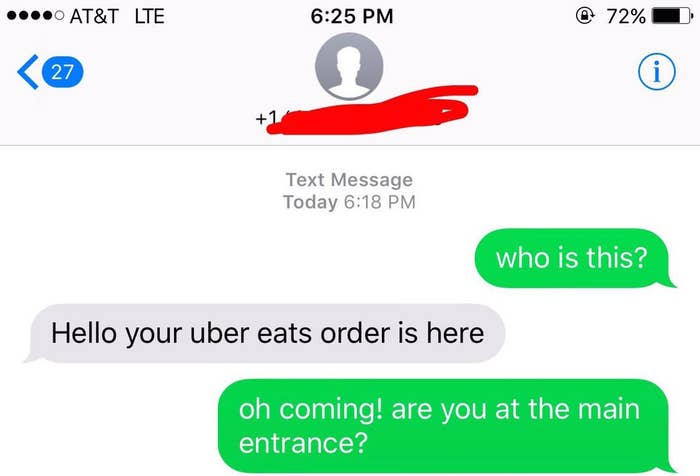 "No I'm on top of the building I just landed my helicopter," the delivery guy snarked back, before eventually responding and confirming that he was indeed at the main entrance.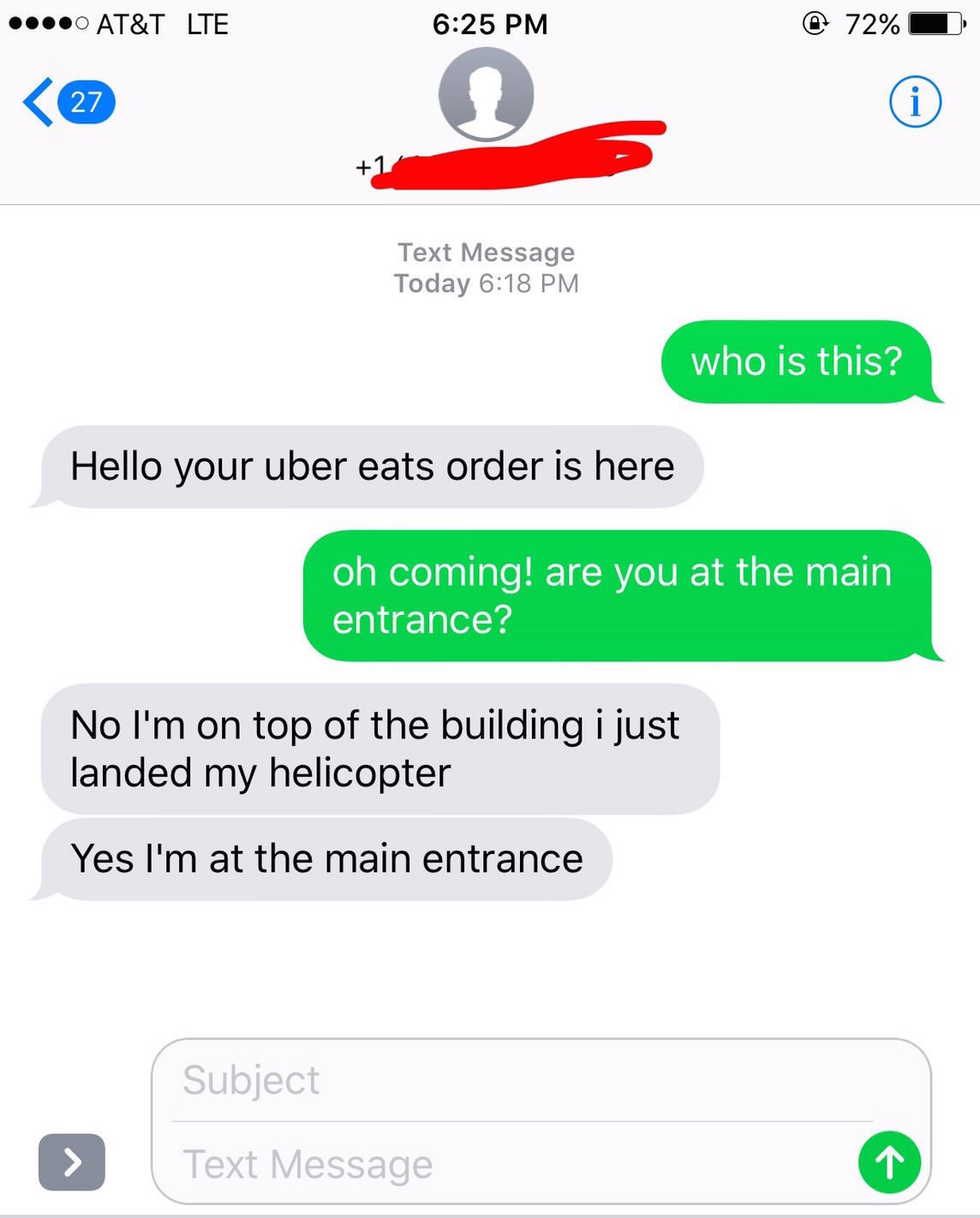 She wasn't sure how to feel, but when she met the delivery guy at his car, he admitted he was being a bit dickish. But that he thought it was common sense to meet at the main entrance.
"He goes, 'you saw what I said, I was just messing around…I come here all the time and I always come into the main entrance,'" Jennings-Oluwosuko relayed.
"It was really funny but you were being a dick," she thought to herself.
Jennings-Oluwosuko then shared the exchange on Twitter, where it's been already retweeted over 60,000 times in a day. People are making hilarious assumptions about the Uber Eats delivery guy.
"This the type of dude that probably eats your fries on the way there," one person commented.
People can't stop laughing. Mostly, they're admitting this is exactly how they'd act as an Uber Eats driver.
People also can't decide if this warrants a low, or no tip. Or an EXTRA LARGE tip.
"I knew it was funny but I didn't think it would be getting this much attention," Jennings-Oluwosuko said.
It's gotten so much attention Uber responded to her tweet, saying the actions of their employee is "definitely not OK." They've asked her to DM her details so they can look into it. Jennings-Oluwosuko said she's not too pressed about it. "Everyone's trying to make their living, it's not that serious," she said.
And...people seem to be trying to protect their mans, the Smart-Ass Uber Eats Delivery Dude.
Anddddddd...getting in their own smart-ass responses in the meantime. 👀
UPDATE: On Tuesday, Uber Eats seemed to have changed their tone, and responded to the exchange by issuing this cheeky tweet. "We don't deliver by helicopter, but we have some friends who can make this happen," the company wrote.