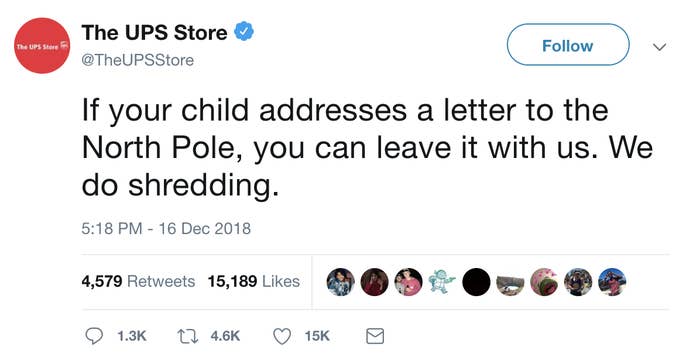 The official Twitter account for The UPS Store, the retail company of UPS, deleted a tweet about shredding children's letters addressed to Santa Claus in the North Pole after people called it "heartless" and the tweet "too dark" — even for Twitter.
"If your child addresses a letter to the North Pole, you can leave it with us. We do shredding," the now-deleted tweet read.
A representative for the company told BuzzFeed News they decided to pull the tweet on Monday when they saw that "things [were] going in the wrong direction" to what they first thought was a "fun and light-hearted" tweet.
"We do a lot of puns that have second- or third-level meanings in our posts. We thought this was going to be one of those," Staci Reidinger, the public relations and social media manager for the company, said. "We're very sensitive to what we do on social, and if we see things that are going in the wrong direction, we want to say, 'OK, we're going to back off of this.'"
"We did not want to take away from the magic of Christmas," she added. "[The tweet] was just to get people laughing."
Despite the quick efforts to salvage the "magic of Christmas" at the UPS Store, the tweet had remained up for a whole day and drew immediate and passionate responses. Many were concerned that this would completely ruin a child's holiday spirit. Others clutched their pearls and were not expecting or ready for this level of harsh reality.
"I hope any kids following me aren't reading this," one person tweeted.
"Why not just punch the little kid in the face, while yelling "there is no such thing as Santa?" someone else added.
People also suggested less harsh ways to handle Santa letters this time around.
The company told BuzzFeed News that it had received enough complaints about the Grinch-level tweet that they decided to take action.
Reidinger said the UPS Store, which outsources its social media to a third-party agency and approves each post before publishing, believed the joke was "really fun and dry."
"The UPS Store has a fun, whimsical personality that we've cultivated over the last year and this tweet was in alignment with how we post on a regular basis," she said.
But now that they see how a single post can draw such a different response than anticipated, they're going to be more careful about which posts they approve for publishing.
"We'll look at [future tweets] with a sharper eye," Reidinger said.
As for the employee who actually conceived of the tweet, Reidinger said they have been made aware of the backlash, but the company is not taking any disciplinary action against them.