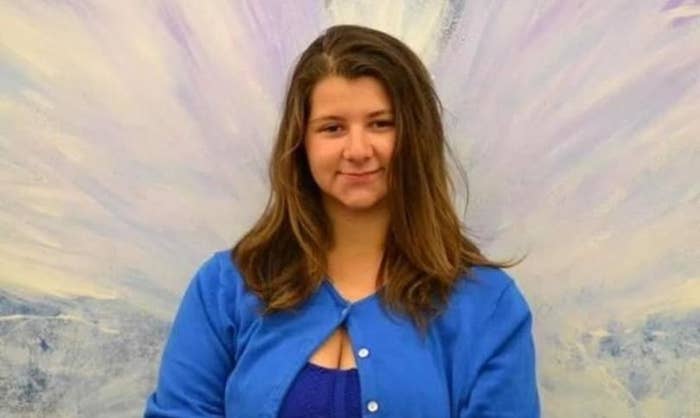 A 19-year-old from Anchorage, Alaska, was allegedly killed by her best friend and several other teen accomplices after they were promised millions of dollars for video evidence of the killing by a man who had catfished them.
According to court documents, Denali Brehmer, 18, confessed to killing Cynthia Hoffman on June 2 at the direction of a man she had met online several months prior named Darin Schilmiller.
Prosecutors say Schilmiller, 21, who's from New Salisbury, Indiana, told Brehmer his name was "Tyler," that he lived in Kansas, and that he was a millionaire. The two then developed an online relationship.
Alaskan officials described recovering cellphone records that showed the two "discussing a plan to rape and murder someone in Alaska" and an offer of "nine or more million dollars to carry out the murder and to have photographs and/or videos of the murder sent to [Schilmiller]."
Brehmer then allegedly recruited the help of four of her friends, including 19-year-old Caleb Leyland and 16-year-old Kayden McIntosh. The other juvenile accomplices are not named in the court records.
Officials say Leyland told them after the crime was committed that he had been promised $500,000 for his role.
When reached, the attorney for McIntosh, Benjamin Muse, told BuzzFeed News he was unable to share any other details or information related to the case or conversations he's had with his client at this time. Leyland's attorney did not immediately return a request for comment.
According to Alaskan officials, Brehmer lured Hoffman to Thunderbird Falls Trail on June 2 under the guise that she and their group of friends would go on a hike. At one point on the trail, the group then bound Hoffman's hands and feet with duct tape before she was shot in the head.
Brehmer texted Hoffman's family soon after the killing that she had been dropped off at another state park. She then deleted her texts with Schilmiller.
On June 4, after being questioned by Anchorage Police, Brehmer was said to have confessed to being the one who shot Hoffman in the head. She was arrested and charged with conspiracy and murder in the first degree, two counts of second-degree murder, and five counts of tampering with evidence.
Several days later, when Brehmer realized she had been catfished, she also confessed to "being solicited ... to commit murder," court documents said.
On June 9, Schilmiller confessed to federal agents and Indiana state police to being "Tyler" and to his involvement in the killing. He also told officials that they had planned it for three weeks, and that Brehmer was in full communication with him during the killing, including sending him Snapchat photos and videos.

Schilmiller also confessed to planning to kill another person and to plans to blackmail Brehmer afterward into raping people.

Schilmiller is charged with production of depictions of minors engaged in sexually explicit conduct and attempted receipt of visual depictions of minors engaged in sexually explicit conduct. No attorney was listed for him online.
Alaskan officials have said they plan to extradite him to face charges there.

In a court appearance, Brehmer said she knew what she did was "wrong" and that she doesn't want her daughter knowing that her mother "grew up a killer."

According to local station KTUU, the victim's father, Timothy Hoffman, told reporters earlier this month that he had been sickened by his daughter's death.

"All I know is that my daughter didn't deserve all this. She should have had the friends that she wanted. She shouldn't have had people that wanted to plot against her," he said. "And the ages of these people? I think it is sick. And now they don't have to live the nightmare that I have to live."