School officials have taken disciplinary action against a first-grade teacher in Lafayette, Louisiana, after she gave one of her students awards for being the "most talkative" in the class and the "class clown."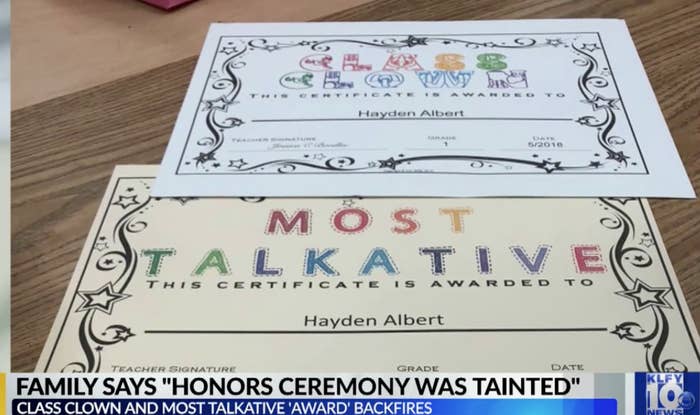 School officials from the Lafayette Parish School System learned of the incident after family members of the first-grader complained to the principal of Evangeline Elementary School.
The child's grandmother, Shaneka Hayes, told local TV station KLFY that these titles do not accurately portray her grandson.
"As far as being funny, making people laugh, jokey jokey, she said that's why she gave him that award...no, no. He's not like that," Hayes said of her grandson's first-grade teacher, Jessica Bordlee.
The chief administration officer of the school district, Joe Craig, told BuzzFeed News he was first informed of the complaint via the local media and flagged it to the superintendent.
The first-grader's great-aunt wrote a public Facebook post shortly after the incident, saying she believed the awards were given to her great-nephew to "publicly humiliate" him. She'd prefer it if the awards were renamed to "most funny" or "future motivational speaker."
"This woman publicly humiliated my great nephew and family,"
Travanon-LaTosha Alexis wrote. "It is the teacher's job to instill confidence and positivity in the child at a very early age (not just the parents)."
Alexis said her great-nephew was also given a red clown nose with the award.
"She publicly humiliated him, she need[s] to publicly apologise to everyone," she demanded.
BuzzFeed News has reached out to Alexis.
Alexis suggested in her Facebook post that the awards should have been rebranded as more positive, and Craig agreed.
He told BuzzFeed News after speaking with the principal of the school and other officials, he came to the conclusion that these superlatives, especially being called a "clown," have a negative connotation.
"[The awards] didn't celebrate a child's success or achievements in the classroom appropriately," Craig said.
After a brief investigation, Craig and other officials concluded that the first-grade teacher should be penalized.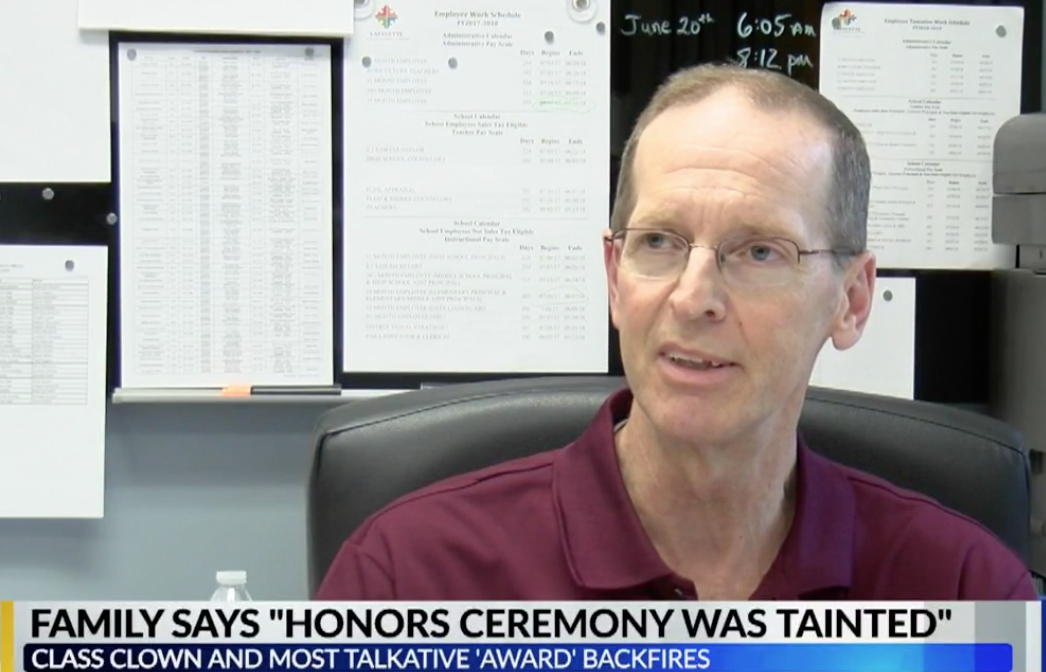 "The district recommended disciplinary action, so the superintendent followed through with that," Craig said. "Due process was followed."
"In a different time, 'clown' probably had a different connotation," he told KLFY. "The meaning of words evolve over time and I just don't think the connotation with the word 'clown' is appropriate to these days."
Craig did not want to comment further about what kind of "disciplinary action" was taken against the teacher.
"It's confidential," he told BuzzFeed News, though he did confirm Bordlee is still employed by the school system.
Craig said while he has not personally been in touch with the family, the principal of Evangeline Elementary has been working with them, and they have not had "any other issue" since.
After the story made headlines, people online began to comment on the issue.
Many said they believe these titles should be worn with a badge of honor and the district was being too sensitive.
When asked to address these criticisms, Craig said he "understand[s] that people have different opinions."
"We're going to take any allegation under serious consideration," he said. "I can tell you we were concerned about [the awards]."