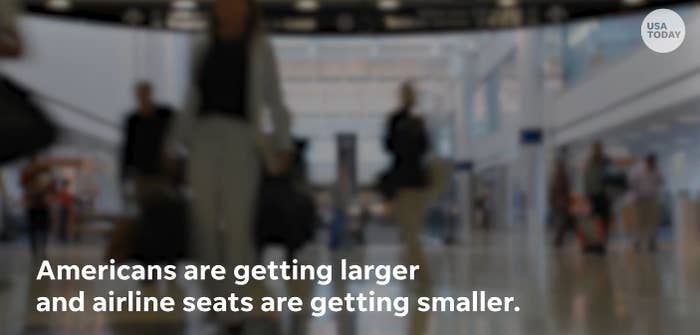 A recent video published on USA Today's travel section called "What to do when someone invades your personal space on a plane," and which has since been replaced with an edited version, has been criticized for seemingly encouraging the public shaming of overweight plane passengers.
The video detailed a number of "options" the consumer could exercise "when someone infringes on your personal space" on a flight.
The last of the "options" USA Today listed in the original video was to "discreetly take pictures" of the passenger and to include them in the complaint to the airline.
It then suggested that if the airline is unresponsive to your complaints, to then "post your pictures on social media."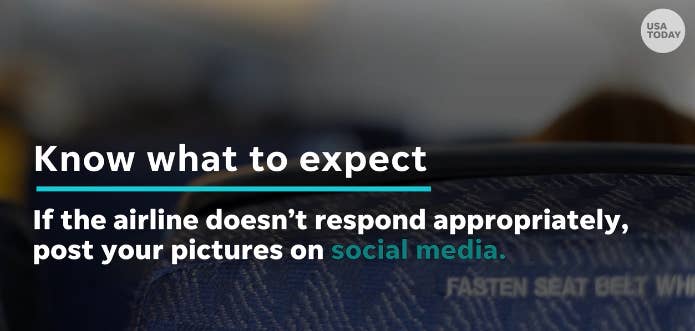 Other tips were to fly at a later time and to buy a $39 "partition" for your seat.
A blogger who goes by the alias Your Fat Friend tweeted about the advice to secretly photograph and publicly share these photos of passengers, calling it "encouraging" of fat-shaming culture.
"Why are you encouraging thin passengers to 'discreetly take pictures' of fat passengers?" she tweeted, tagging the outlet.
She then continued in a thread explaining why "discreet photos" cause harm and harassment for the subjects of those photos.
"Did you consider the ways in which those 'discreet pictures' become punchlines and internet memes? Have you heard from fat people who have found a terrible kind of fame from those photos, being endlessly mocked, harassed & doxxed?"
"Do you know what fat people have to do to prepare to even set foot on a plane? Did you consider making a video to help *us*?" she added.
BuzzFeed News has reached out to @YrFatFriend.
Her tweets have created a wave of backlash on social media. People are calling it an "instance of fat-phobia" and body-shaming.
Some are sharing personal fears they have of being photographed in private and discovering photos of themselves online later.
Others who did not identify as being overweight wrote that they can completely understand the anxiety it creates.
"I've flown a few times with my medically fragile, disabled daughter. We need extra time to board the plane, and other accommodations," one user tweeted. "If someone had conplained [sic] or recorded us to publicly shame us it would have been devastating."
People had called for the publication to remove the video.
"@USATODAY shame on you," someone tweeted.
USA Today did not immediately respond to BuzzFeed News' request for comment.
UPDATE
Since the publication of this post, USA Today appeared to have uploaded a new, shortened version of the video in question that does not include the part about "discreet[ly] taking pictures" of passengers.