On Thursday morning, popular New York blog Gothamist wrote about the complaints of commuters on the constantly-disappointing and delayed L train. They first published with the headline, "The L Train Is Particularly Deadass This Morning" before changing it.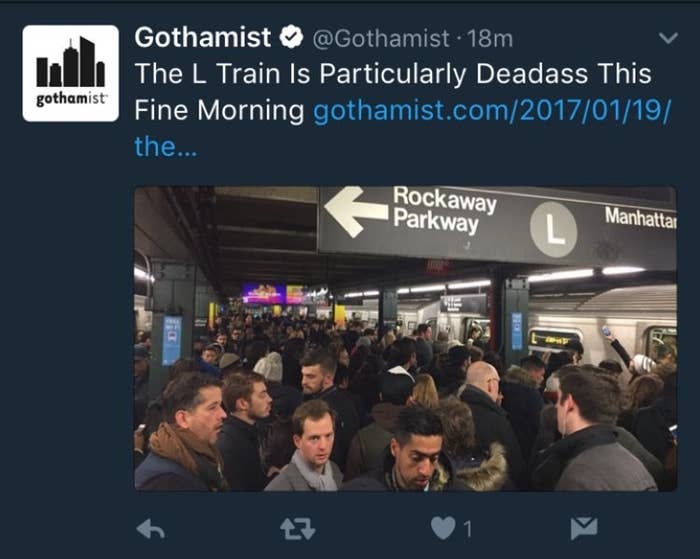 People were confused by how the term "deadass" was being used in this context. (It appeared to have been interpreted literally, and meant to convey the L train was "dead" "ass" slow this morning.)
One commenter quickly responded to the headline to help the publication understand where they went wrong.
But of course, people online both laughed and collectively shook their heads at the failed attempt.
"Particularly deadass" became its own trending phrase on Twitter — followed by many, many, crying-laughing emojis.
Folks even tried to adopt this new term.
But a lot of people felt it wasn't just a slip-up, but represented a careless and all-too-familiar trend of borrowing slang terms — often originating from and popularized by the black community — without understanding their meaning or roots.
Which is all made more cringeworthy because "deadass" has become a localized term for New Yorkers.
The headline, and tweet, has now been updated to read, "The L Train Had No Interest In Your Silly 'Plans' This Morning."
In a statement to BuzzFeed News, the author of the article and Gothamist's editor-in-chief, John Del Signore, said he misunderstood the meaning of "deadass" and appreciates Twitter users setting him straight.
"The headline was in reference to a tweet used in the L train story. For context, this is probably the millionth subway delay blog post we've done, and in my hasty effort to find new ways of saying the same thing in a headline, I blundered, and I apologize," he said. "My understanding was 'deadass' was slang for something 'seriously over,' but it appears I messed up."
"I also didn't realize there was a racial connotation here, and I do appreciate Twitter users who let me know my mistake," he added.