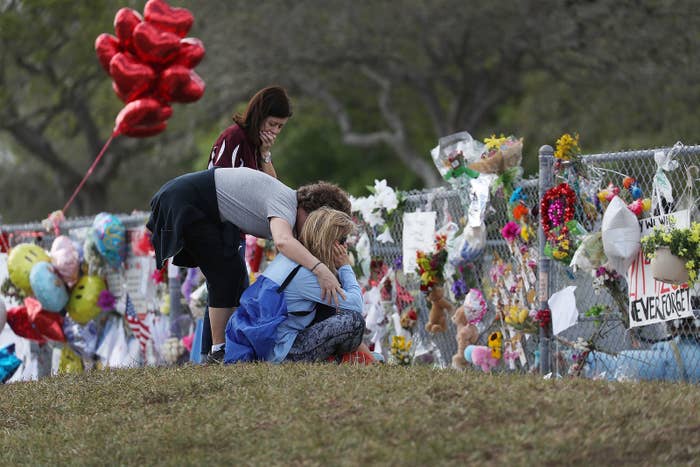 Two security guards who were accused of not doing enough on Feb. 14 to confront the shooter at Marjory Stoneman Douglas High School in Parkland, Florida, will not be returning to the district.
Broward County School District Superintendent Robert W. Runcie sent a memo to the school board on Tuesday saying that he was removing Andrew Medina and David Taylor, who also doubled as assistant baseball coaches, from a directory of employee names for the upcoming 2018–2019 school year. A copy of the memo was provided to BuzzFeed News.
The men were put on administrative reassignment earlier this month following the release of Medina's testimony of the day of the shooting, which left 17 people dead. According to his testimony, Medina was the first person to see gunman Nikolas Cruz and proceeded to radio Taylor before he hid in a closet.
Medina and Taylor, who were unarmed, have been the focus of ire after it was revealed that neither of them confronted Cruz on Feb. 14. Medina, 39, also failed to call a "code red" to trigger a lockdown and summon police.
"He's bee-lining. He's got his head down. He's on a mission, you know. He's on a mission," Medina said.
He also advised Taylor over the radio that Cruz was on campus and to keep his "eyes open."
But once the 19-year-old began firing, Taylor hid in a janitor's closet.
"I'm telling you I knew who the kid was," Medina later told investigators. "Because we had a meeting about him last year and we said, 'If there's gonna be anybody who's gonna come to this school and shoot this school up, it's gonna be that kid.'"
According to records first obtained by the Sun Sentinel, Medina was also lightly punished in 2017 after sexually harassing two female students. One of them, 17-year-old Meadow Pollack, died in the mass shooting.
Hunter Pollack, Meadow's brother, told BuzzFeed News that his sister had complained to her boyfriend about Medina's "ongoing gross behavior."
"He would call her names like 'gorgeous' and 'sweetheart' and just be a creep," her brother said. "And when her boyfriend confronted him about it, he threatened him, too."
The school board did not immediately respond to requests from BuzzFeed News for additional information surrounding the decision to withdraw the two names for rehiring.