Folks online are dying over these photos 13-year-old Gillian Breanna from Mobile, Alabama, shared of her cat Buddy on Monday. "My cat is so ugly," Gillian captioned the tweet.
People agreed — nervously. The photos of Buddy were met with a lot of "...oh" reactions.
And pretty blatant "no thank yous."
And many, many comments about who and what Buddy looks like. "Squidward's house," for example.
"Ross Geller."
"A white man named Steve."
"Kylo Ren from Star Wars."
"Left Brain from Odd Future."
Left Brain got tagged and compared to Buddy so much by his friends, he even tweeted about it.
Someone actually printed the photo of Buddy out and taped it to their wall.
And the photos were being used as DIY Snapchat filters.
Gillian's tweet even had other cat owners hilariously and sadly relating to it, calling out their cats.
And other, smugger owners proudly claiming they "can't relate."
But unfortunately — or fortunately, for you Buddy! — Gillian told BuzzFeed News she actually used a photo-warping filter when she took the photos. "I thought it would be funny," she explained, and then shared a photo of what Buddy looks like normally.
While Gillian is "shocked" by how viral her tweet became, she does want to make it clear that she wasn't trying to be mean about Buddy — "I love her very much," she said.
The warped photos of Buddy drew a lot of love and support from people too — many of whom still thought she was "beautiful."
Because, c'mon, we can all relate to Buddy's misfortune with that one truly unflattering photo everyone has had taken.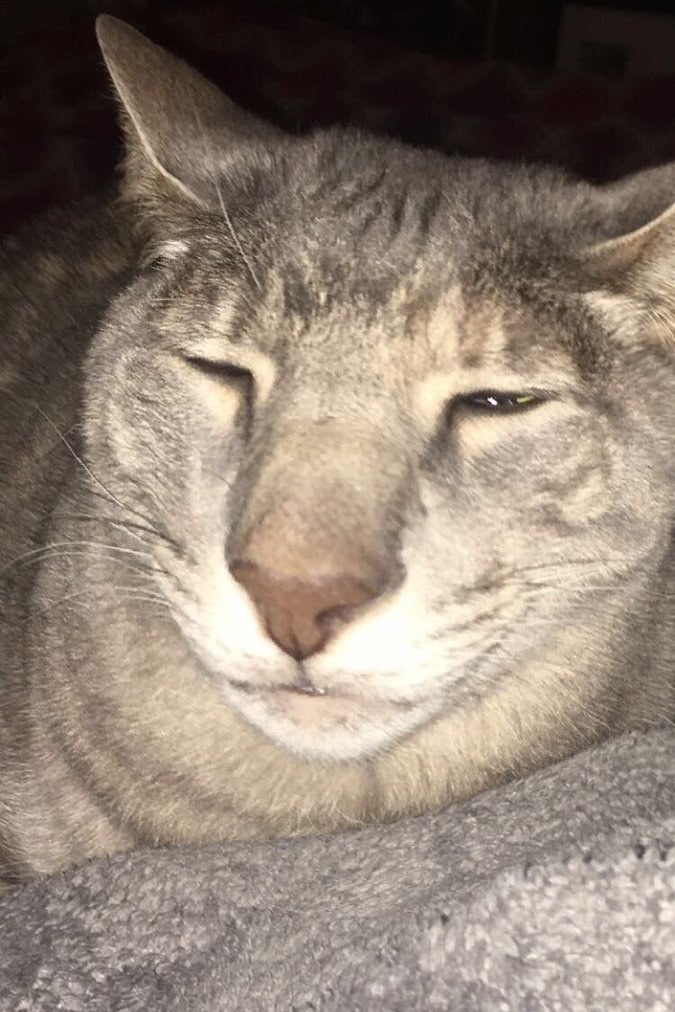 "Snapchat vs. Instagram"
"When you open your phone to the front-facing camera"
"Me when I wake up vs. one hour in the bathroom"