On Sunday morning, as reporter Colleen Hagerty rode the uptown 6 train in New York City, she heard something clinking around underneath the seats.
She told BuzzFeed News she watched as a man reached down to retrieve an unopened bottle of alcohol in a plastic bag.
The man proceeded to pop open the bottle with ease.
"Other people were starting to laugh and pay attention," Hagerty recalled.
Then, Hagerty witnessed another man retrieve an empty liquor container on the subway floor, and watched as the first guy poured what looked like sparkling wine or champagne into the second guy's empty bottle — that, again, was found seconds ago on the subway. The two strangers clinked glasses and shared the bottle of alcohol.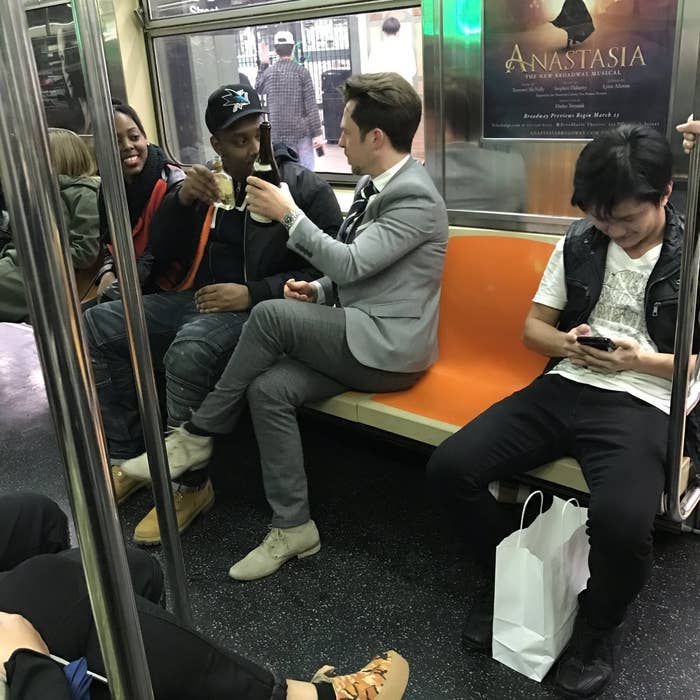 Hagerty joked on Twitter that it was "peak NYC." Her tweet has gone viral, with now over 61,000 retweets.
A lot of people were inspired by this hilarious, random — and a bit gross — encounter. They joked that whoever left the wine was hoping to forge a friendship.
There were lots of positive comments about this being a depiction of a "beautiful" and "united" America.
But other folks were like, wayment — what just happened now?
New Yorkers debated whether they'd want to touch, or consume, anything that's made contact with the dirty-ass subway floors.
Someone else argued that New Yorkers "avoid other people like they have the plague (because they probably do)."
Which, well, is apparently the cost of having any contact with strangers — even verbal.
Of course, there were then cinematic jokes about the spontaneous moment. Like, it being an opening scene to a future NY NY Land movie.
Or taken straight from Judd Apatow's drawing board.
Hagerty said weird subway moments no longer shock her anymore, but she's thoroughly enjoyed reading all the other hilarious stories people are sharing.