A "code red" drill at Lake Brantley High School in Altamonte Springs, Florida, caused a hysterical and chaotic scene at the school on Thursday as students, faculty, and parents were led to believe there was an active shooter on campus.
Multiple students and parents told BuzzFeed News that students were crying, running for their lives, and suffered panic attacks during the drill. Some said they knew of students who were trampled and left physically injured.
Students and parents are now infuriated with how the drill was handled — and claim school officials are deflecting any blame. Students are also posting on social media to show the mess it caused, and for the principal of Lake Brantley to take responsibility.
At about 10:30 a.m. on Thursday, students and teachers were alerted to an announcement made over the intercom that the school was on "code red" and that it was not a drill.
Joelle Wittig, a 17-year-old senior at the school, told BuzzFeed News her teacher received an alert on her phone that there was an active shooter on school grounds and that "panic" began to spread through her class and the rest of the student body.
"She shared [the alert] with the class because she started to panic a bit, and the rest of the class started panicking," Wittig said. "We waited for a long time. It was pretty distressing."
After about 30 minutes, she said teachers were then finally alerted that it was an unannounced code red drill. "We were confused why they didn't just say it was a drill," said Wittig.
The confusion quickly turned into chaos when a follow-up intercom announcement made during a lunch hour — trying to clarify that the code red was a drill and not real — couldn't be deciphered because of poor speaker sound quality. Students continued to believe there was an active shooter on the premises.
Freshman Jenny Vega, 15, told BuzzFeed News she was in the cafeteria when she heard another intercom announcement saying "code red" several more times, but she couldn't make out what it was trying to say.
"Because nobody could hear, we thought there was another code red and I remember just feeling my heart go down to my stomach and I threw my food to the ground," Vega said.
She said she witnessed a mass uproar and exodus, and watched students stampede over each other trying to flee the cafeteria and building. She herself believed there was an active shooter, and began to make a run for it.
"Students were running out of the cafeteria, students were pushing others, some got trampled on, and some did make it out of the school," she said.
"I grabbed two of my friends and [tried] to bolt out of the school [when a] teacher tried to stop us but we went past her and tried to leave but we couldn't because they were trying to block the exits."
A senior at the school who wished to remain anonymous told BuzzFeed News she has anxiety and was "shaken" by the series of events. When school officials "came around to check on our doors" during the drill that students didn't realize was a drill, "everyone audibly gasped because we were all scared," she said.
Several students said their friends associated nearby construction noises with gunshots, causing more of a panic.
Multiple students told BuzzFeed News they texted their parents and family members, distraught. Parents told BuzzFeed News they were scrambling to call the school and local authorities for answers as this was all happening. Some rushed to the school.
"I saw a bunch of kids running to their parents and sobbing because they thought they were going to die," the senior said.
Ledy Loor, whose son is a freshman, told BuzzFeed News she received a dizzying call from her son who "never stopped running during the entire call."
Her son was telling her everyone was in a "full-fledged" run out of the building, and running as fast and as far away as they could get.
"The only thing that went through my mind is Parkland. That's it. I was hysterical," Loor said.
Colleen Eskins, a mom to a senior at the school, said she too was "terrified" as her child was telling her and their family she was locked in a closet and told her it was a "real" shooting taking place.
Eskins, Loor, and many other parents said they were deeply troubled by how the drill was miscommunicated, and are concerned for the trauma their kids have now endured.
"I understand that unfortunately we have to practice these drills for the safety of the kids. I am concerned about the psychological repercussions when 'active shooter' and 'not a drill' are communicated," Eskins said.
When Eskins reached out to the principal of the school, Trent Daniel, with her concerns, she received a response from the principal saying the drill "went well" and the "disruptions" were caused entirely by students posting to social media.
Daniel additionally wrote in a message to the community that the school is looking to "discipline" the startled students who tweeted about the drill and shared footage of the madness online.
According to her email, she stated the drill was conducted in conjunction with the local Seminole County Sheriff's Office.
Daniel, Lake Brantley High School officials, and the Seminole County Sheriff's Office didn't return requests for comment.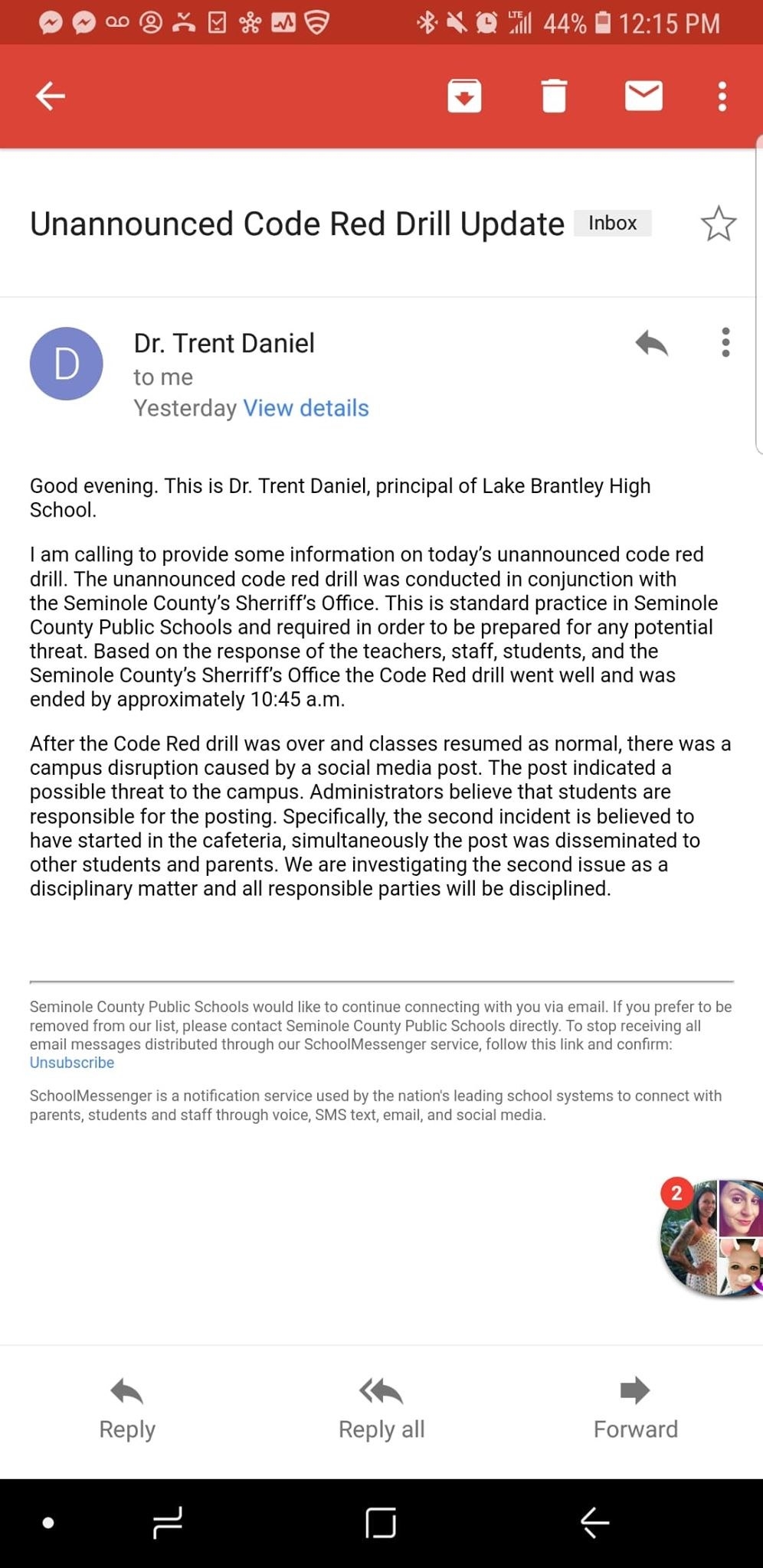 "Take responsibility," Loor said about the email, which other parents received from the principal. "Say you messed up, acknowledge that students got hurt and they traumatized these kids."
She's also demanding school officials investigate what "went wrong" in how the drill was carried out to "implement a plan to never let this happen" again, she said.
Michael Lawrence, a spokesperson for the school district, told the Orlando Sentinel that these surprise fake drills are intended to keep people on their toes.
"The reason we do unannounced drills are so people will take it seriously," he said. "The only way to get their attention and ensure they're doing what they're supposed to do is to do the unannounced drill."
"I think we need to teach safety without causing emotional scars," said Eskins in response to this logic.
Some students are still reeling from the scarring event.
"As soon as my brother dropped me off at my house I hugged my mom and sisters for a solid 10 minutes and then wouldn't let them out of my sight," one student told BuzzFeed News.
"It wouldn't surprise me if students have PTSD from the incident."