Mandy is a guy who does historic and geographical archival work as a profession, and goes by "Lord Mandalore" on Twitter. Recently, he decided to join a flat Earth group on the app Discord for pure curiosity.
"The flat Earth Discord was interesting," he commented, noting there were a lot of memes being shared of what he called the group's "crackpot theories."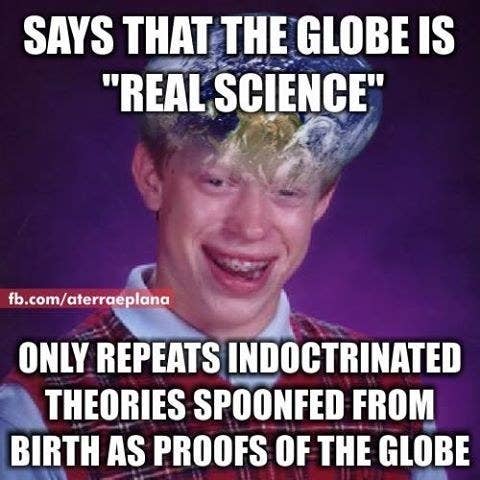 Mandy said the group, like many serious flat Earth conspiracy communities, is very distrusting of new members. "I was trying to blend in," he said. But eventually, he couldn't resist dropping this dinosaur meme in the chat.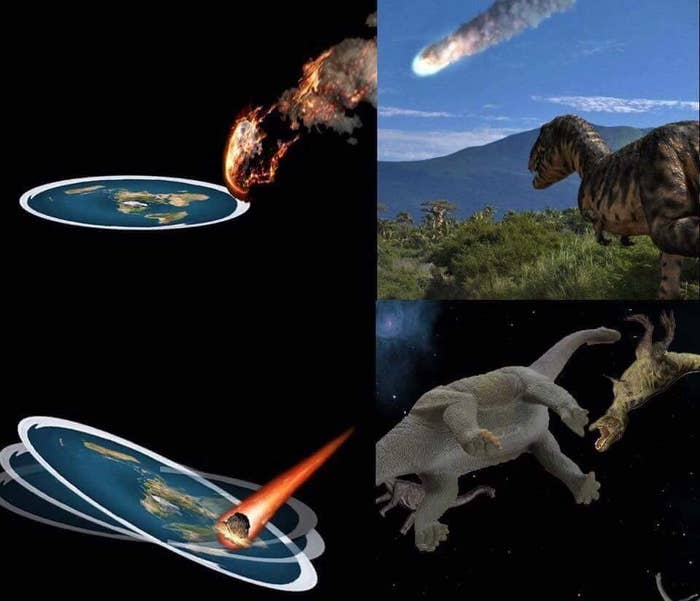 Mandy was then abruptly banned from the group. Finding it all pretty humorous, he tweeted about it. His tweet has gone hugely viral, with nearly 75,000 retweets.
Other people responded to the tweet, and claimed they had also been removed from flat Earth groups for sharing images that poked fun at the theory.
Of course, it spawned more jokes about the absurdity of the group to begin with. "Don't mess with them," one person warned. "They have members all around the globe."
Most people were just speechless.
On Monday, Mandy's viral tweet reached one of the larger Flat Earth groups called the Flat Earth Society. In a plot twist, they tweeted the image out too, and commented that they were not "offended" by it, and thought "it's pretty funny."
The discussion then devolved into debates about what the Flat Earth Society actually believes about the physical planet.
Pete Svarrior, a member and moderator for the Flat Earth Society, told BuzzFeed News their organization does not agree with how this Discord group handled Mandy's image. However, he said he understands their sensitivity, because many flat Earth groups are "abused" and "ridiculed."
"If someone chooses to have some fun at our expense, it's best to laugh with them," he said.
Svarrior said it is often difficult for groups to "draw the line between playful banter and harassment" online.