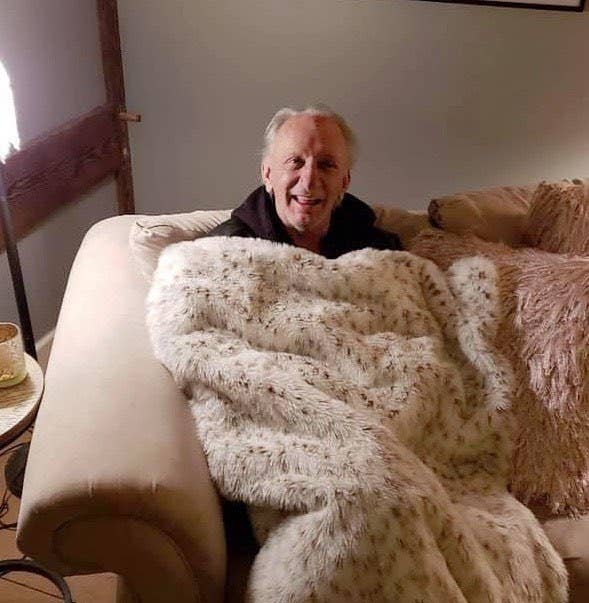 The journalists at BuzzFeed News are proud to bring you trustworthy and relevant reporting about the coronavirus. To help keep this news free, become a member and sign up for our newsletter, Incoming.
Nichole Thompson, 24, from Michigan and her family "took the news very hard" when they were told her uncle, Tommy, died last Friday from COVID-19.
Nichole told BuzzFeed News her uncle had chronic obstructive pulmonary disease (COPD), but it was complications from the virus that ultimately killed him.
"He was too weak to fight it," she said. "Our family took the news very hard. He was, and is, very important to us all."
The Thompson family was stricken with grief, but because Nichole's aunts and uncles had been in contact with Tommy, they were advised not to have any physical contact themselves.
"My family is very close — we hug when we see each other and we hug when we leave — so not being able to grieve together wasn't an option," she added.
Nichole's dad then had the idea to build a large plastic barrier so their extended family could embrace and comfort each other as they were mourning. She recorded and shared this heart-wrenching moment her dad was finally able to hug her aunt, which has gone viral on TikTok.
"Does that feel good or what?" her dad is heard saying in the video in between sobs. "It was so worth it."
"I shared it because I thought it was such a beautiful moment. I honestly can't even watch it again myself because it makes me so emotional," said Nichole.
The moment has become symbolic of the painful toll the pandemic has taken on people this year. "What an evil time we are living in," one commenter wrote.
"When I say this BROKE me," someone else added.
Nichole said her uncle Tommy was "one of a kind."
"His jokes were corny but they never got old," she said. "We will miss his smiles and hugs very much."
For Nichole and her family, the experience has made the pandemic more than sobering. She hopes her TikTok can serve as another reminder "to think about the people around you" when it comes to making everyday decisions about who you could potentially be exposing to the disease.
"It's hard to understand what is truly going on until you start to lose the people close to you," she said. "It really made it feel real. Take the necessary precautions not only for yourself but for your loved ones."
"These are tough times and now is not the time to be selfish."