People Are Seeing Themselves In This Deflating Dancing Pikachu Being Bum-Rushed Offstage
"When I'm trying to have a positive outlook and a sad thought starts entering my mind."
Over the weekend, the city of Songdo in South Korea hosted the annual Pokémon World Festival, where an army of 15 Pikachus performed a perfectly choreographed dance to a medley of pop hits.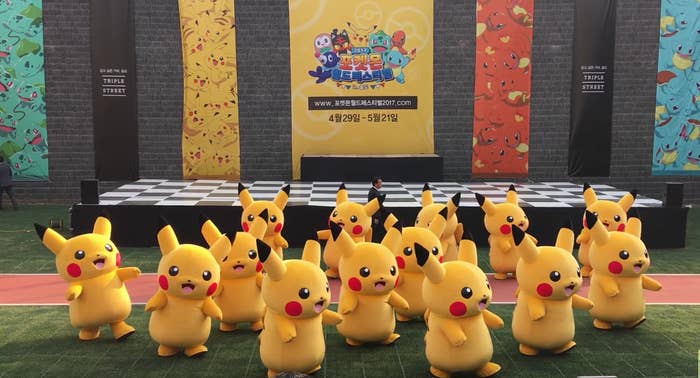 But there was one moment that captivated — and then quickly destroyed — people around the world. About a minute into the performance, the Pikachu in the very front began deflating. It sent staff members into a panic. FOUR MEN in suits tried to escort the deflating Pikachu offstage as the rest of the Pika troop danced on tirelessly.
The clip has sent the world into a whirlwind of emotions.
FIRST: The deflating Pikachu that optimistically kept dancing as all its life and air was *literally* sucked out of it.
AND FINALLY: The rest of the Pikachus look on, confused and jarred, but they must continue dancing happily. Because it's all they (we) know to do.
ALL OF IT: A wild ride of amusement, puzzlement, horror that could reveal something about the human condition and its fragility in the current climate.
Or just a very standard and responsible safety measure.
Probably that. But Pikakchu also probably did know too much.
Watch the whole video here: