At just 13 years old, Danielle Cohn moved across the country from Orlando to Los Angeles to try to convert her massive social media following into a music career.
The teen currently has nearly 10 million fans on the popular tween app Musical.ly and 1.8 million followers on Instagram. She entered 2018 attracting major partnership and brand endorsement deals with brands like Samsung, Six Flags, and Live Nation, to name a few.
Along for the ride is Jen, Danielle's 34-year-old single mother, who's been able to quit her teaching job and her night shifts as a cashier to become Danielle's full-time "momager."
The family's journey began when Danielle was 11. Jen told BuzzFeed News she worked long hours at two jobs to provide for her two kids, Danielle and her older brother.
"We weren't rich or anything, so we had one phone," Jen said. "I worked two jobs, so when I would work at night, I'd leave the phone with the kids."
During one of those nights, a then–11-year-old Danielle found herself on Instagram and learned about an app called Musical.ly.
The app allows users to upload short videos of themselves lip-synching along to popular songs, and then share them with other users.
"I didn't really like it in the beginning — it was kind of dumb," Danielle said of Musical.ly. "But it wasn't about making videos. I thought it was cool to lip-synch to the songs, so I started doing it a lot."
Danielle eventually produced enough videos on the app that she frequently topped the Musical.ly leaderboard, and soon organically drew a million followers to her account (she now tops 10 million). Her videos also became more and more produced.
In October 2016, Danielle received her first ad request. This prompted the preteen to finally let her mom in on what she'd been doing on the app, and the potential money she could be making from it.
"I was pretty shocked," Jen said. "She was so young, and she would be making more than me in a week — a lot more than me."
Jen said an average ad or sponsored video opportunity via Musical.ly offered $400 to $500 at the time, and Danielle would receive multiple requests a week.
The sum of a few brand-backed, lip-synched videos amounted to more than she earned from both of her jobs, she said.
Jen helped her daughter field the incoming requests, and said she put away the money Danielle earned on the ads in a separate account.
"That's money we can have college paid for," she noted.
As Danielle's fanbase and viewership grew, so did the payout for ads on Musical.ly. Companies were soon asking the mom-daughter pair to fly out to LA to take business meetings.
Jen made the decision to quit her night job as a cashier to help her daughter manage her fast-growing personal brand. By March 2017, Jen and Danielle were spending so much time in Los Angeles, Jen decided to move her family there.
She quit her teaching job, enrolled her daughter in online classes at a private Christian school, and stepped into her own new career as Danielle's full-time manager.
"I can't work, because I have to bring [Danielle] everywhere and do everything — it's work, because she's young and I don't want her at these places on her own," Jen said.
Jen says she allocates 20% of the earnings toward "bills and rent and stuff," 15 to 20% to Danielle's separate bank account "to put away," and the rest "[Danielle] has to spend on her own."
However, Danielle's status as a social media influencer is not without scrutiny. She has also developed a large and vocal group of "haters," who congregate on Instagram, where Danielle has 1.8 million followers.
A quick search yields many Instagram "hate page" accounts for Danielle. The "hate page" feed is littered with captions and comments tearing apart the 13-year-old's body, outfit choices, and dance moves. They also frequently accuse her of photoshopping her photos.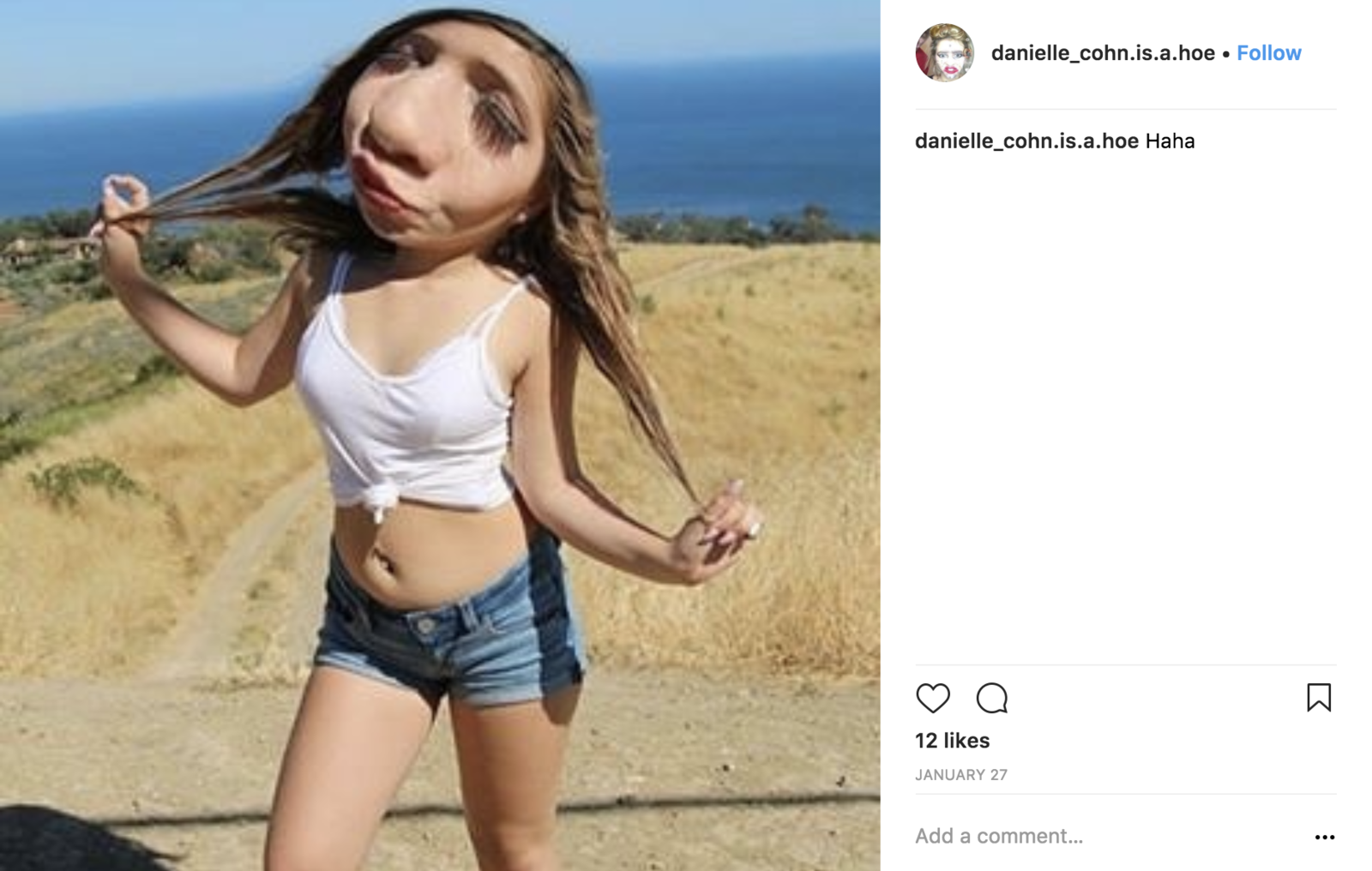 An account with the user name "danielle_cohn.is.a.hoe" reposts images and videos of Danielle with captions calling her a "bitch," and telling her to "cover up." The user also edits Danielle's pictures to make her look ridiculous.
Another account description simply reads "End Danielle." Other groups dissect the minutiae of the way Danielle poses in Instagram photos.
"She touching her gross hair" one commenter on the "danielle.cohn.hate" page wrote.
"I was hurt and I couldn't really handle it," Jen said, upon discovering a cyberbullying group for the first time.
She admitted that she's tried to fight back in comment sections to defend her daughter.
"When I see the stuff that's posted, I don't want her to look at that," she said. "They're telling her to kill herself. To this day I will still talk back. It's just hard. It's just really hard."
The majority of people criticize Danielle for being "inappropriate" in the way she acts, dances, and dresses online. Aggregated videos to prove this point have racked up millions of views on YouTube.
Comment sections of many slideshow videos on YouTube just like these make wisecracking jokes about Danielle being "a fetus" deprived of "dignity."
Every once in a while, someone poses the question, "Where are her parents?"
Jen and Danielle have fought about her outfit choices in photos and videos. Jen said she concedes when her daughter reminds her that she's a "good kid" at the end of the day.
"Besides doing Musical.ly videos in her room, she doesn't wear [her outfits] in public all the time. She has good grades. We don't go out much; we go to the movies. She's a very innocent girl," her mom stressed.
She added she doesn't allow her daughter to go to parties with other social media influencers because she is "so young."
Over the past few months, the criticism against Danielle only increased when she began publicizing her relationship with another Musical.ly star, or "Muser," named Sebastian Topete. He's now managed by Danielle's mom. And he's 17.
Jen explained that her daughter was friends with Sebastian for well over a year before they became a couple.
"I've known Sebastian and his mom — he's a really good kid, and he's never had a girlfriend until [Danielle]," she said.
When Sebastian's Musical.ly following started to grow, Jen decided to become his manager. Sebastian has about an eighth of the followers that Danielle has.
"We don't have a problem with it," Jen said of the age difference between Danielle and Sebastian. "As long as they're not doing anything inappropriate — we know they're not doing anything. They're never alone."
Since she manages both of the teenagers, Jen said she spends a great deal of time with them professionally and personally. She maintains the two rarely spend time together alone.
Jen said "of course" she has considered the implications of Sebastian turning 18 this year.
"We deal with it. Once I see something that could get [Danielle] in trouble, I wouldn't allow them to be together," she said.
Danielle believes she receives more hate than the average Musical.ly star or young internet influencer. "Many of the influencers are doing the same thing as me, sometimes even worse," she said.
"I feel I am targeted the most because of being so young, growing my following within a year, and having support from my family who allow me to live my dream," Danielle said.
She believes most of the adverse reaction to her is based on her appearance. "It could be because a lot of my clothes are very revealing even though I don't find it that bad," she added.
Danielle, also, speculates that it could be downright jealousy.
"I think I'm targeted the most due to the fact that I grew very fast on Musical.ly and a lot of people are jealous of that," she said.
When reached, and provided with a number of links to hate pages on their platform, Instagram suspended these accounts.
A spokesperson for the company also provided a statement: "We have zero tolerance of bullying and are committed to making sure Instagram is a place where people feel comfortable expressing themselves. If someone is being bullied or sees content that makes them uncomfortable we encourage them to report it through our in-app reporting tools. In this instance, we can confirm the accounts you reported have been removed."
BuzzFeed News has also reached out to Musical.ly.
As many "haters" as there are, Danielle also has a legion of active supporters enamored with her image.
"Dani is so pretty," one fan account wrote, reposting one of her Musical.ly videos from last year.
"Pls stop the hate!!!!" another fan account wrote.
"Dani we always say this but we love how u always stay strong and just ignore the hate but its true u are a young girl and always stays happy we just love u sooooooo much dani and u always makes us happy," another account wrote.
Many of them, like with most mainstream celebrities and internet celebrities, are elated when their idols, or "faves," take notice of their social media support.
After Danielle takes notice of an adoring post, the fan will update the caption to say that "Dani liked" it.
Before her online fame, Danielle said she wanted to be a guidance counselor. Now, she says she "also" wants to be a singer. However, her first attempt at that, a single called "Marilyn Monroe" released on YouTube last year, didn't get the warm reception Jen and Danielle had hoped for.
Danielle eventually pulled the music video for the song after it received too many negative responses.
YouTubers immediately reuploaded the video in droves afterward. "This song reminds me of Friday by Rebecca black," someone commented.
"This makes Jake Paul sound good," another joked. Reaction videos to Danielle's video are still being recorded and posted.
According to Jen, the video had 10 million views before it was pulled.
"It was an opportunity for her to be able to do that; it was still something that she should be proud of," she said. "People need to see how far she can grow. She's actually taking her music career seriously. She's gone to train and to become a better singer. She wants to be a performer. That's what she wants to do."
Both Jen and Danielle say they feel misunderstood.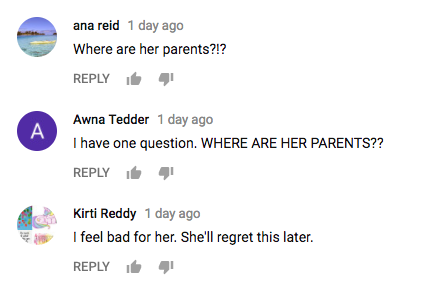 "I wish they would stop saying I'm living in my daughter...or living a dream I wanted," Jen said. "Me and my daughter are different. I'm shy; I've always wanted to be a teacher. I'm allowing her to do this because this is what makes her happy. I'd do anything for [my kids]."
Jen wondered whether Danielle's fame is worth it. She said she's had several serious conversations with her daughter about how she portrays herself, and how she's being portrayed.
However, she said Danielle is hyper-focused about her ambitions and is unmoved by the backlash against her online.
"She tells me, 'don't worry about it, it's fine,'" Jen said. "She's said to me, 'this is what I want,' so I have to let her live her dream."
Danielle confirmed this to BuzzFeed News.
"It doesn't bother me," she said. "It's a bunch of little kids telling me I'm hungry, fat, I'm a slut. The people who know me know the truth, so I don't let it get to me, 'cause obviously they're doing it because something's going on in their house and they're taking their anger out on me."
Danielle said all she wants her critics to know is "I'm not lying about things ... I just want them to believe me."
"I hope they understand I'm not a slut and all that kind of stuff. Just 'cause I date people, that doesn't make me a slut. I just have a boyfriend. They call me a slut for that. I'm just being myself," she said.