Donte Palmer is a 31-year-old teacher based in St. Augustine, Florida, and the father to three boys.
This week, he ignited many online conversations after his older son snapped a photo of him struggling to change his youngest son's diaper in a public bathroom.
Donte has — in some ways accidentally — become the face of a movement to install changing tables in men's restrooms around the world.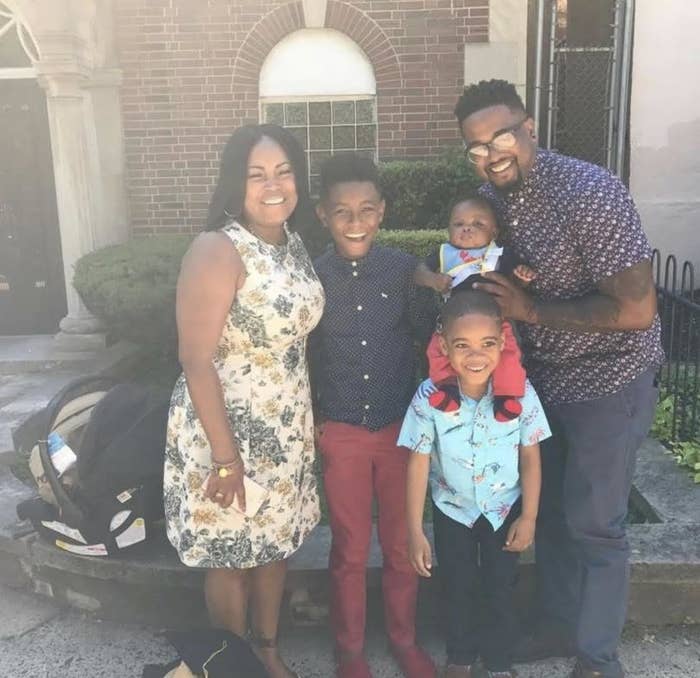 About two weeks ago, Donte, his wife, and their three sons went out to dinner at a local Texas Roadhouse. Soon, his 1-year-old son, Liam, began getting fussy.
"That's when I realized he was either hungry or needed a Pamper change," Donte told BuzzFeed News. "So I did what any parent does and took him to the bathroom."
He said he often needs to recruit the help of his 7-year-old son, Isaiah, when he changes Liam's diapers because there usually aren't changing tables in the men's room.
As Palmer squatted down and began to carefully balance Liam on his legs to change him in a bathroom stall, Isaiah began taking pictures of his dad.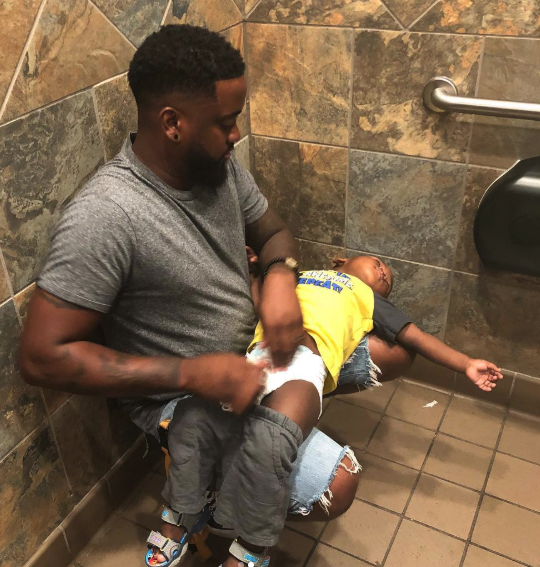 "We got back to the table and that's when [Isaiah] showed me the pictures," Donte said. He said he and his sons found them mostly amusing at the time.
His wife, however, then raised a serious point about the pictures.
"We as women, we don't have to come up with creative ways to change a diaper, and you have to get a ninja squad to change Liam," she said to Donte.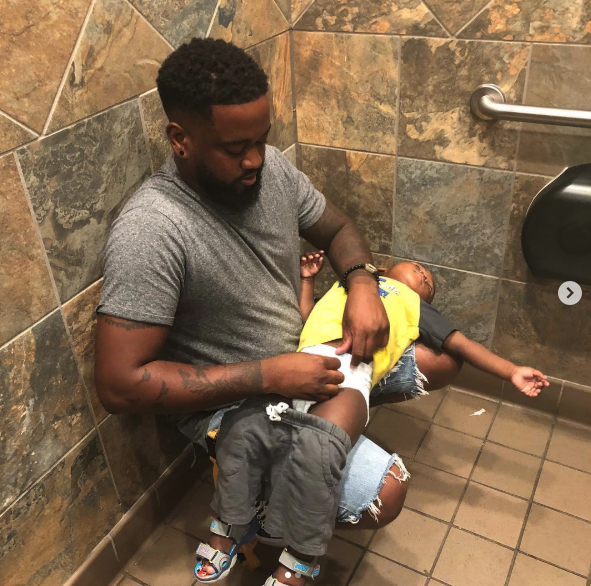 That's when he was inspired to post the photos to Instagram.
"What's the deal with not having changing tables in men's bathroom as if we don't exist!!" Donte captioned the photos. "Clearly we do this often because look how comfortable my son is."
After The Shade Room reshared the images, they went viral. They are now being shared across social media platforms.
A lot of people in the comments instantly identified with the problem — and others admitted that they had not even realized this was a problem for parents.


Donte admitted that until he saw the photo of himself and shared it online, he didn't think much of the issue, either.
"If there's no changing table available, then I do what I do to get it done," he said.
Once he began to get messages and comments from other dads, he realized how unfair it was.
"As a father, we need to be seen as an equal," he said.
"We're more than just protectors and providers," Donte added. "We're the stroller pushers [who] get up at 4 a.m. to warm bottles."
"My wife and I, we share everything equally. We cook and clean. We work hard — equally. Why do we share equal responsibility but society views us differently?" 

He noted that while there are family restrooms in certain businesses, "they're not everywhere."
Online, dads claim they've had to put clothing on the floor, or use the sinks, in order to change their children's diapers.
Donte is now asking other fathers to share an image of themselves trying to change their kids' diapers without a changing table and hashtag it #SquatForChange in an effort to raise more awareness.
"I believe as many fathers will continue to do this around the world...change will happen," he said.