Chance The Rapper on Monday announced that he is donating $1 million to Chicago Public Schools (CPS), while urging Illinois Gov. Bruce Rauner come through with more spending on public education.
Chance then announced his $1-million donation to CPS.
When asked why he was making the donation, the rapper responded, "'Cause it's what's right."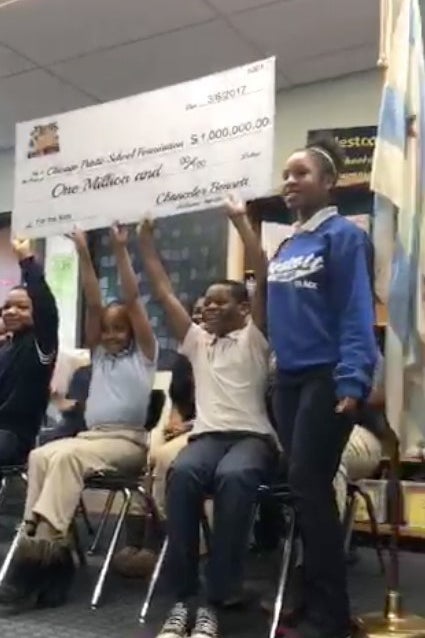 Chance concluded his press conference by thanking his supporters — and the parents and teachers of Chicago public schooling.
Like the students in the classroom, applause broke out across the internet.
And more than a few people noted that an independent musician is doing more than people in office.
Michelle Obama thanked the rapper for giving back to his home-city. "You are an example of the power of arts education," she wrote in a tweet.
Civil rights activist Deray Mckesson hoped that "Chance's commitment to his hometown and to using his platform for the greater good" will inspire other non-politicians.
And for folks who had purchased tickets just to attend Chance's shows — and now realizing it's helping to fund that $1 million check — 'twas all the more reason to celebrate.
People even decided to update his moniker.
UPDATE — The office of Governor Rauner sent a statement to BuzzFeed News following Chance's press conference and donation announcement.
"While the Rauners are passionate donors to our schools, individual contributions will never be enough to address the financial challenges facing CPS," Eleni Demertzis, a representative for Rauner's office responded in an email.
"It would be helpful if CPS officials came to Springfield and joined in serious good faith discussions about the long-term stability of all of our schools."