Dr. Eugene Gu is a general surgery resident physician at Vanderbilt University Hospital. He also serves as president and CEO of a nonprofit that studies congenital heart and kidney diseases.
Gu is also an outspoken critic of President Trump. In fact, a joke "covfefe" tweet got him officially blocked by @realDonaldTrump in June, he said.
Gu told BuzzFeed News he thought Trump's comments calling NFL players "sons of bitches" were "incredibly chilling."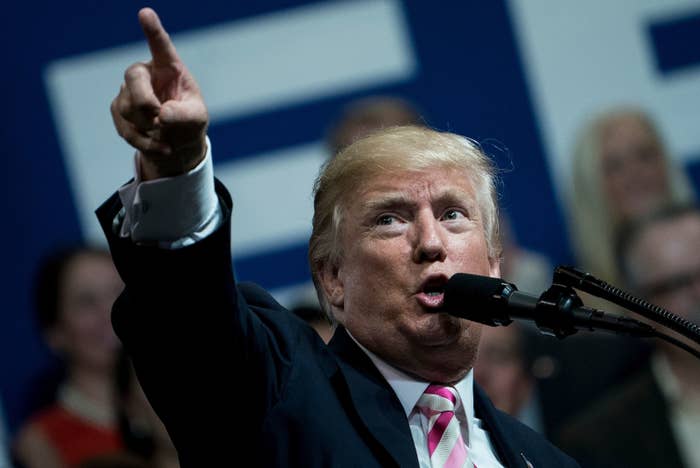 So on Saturday, while he was on the job, Gu said he was compelled to "take the knee" as "an Asian-American doctor" in solidarity with those Trump called "SOBs" in an effort "to fight white supremacy." His tweet and photo have gone viral, with now over 43,000 retweets.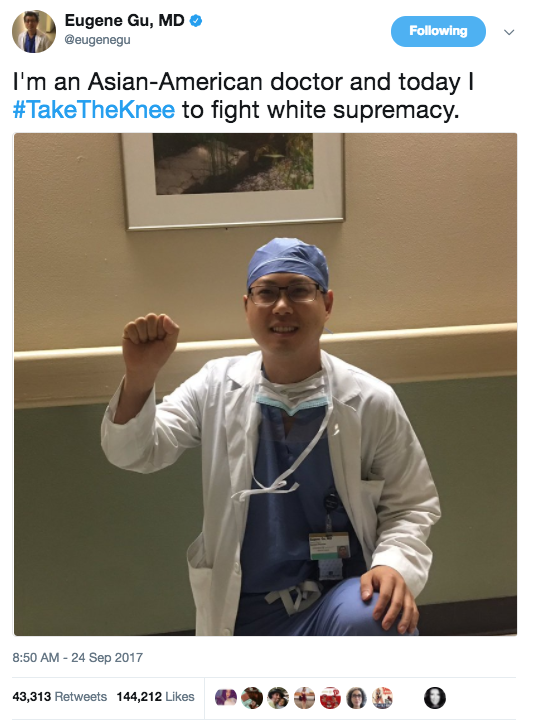 Many others were inspired by the gesture, and declared their identities and professions in an effort to show similar support.
"I am a white combat vet and currently a police officer I am taking the knee with you."
But very soon, people who strongly oppose the "take a knee" protest began mocking Gu. "I'm an Asian-American doctor whose been afforded amazing opportunities by this country. So I'm going to take knee to protest it," someone wrote.
They claimed that because Gu has become a doctor, this directly negates white supremacy. "If America is so racist, how did you get to be a doctor?"
Many Trump supporters believed he is too privileged in this country to speak out about racial injustices. They even suggested he advocate and work in other countries in Asia instead.
"The common theme among these white supremacists is to accuse me of 'Asian privilege,'" Gu said. "Their arguments were that because I went to Stanford and Duke Medical School, I should be thankful and not complain about systemic racism..."
"It struck me as incredibly racist because I have every right to show solidarity with African-Americans in this country, my fellow Americans, who are subjected to police brutality and injustice..."
He said after prominent conservative commentators, like Ben Shapiro and Michelle Malkin, weighed in, a deluge of followers also commented. He said he's received direct messages threatening to harm him simply for sharing his photo.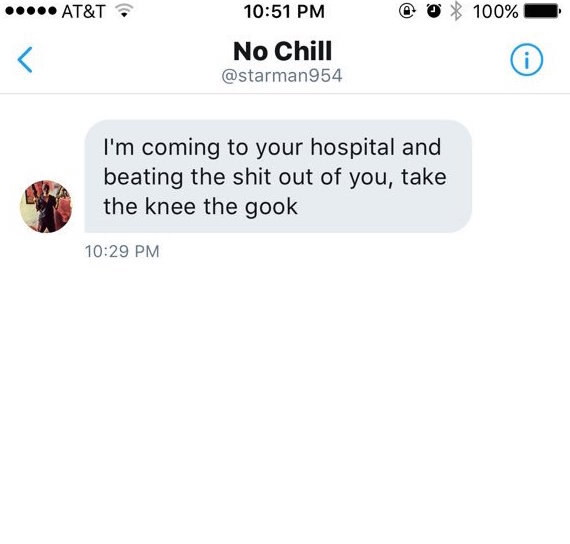 More publicly, people are boycotting Dr. Gu's services and/or calling on him to leave the country.
He believes this overwhelmingly aggressive response "is because Asian-Americans are traditionally seen as being the silent model minority. ... We are often used as a wedge against other minorities."
"Our so-called success is held as a reason why there is supposedly no racism or injustice in this country," Gu added.
Despite the detractors, Gu said he is trying to remain focused on the subject at hand. He also notes that he's also seen a lot of "supportive Americans willing to fight racism and injustice" after he shared his photo.