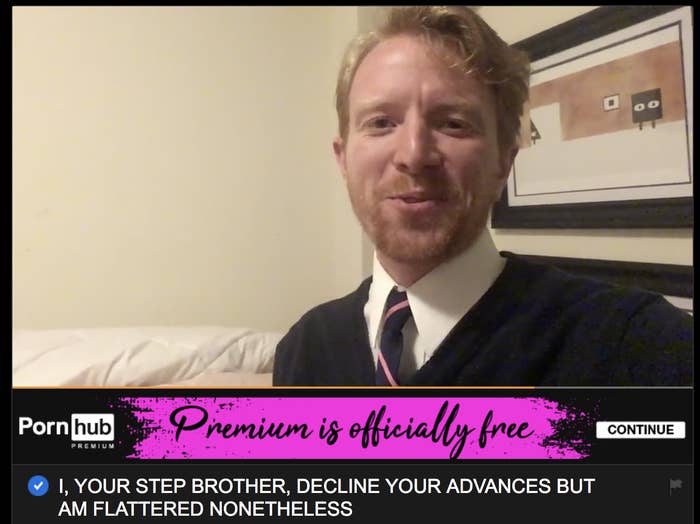 Over the past week and month, people online have noticed a channel on Pornhub that is unlike the others.

One man has been recording videos of himself fully clothed performing extremely wholesome and SFW acts, like "I Deliver You a Pizza and Don't Put My Weiner in It."

Ryan Creamer, a 26-year-old comic and writer for CollegeHumor, has been quietly uploading videos to his Pornhub account for his own amusement. He hoped users of the massively popular porn-sharing website could stumble upon his videos as a break and a departure from the usual content on the site.

Creamer told BuzzFeed News — well, he was a bit embarrassed and reluctant to tell us — the channel started in October one evening when he was browsing Pornhub for porn. He then happened to scroll to the bottom of one page and noticed a "Work for Us" option.

"I clicked and learned anyone can get verified. You just submit a picture of your face with a piece of paper with your name on it," said Creamer. "Once they verify who you are, they verify your account, and then I posted my first video."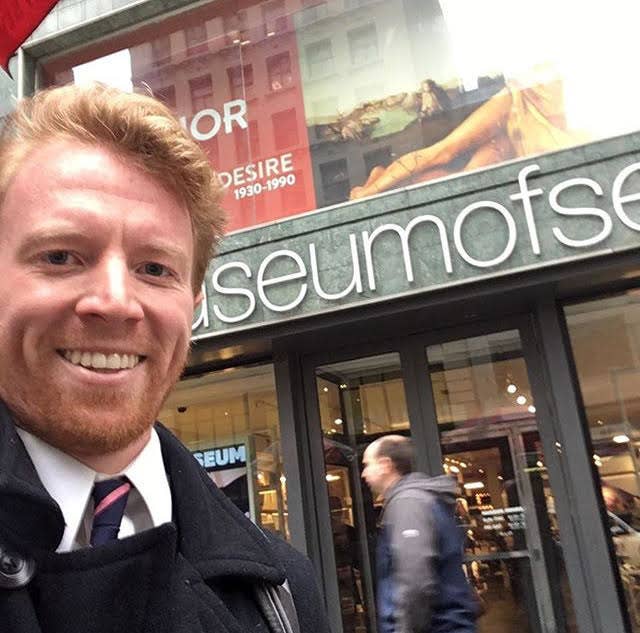 His first upload, titled "I Tuck You in After You Have Cum," features Creamer doing just that — all with a big, jolly smile on his face. He even kisses you, the viewer, goodnight.

"It was not really preplanned. I had an idea for the first video…that was the only idea that I had," he said. "Within a couple days, it got big on Reddit."
He said he wasn't setting out to "make a statement" with his videos per se, but he's been receiving a lot of random messages from Pornhub users telling him they find his videos to be "super supportive."

"I get a lot of messages being like, 'hey, this just made me feel good,'" he said.

So, he continued to create and upload more. Some of Creamer's greatest, and most positive, hits in response to popular porn genres include, "I, Your Step Brother, Decline Your Advances but Am Flattered Nonetheless," "I Ride in a Taxi and Don't Have Sex With the Driver," "POV FOREHEAD KISS COMPILATION," and "I Hug You and Say I Had a Really Good Time Tonight."

Some of his videos now have hundreds of thousands of views.

His Pornhub channel has been discovered and has gone viral across social media. Creamer has been impressed with how accepting the real porn stars and sex industry workers have been toward him.

"Every person who works in the porn and sex industry has been kind to me, which is really, really cool," he said.

"Two days ago a guy on Twitter was like, 'Hey Sex Twitter, I want you to meet Ryan,' and tagged my handle."

Creamer said he's pleased that his earnest videos are being accepted in earnest.

"It can come across like I'm making fun of sex workers, but everyone who is in this industry has been so, so nice. That's made me feel really good," he added.
Creamer admits that his channel was partly a kind-of sketch that could lead to more opportunities in comedy. However, after seeing the positive reactions from avid porn users, he's motivated to make more videos.

"To be honest, there hasn't been a huge strategy behind it. I didn't think it would have this kind of response," he said. "It's a duo feeling, like I am hoping it leads to opportunities, but additionally, it's making people feel good."

He's also aware that, ironically, people may actually be titillated by his SFW videos.

"I have many friends who say, 'people are probably masturbating to you,'" he added, laughing.

In a statement to BuzzFeed News, a spokesperson for Pornhub said the company "welcome[s] content creators of all types."

"Ryan's content has been very well received by our community and we encourage artists and creators alike to consider our platform to get their work out into the world," they said.