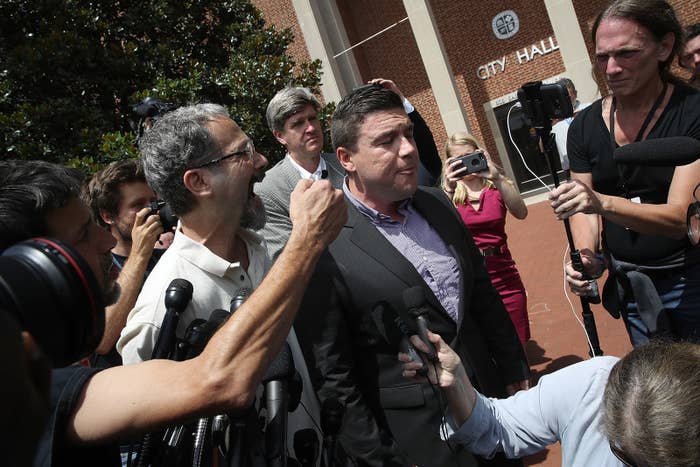 Unite the Right rally organizers and participant groups have signed a consent decree promising not to facilitate any organized, armed paramilitary activity at any future demonstrations in Charlottesville, Virginia.
In fact, the rally's lead organizer, Jason Kessler, and Redneck Revolt — a group that describes itself as an "an anti-racist, anti-fascist community defense formation" — agreed to actively discourage organized paramilitary groups from returning to the city.

Last August, Heather Heyer was killed and more than 30 others were injured when a car drove into a group of counterprotesters at the rally at which various white supremacist groups converged in Charlottesville to protest the removal of a statue of Confederate General Robert E. Lee.

Kessler was the final defendant to enter into a consent decree, effectively ending a lawsuit brought by Georgetown's Institute for Constitutional Advocacy and Protection in October 2017 on behalf of the city of Charlottesville, local businesses, and neighborhood associations.
"Should Kessler hold an anniversary rally in Charlottesville on August 12, as he has vowed to do, these court orders ensure that he and other participants will not repeat the organized and intimidating displays of paramilitary power that led to chaos, fear, and violent confrontations in the city streets last year," said a statement from Mary McCord, a senior litigator at the Georgetown Law institute that brought the lawsuit.
The defendants are still allowed to attend rallies, but they may not engage in the organized and armed use of force or projection of the ability to use force. Individuals are still allowed to arm themselves for purposes of self-defense as Virginia is an open-carry state.

An amended complaint filed by plaintiffs showed the extent of preplanning that had gone into organizing the rally.
"The complaint documented more than a month of planning among alt-right organizers and participants through social media, often using private channels," a statement from Georgetown Law announcing the end of the lawsuit stated.
The organizers spent weeks trying to recruit other alt-right organizers through an app called Discord to engage in a "militaristic show of force under the guise of self-defense," according to the amended complaint. The messages reached more than 400 users from all over the country.
Another lawsuit brought by 10 plaintiffs who were injured or impacted by the events is currently ongoing and alleges that groups organizing and attending the rally were in a "conspiracy to commit violence" and are therefore responsible for the disorder that ensued.

Kessler is currently suing the city of Charlottesville for denying a permit he had submitted for an anniversary rally on Aug. 12. Kessler is also attempting to hold an anniversary rally in Washington, DC, as well.
Kessler and Redneck Revolt did not immediately reply to a request for comment.