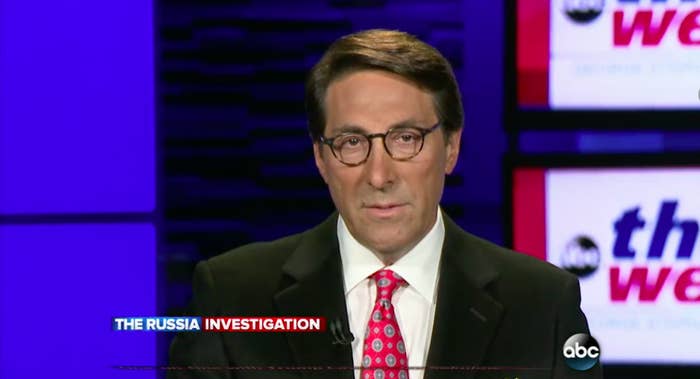 In an appearance on ABC's This Week on Sunday, the president's personal attorney, Jay Sekulow, said a "nefarious" meeting between Donald Trump Jr. and a Russian lawyer wouldn't have occurred without the vetting of the US Secret Service.

"If this was nefarious, why'd the Secret Service allow these people in?" Sekulow told Jonathan Karl of ABC News, on one of the five major news programs he appeared on Sunday morning in defense of the president.

The meeting in question took place in June 2016, between a Russian lawyer with connections to the Russian government, and Donald Trump Jr., along with the president's son-in-law Jared Kushner and former campaign manager Paul Manafort. Last week, Trump Jr. released a chain of emails ahead of a New York Times story on the matter that revealed that the meeting took place with the understanding that individuals had damaging information about rival candidate Hillary Clinton.
In a statement to BuzzFeed News, a US Secret Service spokesperson said that Donald Trump Jr. was not under its protection at the time the meeting took place.
"Donald Trump, Jr. was not a protectee of the USSS in June, 2016," the statement read.

Also on Sunday, the Huffington Post quoted "two sources familiar with Secret Service protocols" saying that even if the younger Trump had been under the agency's protection of the time, it only would have screened meeting attendees for physical threats.
Sekulow's statement Sunday was a slight twist on one he made to CNN's Anderson Cooper earlier this week, when he questioned why the Secret Service would have allowed Russia-connected individuals to meet with members of the campaign.
"If she was a Russian government prosecutor, how in the world did the Secret Service allow her into a meeting at that point that took place with campaign officials if she was actually a government operative," Sekulow told Cooper. "Why would the Secret Service have allowed that?" he added.
In other Sunday morning appearances, Sekulow also said that he was unaware of any other meetings that took place with the president's son and Russians, when asked by Jake Tapper of CNN.
"None that I know of," Sekulow responded to Tapper. "Donald Trump Jr. said not in the context of formal meetings, that he may have met with Russian people. As a lot of people meet with Russian people. That's not unusual."
While on ABC News' This Week, when asked if the president would pardon "key figures" in the Russia investigation, Sekulow said he hadn't discussed the issue with Trump, and that if he had, it would be protected under attorney-client privilege.
"He can pardon individuals, of course, that's because the founder of our country put that in the United States constitution — the power to pardon," Sekulow said. "But I have not had those conversations so I can't speculate on that."
UPDATE
This post has been updated to include the Secret Service's statement to BuzzFeed News.