These Police Officers Were Filmed Using Their Bikes To Push Back Protesters
Zane Lovitt, the Australian freelance journalist and photographer that filmed it on Tuesday, was arrested on Wednesday at a flag burning protest.
A freelance journalist from Australia captured this incident on video Tuesday outside the Republican National Convention showing Cleveland Police officers pushing back protesters with their bicycles.
Zane Lovitt, a Melbourne resident, was then arrested on Wednesday while shooting a flag burning protest. Lovitt was charged with "failure to disperse."

In the video, officers can be seen in a tense standoff with protesters before they begin shouting "move," and then two officers can be seen using their bicycles to push back the protesters.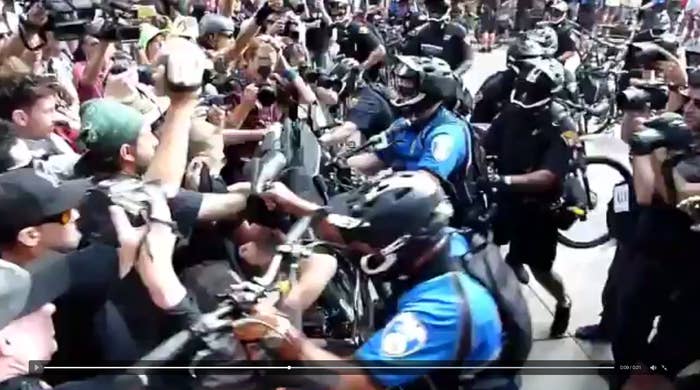 James Queally, a reporter for the Los Angeles Times, tweeted that Lovitt was arrested for "failure to disperse" during a flag burning yesterday.
Greg Leslie, a lawyer for the Reporters Committee for Freedom of the Press, who is assisting Lovitt, confirmed with BuzzFeed News that Lovitt is an independent journalist and "was just covering the the protest and got swept up."
"It's disconcerting that they held someone like this overnight," Leslie added.
On Thursday afternoon, various attorneys representing those arrested on Wednesday came to court expecting an arrangement but heard it was delayed because the necessary paperwork was not ready.
In an impromptu press conference, attorney James Hardiman said the move was "unforgivable" and "bordering on being intentional.
Attorney Jacqueline Green told press the move has a "chilling affect" on First Amendment rights.​
Attorneys then made their way to the prosecutor's office to complain about the delay. After 20 minutes of standing outside, news came that the arraignment was to be held. ​
Lovitt made his way in front of the judge and pleaded not guilty to "failure to disperse." Lovitt was given "personal bond" — a legal term meaning Levitt must show up to a later court date and does not need to post any bail.
The Cleveland Police Department did not immediately respond to a request for more information.