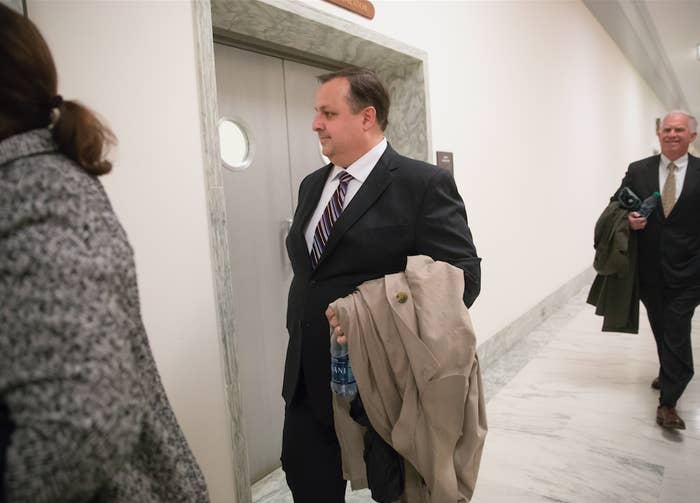 The director of the US Office of Government Ethics, who has clashed with the Trump administration over conflicts of interest, resigned Thursday in a signed letter to President Donald Trump.
"The great privilege and honor of my career has been to lead the OGE's staff and community of ethics officials in the federal executive branch," Walter Shaub Jr., who has served in the OGE in various capacities under three presidents, wrote in a letter. "They are committed to protecting the principle that public service is a public trust, requiring employees to place loyalty to the constitution, the laws, and ethical principle above private gain."
Shaub, an attorney, will leave his position almost six months before his term as director was scheduled to end.
In the past, Shaub's office clashed with the then-incoming Trump administration. In late November, shortly after the presidential election, the OGE began tweeting about the incoming president's potential conflicts of interest.
".@realDonaldTrump OGE is delighted that you've decided to divest your businesses. Right decision!" read one tweet.
".@realDonaldTrump Brovo! Only way to resolve these conflicts of interest is to divest . Good call!" read another, in a style that appeared to mock Trump's tweeting style.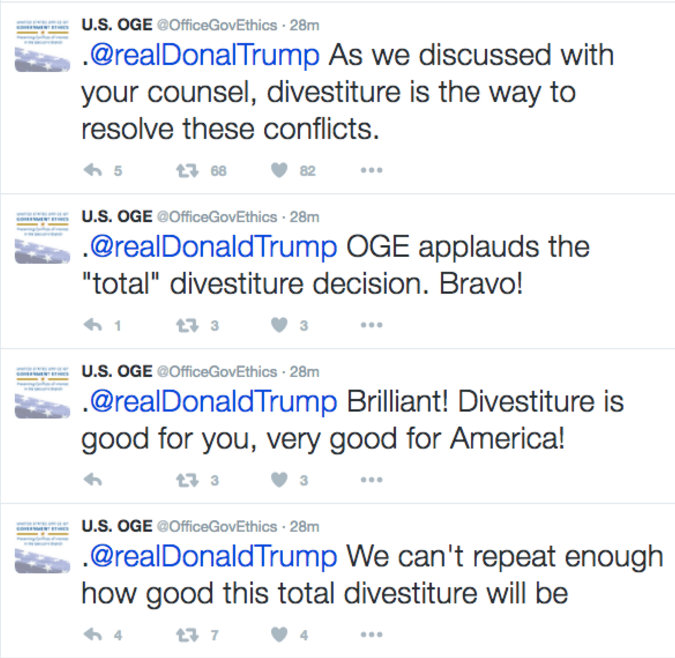 After announcing his resignation, Shaub spoke to CBS News and was asked if he thought the president and his family were using the office to "enrich themselves." Shaub said he "can't know what their intention is," but said there "is an appearance that the businesses are profiting from his occupying the presidency."
"Appearance matters as much as reality," he continued. "So even aside from whether or not that's actually happening we need to send a message to the world that the United States is going to have the gold standard for an ethics program in government."
Shaub went on to say that he can't be sure if the president and his family were profiting from the election win but insisted it ultimately didn't matter.
"It almost doesn't matter whether they are profiting or not. America should have the right to know what the motivation of its leaders are and they need to know that personal financial interests aren't among them," he said.
Shaub will join the Campaign Legal Center, a nonpartisan watchdog and government ethics group, as a senior director, the organization said in a press release.
"In working with the current administration, it has become clear to me that we need improvements to the existing ethics program," Shaub was quoted as saying in the statement. "I look forward to working toward that aim at Campaign Legal Center, as well as working on ethics reforms at all levels of government."
A White House spokesperson said the president had accepted Shaub's resignation and appreciated his service.
"The president will be nominating a successor in short order," the spokesperson told BuzzFeed News.

Senate Minority Leader Chuck Schumer called Shaub a "good" and "honest man," adding that the OGE's next director "must demonstrate that they are committed to actually draining the swamp and ensuring administration officials are not using their positions for personal gain."
Shelley K. Finlayson, the OGE's chief of staff, is expected to take over at the OGE in the interim, the Washington Post reported.