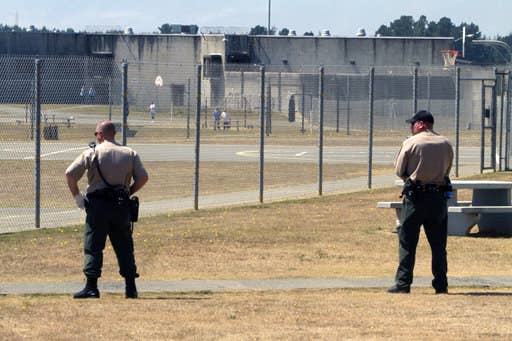 There were nearly 25,000 allegations of "sexual victimization" in prisons and other adult detention facilities in 2015, nearly triple the 8,768 allegations recorded in 2011, according to a new Justice Department report.
The increase has been attributed to a 2012 legislation, the National Standards to Prevent, Detect, and Respond to Prison Rape, which sought to provide more education on sexual victimization to staff and inmates. The legislation also required all allegations to be investigated.
Although the change also coincided with an increase in allegations that could not be substantiated or were found to have not occurred, the report also found that there was a 63% uptick in the number of incidents that were substantiated.
In 2015, "an estimated 1,473 allegations were substantiated from the 902 substantiated in 2011," the report concluded.

And of the proven incidents of sexual victimization in 2015, 42% were perpetrated by staff members, investigators found. The other confirmed incidents were found to have been between fellow inmates.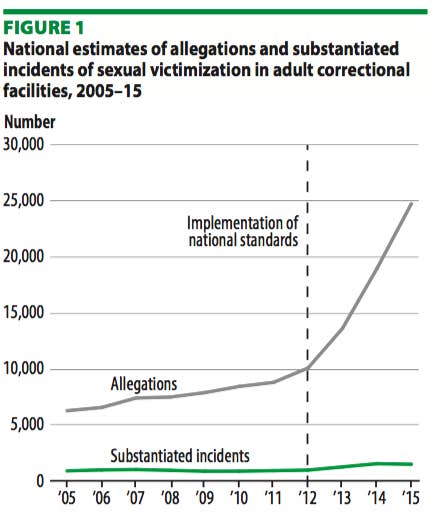 Reported allegations were up across the board, including within prisons at the state and federal level, as well as within local jails. The report, which was conducted by the Bureau of Justice Statistics of the Justice Department, also used data collected from military facilities and Immigration and Customs Enforcement.

From 2012 to 2015, "investigations were completed for 61,316 (91%) of the 67,168 total allegations," according to the report, which found that 8%, or 5,187 of those investigations, were substantiated.