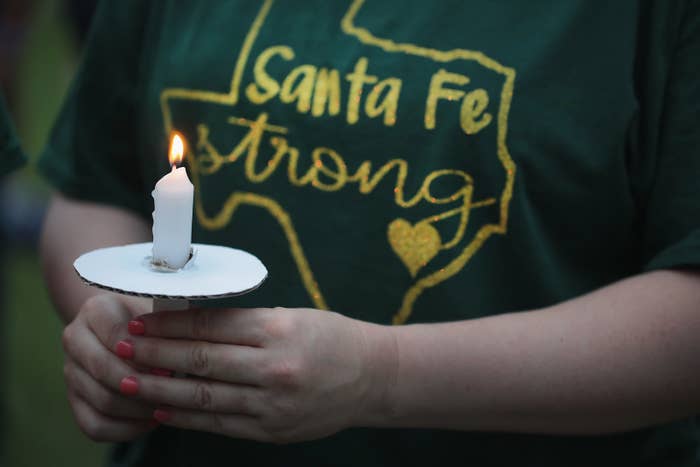 During the shooting rampage at Santa Fe High School on Friday, Dimitrios Pagourtzis played music and would allegedly say, "Another one bites the dust," after killing someone, according to a survivor.
"He was playing music, making jokes, had slogans and rhymes he kept saying," Trenton Beazely, who was injured in the shooting, said in an interview on Good Morning America.
Beazely said he had assumed the first gunshot was a fallen textbook, but when he and fellow classmates heard two more loud sounds, they began to run and hid in a storage room.

"I could see him running, gun pointed at the door, towards the door," Beazely, who was one of 13 people wounded in the shooting, said.
Ten people — eight students and two teachers — were allegedly shot and killed by the 17-year-old, who police said confessed. Three people, according to Beazely, were killed in the room they were hiding in.

Beazely also helped wrap the bleeding wounds of a fellow classmate who had been "knocked out."
"When she woke up, she reached and grabbed me," Beazely said, who saw her bleeding from her shoulder. "Her jacket was in her lap, so I reached over and I tied a knot around her shoulder and I tied her jacket around her so the bleeding would stop," Beazely said.
Officials said Pagourtzis used a .38-caliber revolver and a shotgun, which both belonged to his father.
Beazely said he hadn't realized that he himself had been shot until after the police arrived. "I felt something but I figured I bumped into something, adrenaline pumping, I didn't know really what I was doing."

Pagourtzis' attorney, Nick Poehl, did not immediately respond to a request for comment.

Rome Shubert, another student at Santa Fe High School, also hadn't realized a bullet had gone through the back of his head until he had already run away from the school.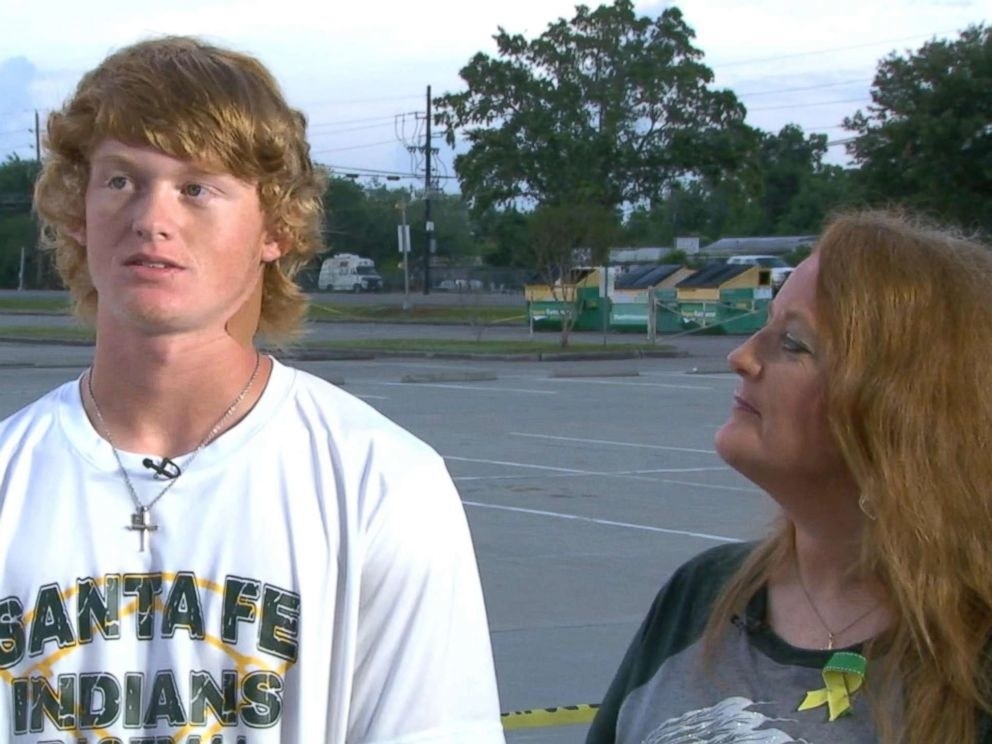 "I was running and I looked down and noticed a little blood on my shirt," Shubert said, thinking it was someone else's blood until someone had told him he had been shot.
Shubert, a pitcher for the school's baseball team, even played a game the next day with initials of the victims written on his wrist. "I just want to be out there for all my friends and show them that I'm still there with them," said Shubert, who also appeared on Good Morning America on Monday.