Cameras were rolling on Tuesday as President Trump appeared to momentarily agree with a Democratic senator's proposal to pass a bill focusing solely on DACA recipients, before Republican members of Congress interrupted the president and urged him to negotiate a broader bill that included demands on border security.
The incident occurred during a bipartisan meeting at the White House on immigration, for which the media had been invited to film extraordinary scenes of Republicans and Democrats negotiating.
The Trump administration is demanding border security measures, including $18 billion in funding for a border wall with Mexico and 10,000 more immigration agents, in return for protecting young undocumented immigrants who benefited under the Obama-era Deferred Action for Childhood Arrivals (DACA) program, which the president scrapped last year.

But when Sen. Dianne Feinstein, a California Democrat, asked the president if he would support a "clean DACA bill" before discussing other immigration issues, like security, Republican colleagues had to interrupt Trump and explain what a clean bill and Feinstein's impromptu proposal would entail.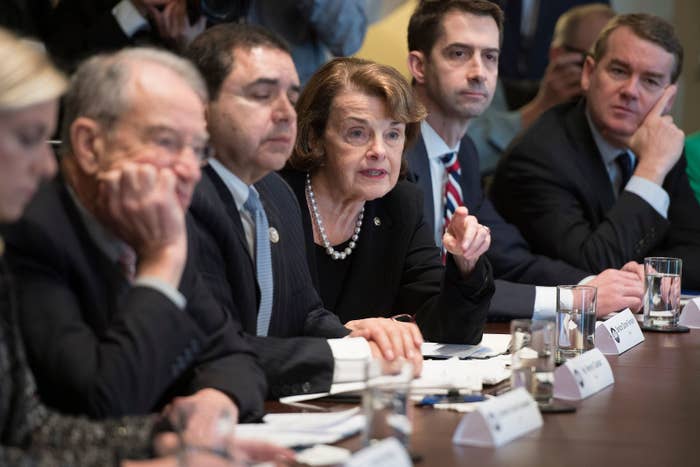 "I don't know how you would feel about this but I would like to ask the question," Feinstein said. "What about a clean DACA bill now with the commitment that we go into a comprehensive immigration reform procedure?"
"I have no problem," Trump replied. "I think that's basically what [Democratic Sen.] Dick [Durbin] is saying. We're going to come out with DACA. We're gonna do DACA and we can start immediately on phase two, which would be comprehensive."
"Would you be agreeable to that?" Feinstein asked.
"Yeah, I would like to," Trump said. "I think a lot of people would like to see that. But I think we have to do DACA first."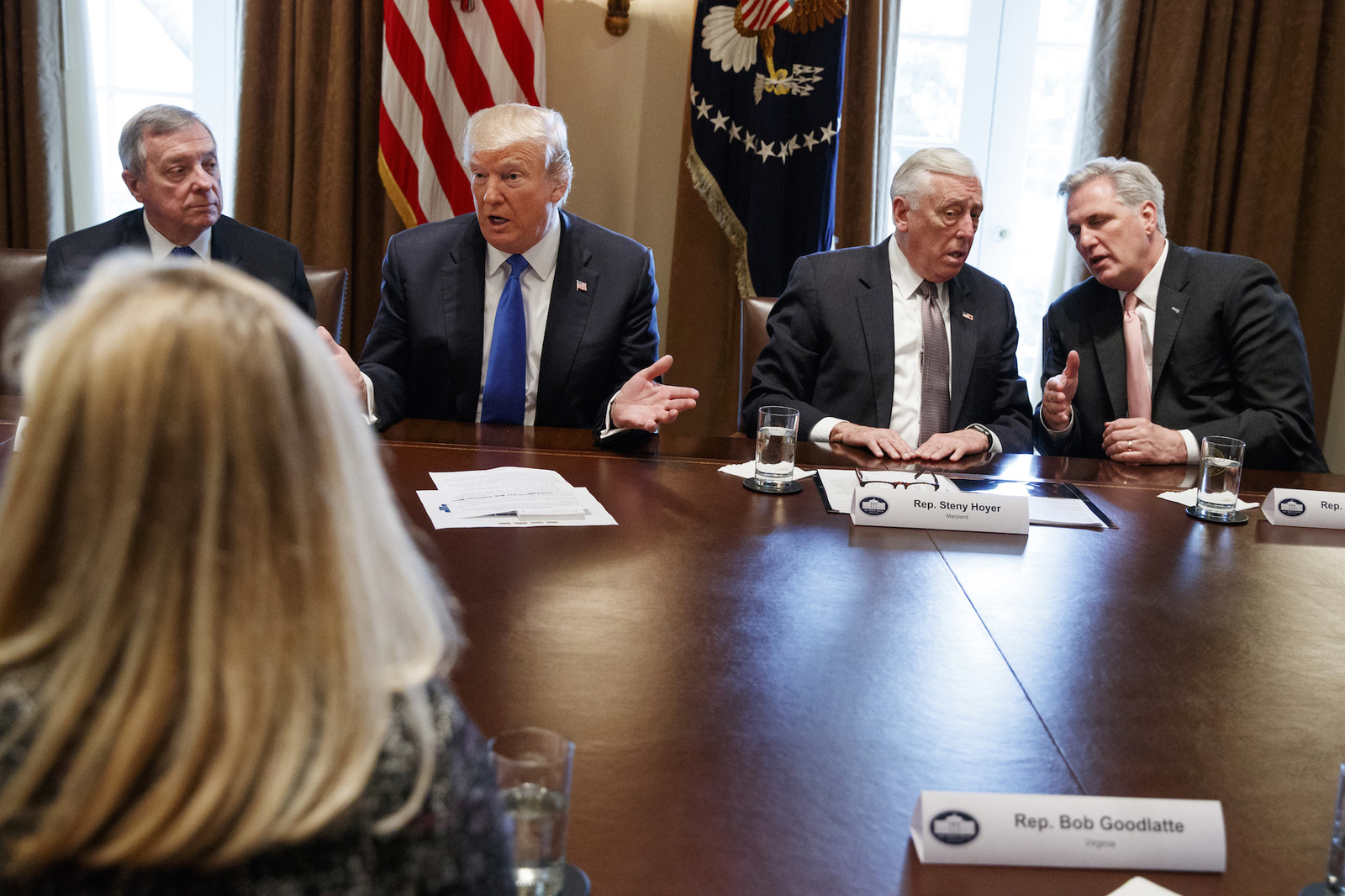 As a chorus of Republicans began to interrupt, House Majority Leader Rep. Kevin McCarthy tried to draw Trump's attention to just what he had just agreed to.
"Mr. President, you need to be clear, though," McCarthy said. "I think what Sen. Feinstein is asking here, when we talk about just DACA, we don't want to be back here two years later. You have to have [border] security [in the bill], as the secretary would tell you."
"But I think that's what she's saying," Trump replied to a chorus of noes from the Republicans in the room.
Other conservatives then repeated their demands not to tackle DACA without border security measures and ending so-called chain migration.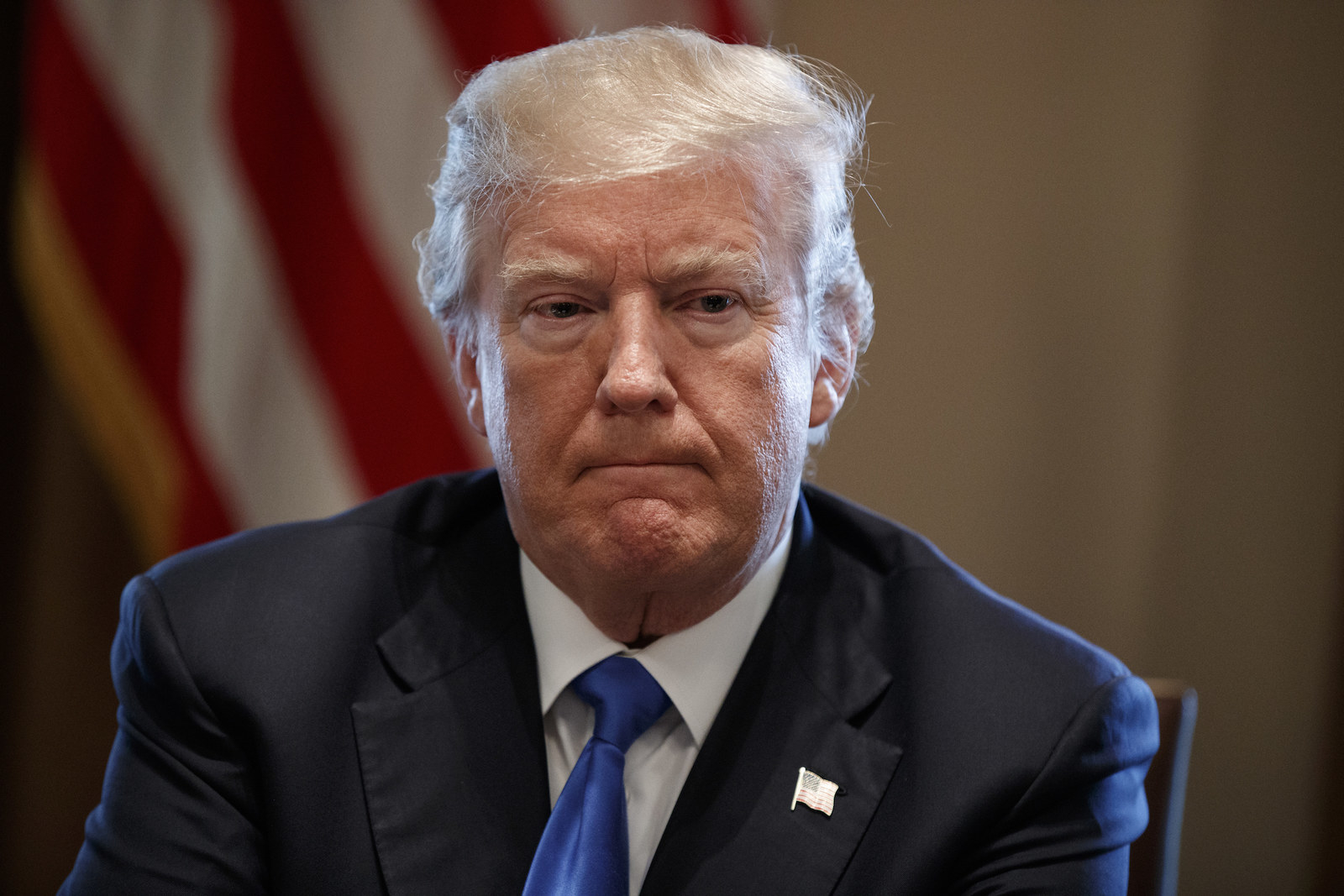 Later on Tuesday, White House press secretary Sarah Huckabee Sanders was asked about Trump's position on Feinstein's proposal, saying that the president had his own definition of what a "clean DACA bill" entails.
"He only embraced it if you look at the president's definition of what a clean DACA bill is," Sanders said. "And within that bill, he thinks that you have to include not just fixing DACA, but closing the loopholes and making sure we have a solution on that front so we don't create a problem and find ourselves right back where we started one, two, three years later."
As the meeting wrapped up, Trump told a reporter that his position on immigration would be "what the people in this room come up with."
"I am very much reliant on the people in this room," he said.
CORRECTION
Sen. Dianne Feinstein's name was misspelled in an earlier version of this post.