When former NFL wide receiver Randy Moss was inducted into the Pro Football Hall of Fame on Saturday night, he wore a tie with the names of 12 black men and women who were killed by police or died in police custody.
Moss, who played for the Minnesota Vikings, the Oakland Raiders, the New England Patriots, and the San Francisco 49ers, didn't reference police brutality or his tie during his speech in Canton, Ohio.
But speaking to the NFL Network after the ceremony, Moss said he wanted to "wanted to express with [his] tie" that the families of those listed were "not alone."
"I'm not here voicing, but by having these names on my tie in a big platform like the Pro Football Hall of Fame, there's a lot of stuff going on in our country and I just wanted these family members to know they're not alone," Moss said.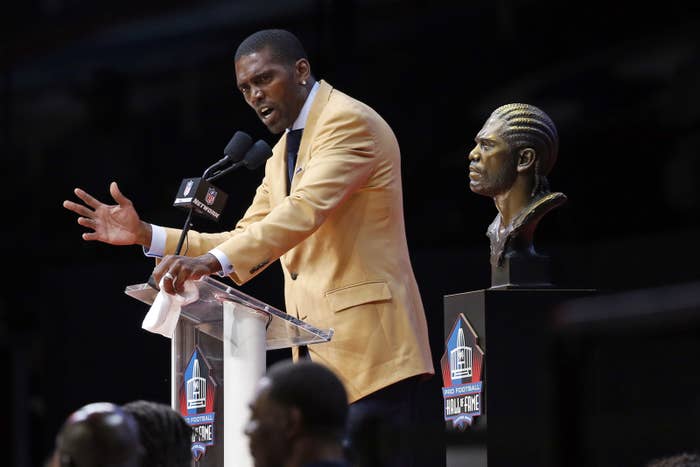 The black tie was embroidered with gold names, including Tamir Rice, a 12-year-old who was shot and killed by police in 2014 in Ohio; Eric Garner, who died after being placed in a chokehold by a New York police officer in 2014; Walter Scott, an unarmed man who was shot by a police officer in South Carolina in 2015; and Michael Brown, an 18-year-old killed by police in Ferguson, Missouri, in 2014.
President Trump has recently placed the NFL at the center of the nation's culture wars, riling up fans, teams, and players concerning athletes who protest police brutality by not standing for the national anthem.
Trump says athletes who protest should be punished by the league and their teams. Some organizations, like recent Super Bowl champion Philadelphia Eagles, disagree and support the protests. Others back Trump. The NFL and the players union are currently working out rules around the anthem.