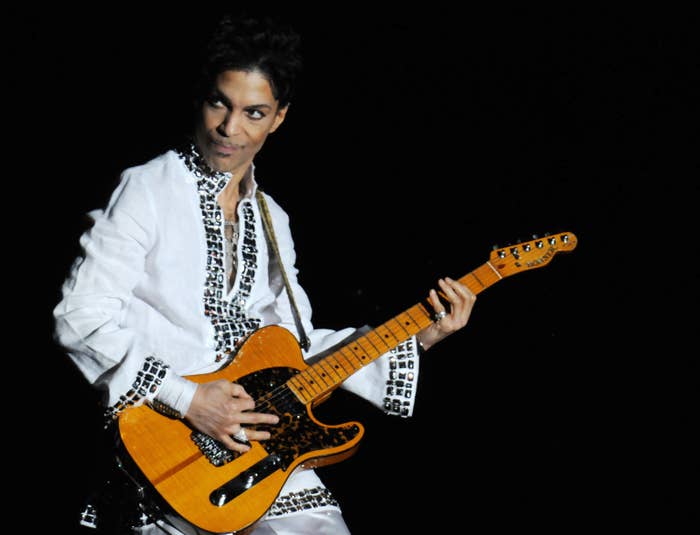 Just days before Prince's accidental and fatal overdose, a doctor prescribed him oxycodone under a friend's name in order to protect the late musicians privacy, an affidavit unsealed on Monday revealed.
One affidavit reveals that Dr. Michael Todd Schulenberg told authorities he prescribed oxycodone to Kirk Johnson, Prince's longtime friend and estate manager, "for Prince's privacy." Dr. Schulenberg prescribed the drug to Prince six days before his death, on the same day his plane made an emergency landing in Illinois.
Although representatives for Prince originally said he was suffering from the flu, it was subsequently reported that Prince was treated with drugs that combat drug overdoses.
Prince, 57, died on April 21, 2016, after he was found unresponsive in an elevator at his Paisley Park residence in Minnesota. Subsequent toxicology reports revealed that the musician died of an accidental overdose of fentanyl — an extremely potent synthetic opioid primarily used for pain associated with cancer treatment.
The newly released documents — which included multiple affidavits and search warrants — also revealed that prescription medications, particularly other opioids, were found in containers such as vitamin bottles in locations around Prince's home. Some bottles were labeled as though they contained acetaminophen and hydrocodone, and one of these bottles contained fentanyl, "implying it was counterfeit," the Associated Press reported.
Monday's released documents do not reveal where Prince illegally obtained fentanyl, which was not prescribed to Prince or his friend. Oxycodone was not listed as a cause of death by the Midwest Medical Examiner's Office. The released search warrants show that investigators were searching cell phone records of Prince's friend and his emails to determine how the musician got a hold of the powerful drug that led to his accidental death.
Multiple reports since Prince's death show that the late musician was struggling with addiction to painkillers. In fact, the man who found Prince unresponsive in the elevator was sent to start Prince on an emergency treatment regiment for addiction to painkillers.
One search warrant suggests that "witnesses interviewed at the scene" revealed that "Prince recently has a history of going through withdrawals," which was the "result of the abuse of prescription medication."