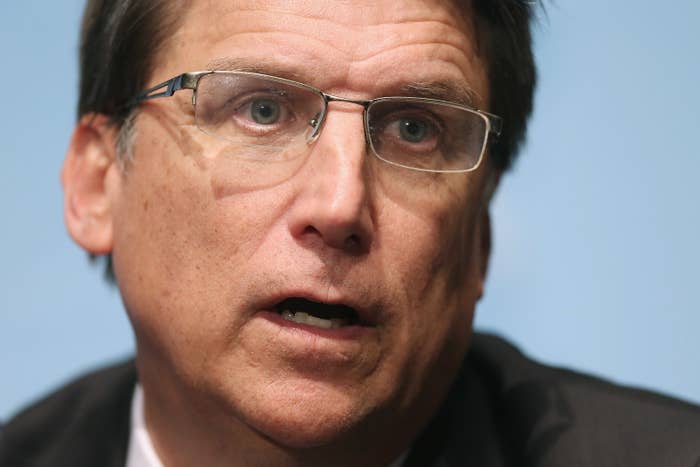 Almost a month after the voters went to the polls, North Carolina Governor Pat McCrory on Monday conceded the gubernatorial race to his rival, Democratic candidate Attorney General Roy Cooper.
McCrory, a Republican, has been alleging voter fraud since Election Day and called for a statewide recount.
But on Monday the governor released, saying, "I personally believe the the majority of our citizens have spoken, and we should now do everything we can to support the 75th governor of North Carolina, Roy Cooper."

"It's also time to respect the democratic process and respect what I see to be the ultimate outcome of the closest North Carolina governor's race in modern history," McCrory said, "despite continued questions that should be answered about the voting process."
In the days leading up to the concession by McCrory, Cooper's lead in the recount remained above 10,000 votes, according to the Durham County Board of Elections.
"It will be the honor of my life to serve this great state," Governor-elect Cooper said in a statement.
Cooper also thanked McCrory for his service, adding that he looks "forward to working with them and their staff in what I expect will be a smooth transition."
Cooper and his staff had been calling on McCrory to concede for weeks, while the Republican continued to suggest large-scale voter fraud had robbed him of a win.
"Governor McCrory has no legitimate path to victory, so he has resorted to attacking legitimate North Carolina voters in a shameful attempt to delay the process and undermine the results of an election he lost," Ford Porter, a spokesperson for Cooper's campaign, told BuzzFeed News in November.

Cooper's election win is one of the few notable 2016 victories for Democrats, in a state where President-elect Trump beat Hillary Clinton by a comfortable margin.
But McCrory's defeat is also a symbolic win for the LGBT community.

McCrory and Cooper have traded jabs all year over a law that prohibits transgender people from using bathroom of their identifying gender. McCrory was a staunch supporter of House Bill 2, which also overturned a local anti-discrimination ordinance, singing it into law earlier this year. The law applies to government buildings and schools.
US Attorney General Loretta Lynch compared the North Carolina law to Jim Crow laws that ensured racial segregation in states and localities. McCrory said her comparison was an "insult" and "a political statement instead of a legal statement."
Transgender activists from around the country came to North Carolina in an effort to ensure that McCrory did not win re-election.
A day before the election, Sarah McBride, a spokesperson for the LGBT group Human Rights Campaign, told BuzzFeed News that the desire to defeat McCrory was "unprecedented," adding that "attacking transgender people is bad policy and bad politics."
"This is one of the biggest battlegrounds in the country," said McBride.
This is a developing news story. Check back for updates or follow BuzzFeed News on Twitter.