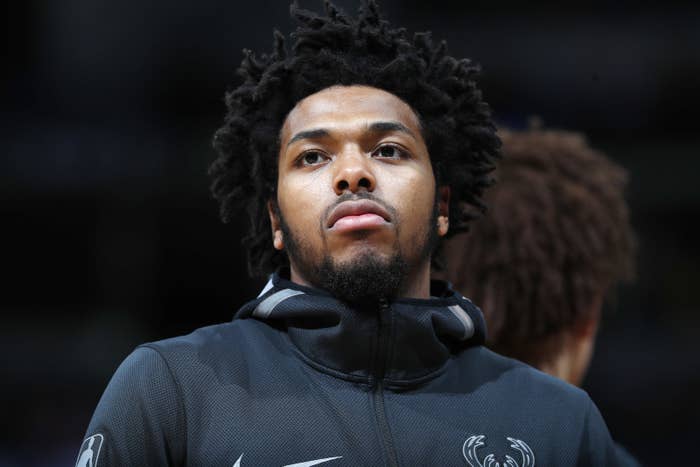 Officer body camera footage released Wednesday shows Milwaukee police officers using a Taser to arrest NBA rookie Sterling Brown in January, in a confrontational exchange with police over a parking violation.
In the video, police officers are seen talking to Brown in a pharmacy parking lot for several minutes after the basketball player parked his car across two handicap spaces.
The initial officer on scene asks Brown for his driver's license, then takes a combative tone, telling Brown to "back up" as the basketball player walked toward his car and the officer.
Brown is heard calmly telling the officer not to touch him.
"That's right, I told you to back up because you were trying to get in the car," the officer said. "I'll do what I want. I own this right here."
"But this is me, you don't owe me," Brown said.
Body camera video shows at least six patrol cars responded to the call.
Then, while Brown is seen speaking with four officers, another officer off-camera yells out, "take your hands out of your pockets now." One of the officers then immediately grabs hold of Brown, who responds, "I got stuff in my hands."
The four officers tackle him to the ground, and seconds later one of the officers can be heard saying, "Taser, Taser, Taser!"
For eight minutes, Brown is seen speaking to several officers, occasionally placing his hands into his pockets to pull out his car keys and shut off the car alarm. Officers do not appear to ask him not to put his hands into his pockets until he is tackled and tased.
In a statement, Milwaukee Police Chief Alfonso Morales said the officers in the video "acted inappropriately and those members were recently disciplined."

"I am sorry this incident escalated to this level," Morales said in the statement, which was released just minutes before the body camera footage was made public.
According to his attorney, Mark Thomsen, Brown plans to file a civil rights lawsuit against the police department.
Brown, a 22-year-old guard with the city's basketball team, was originally arrested on Jan. 26 for a "possible misdemeanor charge of resisting or obstructing an officer," the Milwaukee Journal Sentinel reported. "But after an internal review that included viewing body camera footage, police officials decided not to refer him to prosecutors."
The Sentinel reported that Brown played a game shortly after the arrest and had visible marks and bruises on his face. He told reporters it was a "personal issue" at the time, and declined to comment further.
The Milwaukee Bucks signed Brown, who was previously at Southern Methodist University, in the summer of 2017.

The police department has been preparing community leaders, including the Common Council committee, for the video's release by showing the body camera footage to them, the Sentinel also reported.
"I'm going to let the release of that speak for itself, but yes, I definitely have concerns after watching that video," Milwaukee Mayor Tom Barrett told reporters Monday ahead the of video's release.

"There's going to be a video that's going to come out soon, in the next couple of weeks, involving the department, and I'm going to be honest with you, we're going to need your support during the challenges," Assistant Police Chief Michael Brunson Sr. told a church last Sunday.
Moments after the video was released, the Bucks released a statement slamming the officers' actions, calling it "shameful and inexcusable."
"Unfortunately, this isn't an isolated case," the statement read. "It shouldn't require an incident involving a professional athlete to draw attention to the fact that vulnerable people in our communities have experienced similar, and even worse, treatment.
At some point during the stop, officers appear to learn that Brown is an NBA player.
"This guy hadn't been such a dick it would have just been, 'Hey have a nice day.' Then I thought, he's being an ass, he's trying to hide something," the officer who made the initial stop tells another officer minutes after the incident. "Now he's like, 'I'm a Buck's player, blah blah blah, so what?'"

Minutes after he was tased, the officer and Brown continue to argue in the parking lot.
"I wanted to talk to you about it," the officer tells Brown, referring to the parked car. "I asked you to move back."
"That's fine, you could have talked. You didn't have to touch," Brown responds. "You initiated touch."
The officer then addresses the fact that Brown is a player for the Milwaukee Bucks.
"Sorry I didn't recognize you," the tells Brown. "I didn't recognize your famous name."
"It ain't famous just yet," Brown tells the officer.
The Milwaukee Police Department did not respond to a request for comment.