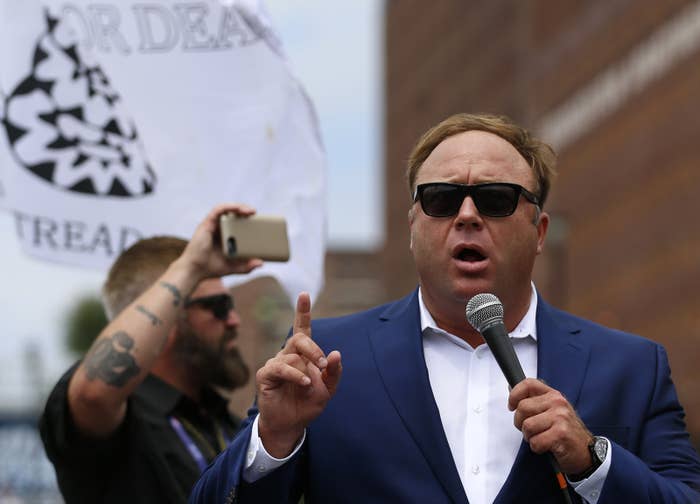 Six more families of students killed in the Sandy Hook Elementary School mass shooting and an FBI agent have filed a defamation lawsuit against Infowars and its founder, Alex Jones, over repeated claims that the massacre was a hoax.
The lawsuit, filed in Bridgeport Superior Court in Connecticut Wednesday, also includes an FBI agent who was accused of being a crisis actor by Wolfgang Halbig, a frequent guest on the show. The lawsuit comes just over a month after the families of two other victims filed a similar claim in Texas district court.

Wednesday's complaint tracks years of instances where Jones or guests on his Austin-based Infowars radio show were part of a "continuous campaign of statements" that suggested the families faked or were lying about their loved ones' deaths, according to the lawsuit.
"The defendants' conduct was so outrageous in character, and so extreme in degree, as to go beyond all possible bounds of decency, and to be regarded as atrocious, and utterly intolerable in a civilized community," the lawsuit states.
Adam Lanza, 20, shot and killed 20 children and six adults at the Newtown, Connecticut, school in 2012 before turning the gun on himself. In the years since, Jones has aired several segments accusing the parents of the children who were killed of lying and calling them "crisis actors" involved in an elaborate plot.

"Like any marketplace, the marketplace of ideas that the First Amendment was meant to protect cannot function properly without accountability for reprehensible and harmful falsehoods like those propagated by Alex Jones and the other defendants," said the families' attorney, Matt Blumenthal, in a statement. "Because of Jones and his co-conspirators' campaign of unconscionable lies, many thousands of people currently believe that our clients faked their loved ones' deaths. These families have been continually harassed and abused as a result, all while attempting to face fathomless loss."

Infowars and Halbig did not immediately reply to requests for comment.
The law firm representing the plaintiffs also posted a two-minute video showing instances from December 2014 to November 2016 where Jones called the shooting "manufactured," "a hoax," and "fake."
"The whole thing is a giant hoax. And the problem is how do you deal with a total hoax? How do you convince the public it's a total hoax?" Jones says in a clip from Dec. 28, 2014.
"They're obviously looking for a big PR bonanza and then to bring in all the actors to break down and cry. And they think we're so stupid that they even use the same actors as different people," Jones says in another clip.

Jones is also being sued by Brennan Gilmore in a separate defamation claim after Infowars published conspiracy theories about him being an "operative of the Deep State" because he captured on video the moment a white supremacist in Charlottesville, Virginia, allegedly drove his car into a crowd of anti-racist protesters last year, killing one and injuring dozens of others.