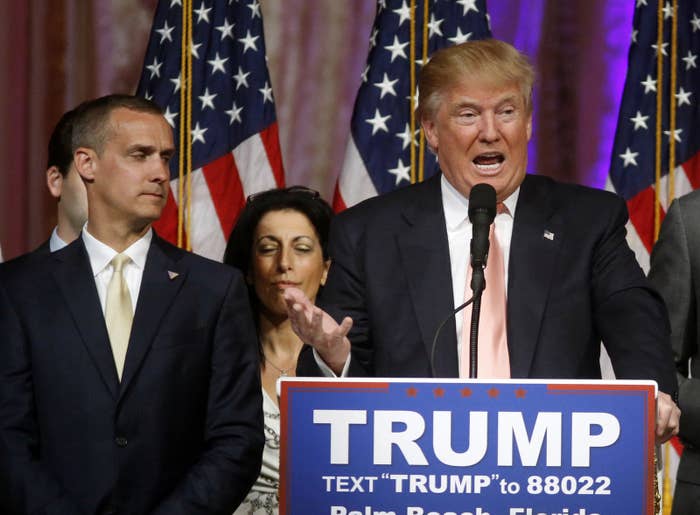 A former staffer for Donald Trump's presidential campaign in North Carolina filed a lawsuit Wednesday alleging that the state's former director put the barrel of a loaded gun on his kneecap during a car ride.
The lawsuit, filed by Vincent Bordini against Donald J. Trump for President Inc. and Earl Phillip, the former North Carolina State Director, was filed in Mecklenburg County Superior Court.
The lawsuit, first reported by WBTV in Charlotte, alleges that other senior campaign staffers — including former Trump campaign manager turned CNN paid contributor Corey Lewandowski — failed to act in any way when told about the incident.
Bordini, who is described in the lawsuit as a "dedicated" and "loyal" Trump staffer who was hired as a software trainer in December 2015, said Phillip pulled a loaded .45 caliber pistol and pushed the barrel into Bordini's left knee while they were traveling in Philip's Jeep after checking on campaign staffers at a hotel.
Bordini; his lawyer Sean Hermann; Phillip; Lewandowski; and the Trump campaign did not immediately respond to requests for comment.
Bordini said in the lawsuit that "Phillip ominously stared" at him while the gun was pressed into his knee, causing Bordini's jeans to "crinkle." The gun's safety was off and Phillip's finger was on the trigger, the lawsuit states.
It was only after Bordini said "What the fuck are you doing?" that Phillip put the gun away "as if nothing happened," the lawsuit claims.
Philip resigned from the campaign on Thursday, according to WCCB, a television station in Charlotte, North Carolina.

Bordini said in the suit that he told the regional director for Trump's campaign in Western North Carolina about the incident on that same night, only to learn that he too had a gun pulled on him by Phillip, and was "terrified by him."
The lawsuit also said that Bordini reported the incident to the Trump campaign's national field director and to former Trump campaign manager Corey Lewandowski over the phone. Lewandowski, the suit alleges, took Bordini's complaint "seriously" but "did nothing to correct Phillip's "brazen behavior."