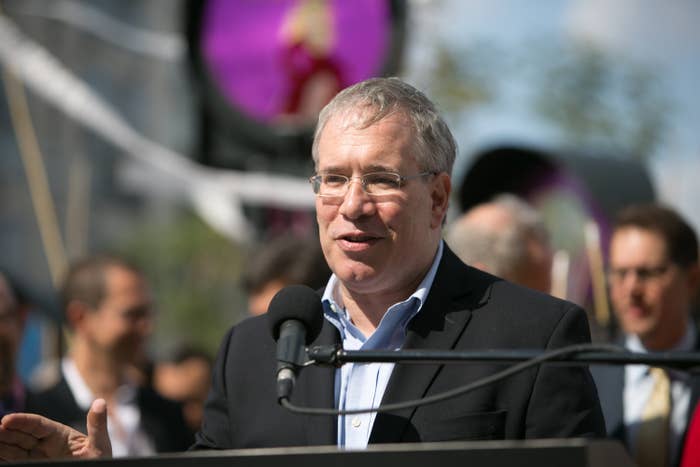 The New York City comptroller, who is auditing the local Board of Elections after reports of voting issues in Tuesday's primary election, is also a Democratic delegate for Hillary Clinton.
Scott M. Stringer wrote a letter yesterday to Michael Ryan, the executive director of the New York City Board of Elections, informing him of the audit. The letter cited reports of voters purged from voting lists, closed polling stations, and broken machines, among other issues.
Stringer expressed "deep concern over widespread reports of poll site problems and irregularities" in the letter. New York State Attorney General Eric T. Schneiderman also said Wednesday he was opening an investigation into the board.
Stringer also on Tuesday won a Democratic national delegate position in the 10th Congressional District — which covers the West Side of Manhattan and parts of Brooklyn — and is supporting Clinton. Stringer received 10.31% of the vote — more than any other delegate in the district, according to the latest election results.
In an interview with BuzzFeed News, Stringer said he understands how some "disenfranchised" voters will see his office's audit as a potential conflict of interest.
"I understand that people will feel that this process disenfranchised them, and will be suspicious of anybody who is also part of the political establishment," Stringer said.
"I'm not auditing the election results. We are auditing the management of the agency that conducts the elections," Stringer said, referencing the Board of Elections.
"Our audits are above politics," he added, saying that a separate bureau and staff would conduct the investigation.
"If we find issues that would call on me to recuse myself, I will," Stringer added.
Ryan, speaking to a local Fox affiliate on Wednesday, said, "no one was disenfranchised." The Sanders and Clinton campaigns did not immediately respond to requests for comment. New York City's Board of Elections did not immediately respond to requests for comment.
Dick Dadey, executive director of the Citizens Union, a nonpartisan good governance group, said he doesn't believe that Stringer's position as a Clinton delegate would influence his audit.
"Elected officials have many connections to other elected officials, as well as responsibilities as public officials, so there are always connections. That does not necessarily mean it rises to a conflict of interest," Dadey said.
New York City Mayor Bill de Blasio — who endorsed Hillary Clinton in October 2015 — also issued a statement Tuesday condemning the purge of voters from voting lists and added his support for the comptroller's audit.
"It has been reported to us from voters and voting rights monitors that the voting lists in Brooklyn contain numerous errors, including the purging of entire buildings and blocks of voters from the voting lists," de Blasio said in his statement. "The perception that numerous voters may have been disenfranchised undermines the integrity of the entire electoral process and must be fixed."
By Tuesday evening, Schneiderman's voter hotline received over 560 calls and 140 emails citing problems at the polls. During 2012's general election, the Attorney General received 150 total complaints.
On Wednesday, Schneiderman tweeted a screenshot of a statement announcing that his office will also open an investigation "into alleged improprieties in yesterday's voting by the New York City Board of Elections."
At a rally in Pennsylvania on Tuesday, Bernie Sanders criticized the voting issues, referencing Brooklyn, where WNYC reported more than 120,000 Democratic voters were dropped from voting lists.
"It is absurd that in Brooklyn, New York — where I was born, actually — tens of thousands of people as I understand it, have been purged from the voting rolls," Sanders said.