A man was caught on video delivering a long anti-Muslim tirade against a family vacationing last week on a Texas beach, repeatedly screaming at them about sharia law, ISIS, and Donald Trump.
Fourteen members of the family were on weeklong reunion in South Padre Island when the man, who was identified in a police report obtained by BuzzFeed News as Alexander Downing, of Waterford, Connecticut, approached them.
"You're a fucking Muslim, motherfucker," the man says at one point in front of the family, which included children playing on the beach just feet away. "You will never ever, ever stop me, my Christianity," the man says, "from rising above your sharia law. Your sharia law don't mean shit to me."

Sharia — a religious code of conduct, no different than those contained in other Abrahamic religions — has often been used as a fear-inducing term associated with anti-Western beliefs in recent years.

The video, which was captured by Noria Alward, 19, and posted on YouTube, shows Downing, intoxicated, approaching the family in an aggressive manner — repeatedly shouting obscenities and veiled threats while pointing his finger in their faces.
"When he called it his country. It is my country too," Ahmed, another member of the family, told BuzzFeed News over email. "America is my country whether he likes it or not."
Ahmed said he did not want to reveal his last name for fear of further abuse or harassment.
BuzzFeed News attempted to reach Downing for comment. A woman who answered the number listed for him on the police report said she would deliver a message to him.

The family, who kept their composure in the five-minute video, at one point called the police after Downing left for the nearby South Padre Pearl Hotel and returned.
"Guess what? ISIS don't mean shit to me, motherfuckers," Downing says again in the video, as he circles back towards the group, shouting in the face of another man.

"Donald Trump will stop you. Donald Trump will stop you! Donald Trump got you motherfuckers. Watch... watch."
He then proceeds to grab his crotch, in front of children, telling the group to "suck my dick."
"I want people to understand that this man needs to be charged with indecent behavior in front of kids and a minor," Ahmed said of the man's gestures.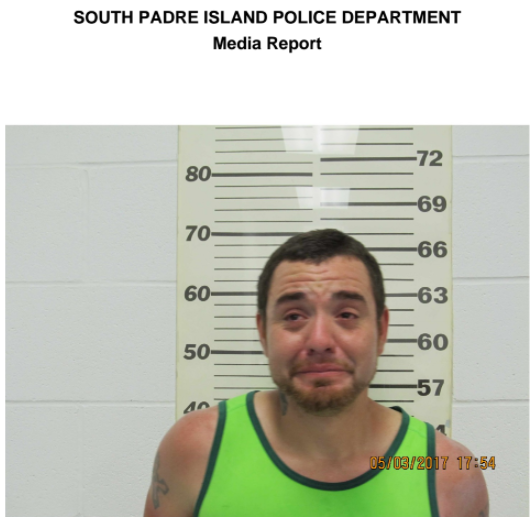 "My country is the greatest country in the world," Downing screams. He then begins to thump his chest repeatedly with his fists, while shouting, "Come fuck with Donald Trump. That's my motherfucking president!"

The end of the video shows Downing in the distance being arrested by officers from South Padre Island Police Department, according to Ahmed.
BuzzFeed News contacted South Padre Island Police Department and confirmed Downing's May 2 arrest. The incident report states that he was arrested for public intoxication and the responding officer "determined that he was intoxicated in a public place and was a danger to himself and others."
Ahmed said that, despite being arrested, Downing appeared in the lobby of the hotel the following day.

"I want people to also know that the hotel did not do anything to protect us," Ahmed said, claiming the hotel staff originally told him they would be evicting Downing if and when he returned after his arrest. "We will definitely go back to the beautiful island but will never go back to the Pearl Hotel," Ahmed said.
Abdel Zouari, general manager at the South Padre Pearl Hotel, told BuzzFeed News that the incident in question took place outside of the hotel on a public beach, and the hotel was unaware of the details of the incident until staff watched the video on Wednesday morning.
"So we couldn't really have the full story except that the police arrested the guy and the next day the guy checked out. But we care about our guests, we care about whatever happens in our hotel. Unfortunately, this happened outside the hotel," Zouari said.
Looking back, Ahmed said he wanted to make it clear that he believes that this individual "doesn't represent the masses" but "needs to be charged for what he's done." He also wanted "to thank all the beachgoers that stood by our side," specifically referring to a man who can be seen throughout the video attempting to create a buffer between the two groups.
"Hats off to him."