An all-girls Catholic high school in Maryland fired a substitute teacher and former coach after discovering that he works for white nationalist Richard Spencer's think tank.
The Academy of the Holy Cross sent a letter to parents on Thursday notifying families that Conte, who started working at the school in fall 2014, had been terminated following an investigation into his work with the alt-right.
President Kathleen Ryan Prebble told BuzzFeed News on Monday that she fired Conte after receiving an anonymous tip in October that the substitute teacher helped plan the deadly "Unite the Right" white supremacist rally in Charlottesville, Virginia, in August.
"Someone sent me documents from the Atlanta Antifascists that showed Greg Ritter was Greg Conte and connected the dots to his work with Richard Spencer," Prebble said. "We immediately started to work on this and within 48 hours contacted Mr. Conte directly and he confirmed it and then we terminated him."
However, due to employment law and policies, the private school did not announce the decision until Conte "went public with it through his podcast and on social media," leading some students to discover his "connection with the alt-right on some social media sites."
"Some parents had reached out to me that their children had discovered this and we knew then that we wanted to confirm with our families that we had already acted on this and swiftly," she said. "We have had enormous support from our community."
Before learning of his beliefs, Prebble emphasized that there had been no complaints or signs "that would have led us to believe he had this affiliation with a hateful group," or that he had "negatively influenced any of our girls with his philosophy."

"Most students were shocked that someone with those beliefs would be working in our midst," she said.
An article published on Dec. 8 by the news outlet Splinter revealed that Conte, using the alias Greg Ritter, is the director of operations for the National Policy Institute. NPI's president and creative director is Richard Spencer, and, according to the organization's website, it is "dedicated to the heritage, identity, and future of people of European descent in the United States and around the world."

Conte was also involved in other businesses, Splinter reported, including once overseeing the fair hiring practices at a technical recruiting firm in Maryland and forming a company in Wyoming called Tyr 1 Security, which worked on logistics for the Charlottesville rally.
On Friday, Conte defended his beliefs and thanked his supporters, writing on Twitter, "Now...once the Alt-Right takes over IRL, we cannot be stopped!"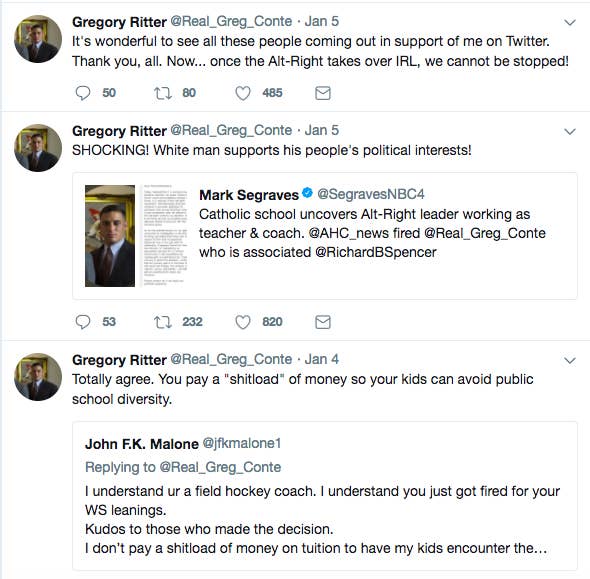 "Diversity leads to social problems, it leads to conflict, it leads to war," he told ABC7 in Washington, DC. The reporter pressed Conte, asking, "What do you say to people who say that social problems arise regardless of whether there is diversity?"
"That's true, they will arise. It's just going to be worse if there is diversity," Conte replied.
Conte also said that he had "sort of expected" his firing because he had been open about his beliefs outside of the school.
"I was a little bit disappointed though — I mean, we're at the point where the beliefs of people in the alt-right are fairly common," Conte said, holding a cigar.
Members of the alt-right have rallied behind Conte, saying he "crushed" his interview with the local news channel.

"Greg Conte out Spencer-ed Richard Spencer. Fantastic interview and great cigar-smoking aesthetic," Spencer wrote on Twitter.
After the news broke, Prebble said she has hosted several meetings and conversations with students and parents about the decision.
"I want to make sure that our students understand that this is not about conservative or liberal or right-wing or left-wing," the school president said. "It was about extremism and hatred and that in nowhere fit with our values."